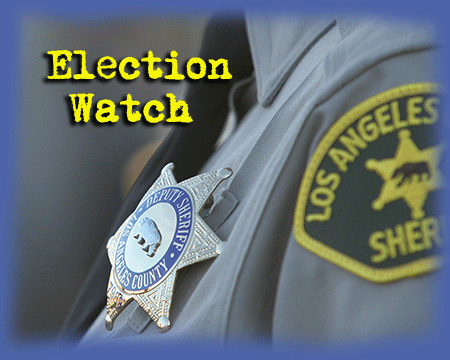 The unsealing of 18 federal indictments against working and retired members of the Los Angeles Sheriff's Department last Monday, thrust the ongoing problems at the LASD on to the national stage as well as causing local reporters to focus the issue more frequently.
So, in addition to our own reporting, we will keep you up to date with what other media outlets have been saying.
---
ARRESTS CHALLENGE BACA'S REELECTION SAYS NY TIMES
Here are clips from this weekend's story by Jennifer Medina for the New York Times:
A man trying to visit his brother in 2011 in a downtown Los Angeles jail was arrested by a deputy sheriff, who took him, in handcuffs, to a windowless break room and shoved him against a refrigerator. One deputy stood guard while others kicked and punched the man, still in handcuffs, his face against the floor. They wrote a report accusing the man of assault and pressed charges, which the district attorney later dropped abruptly.

Months later, knowing the Sheriff's Department was facing a federal inquiry into the jails because of such episodes, two sergeants went to the home of an F.B.I. agent, demanding to know details about the investigation. When she did not comply, the sergeants lied and told her that she was a criminal suspect who faced imminent arrest.

A generation ago, the Los Angeles Police Department was rocked by corruption and abuse charges after the Rodney King beating, eventually undergoing what is widely viewed as one of the most complete police turnarounds in 50 years. But these days, even as the Police Department is praised, the larger Los Angeles County Sheriff's Department is enmeshed in a new round of allegations of pervasive civil rights violations that to some feel uncomfortably familiar.

If the law enforcement troubles 20 years ago had one face, it was Daryl Gates, the hard-nosed police chief, who was ousted by the mayor. This time, it is Lee Baca, the entrenched sheriff, who is up for re-election next year. Though his victory was long viewed as assured, the election is turning into one freighted with the troubled history of law enforcement in this region, a referendum less on Sheriff Baca than on the agency he has led for 15 years.

[SNIP]

Now, Sheriff Baca is facing renewed calls for his resignation, even as he prepares to run for his fifth term overseeing the largest county law enforcement agency in the nation.

"We have now again reached a moment in time where people are — and really should be — questioning their confidence in the system," said Miriam Krinsky, a professor at Loyola Law School who led a county citizens commission investigating allegations of abuse last year. "The question really is, 'How can the department function with the dark cloud that now sits over it?' This is where L.A.P.D. was at its bleakest moments, with a profound loss of the public trust. If Sheriff Baca were in this position for any private company, he would no longer be there."
---
DEPUTY INDICTMENTS COULD CAUSE LA COUNTY TAXPAYERS MILLIONS
Kelly Goff of the Long Beach Press Telegram has this take on the indictment and what they could collaterally cost the LA County Taxpayers. Here's a clip:
Several of the Los Angeles County sheriff's deputies named in federal indictments last week are also named defendants in civil lawsuits that could end up costing the county millions of dollars.

The names of five out of the 18 defendants in the federal cases alleging jailhouse beatings, false reports and other charges also appear in a handful of lawsuits detailing alleged abuses going back to 2009. Legal experts say convictions in the criminal cases will likely mean large payouts in the civil cases.

"The indictments could be a saving grace for the attorneys in the civil cases," said Laurie Levenson, a law professor at Loyola Law School. "If there are convictions, then it's not about proving guilt in the civil matter, it's about who is going to pay and how much."

[SNIP]

Two of the incidents detailed in documents submitted in connection with a pair of suits are the basis of the criminal indictment, with similar accounts of visitors to the jail alleging severe beatings at the hands of deputies.

In 2010, Leocadio Figueroa went to Men's Central Jail downtown to see his brother, who was an inmate. While he was waiting to see his brother, he asked if he could speak to the watch commander, according to documents in a civil suit filed in U.S. District Court for the Central District of California.

He was then allegedly beaten by deputies who broke his arm and tried to detain him, claiming he instigated the fight, according to the suit. He ended up in the hospital and no charges against him were ever filed.

Two of the deputies that allegedly beat Figueroa, Noel Womack and Eric Gonzalez, are charged in the federal criminal case, accused of jailhouse beatings and covering them up with false reports. Figueroa's allegations are referenced in the criminal indictment.

Figueroa's attorney, Edgardo Garcia, declined to comment on the specifics of Figueroa's case, but said he thinks the indictments will change the way the county responds to similar lawsuits.

"They always fight these cases. The initial response is always 'Here's a whiner who is complaining about a good deputy,' " he said. "That response is no longer available to them. In cases brought in the future, they are going to have to look more closely."
---
BACA'S POLITICAL FUTURE CLOUDIER
A slightly different version of the same message came from Christina Villacourt of the LA Daily News. Here's a clip:
Hours after the FBI rounded up 18 of his officers for various alleged crimes, ranging from beating inmates to obstruction of justice, Sheriff Lee Baca tried to project the image of someone who had the situation under control.

"There is no perfect law enforcement agency anywhere in the world but what I do is I tell the truth," he told reporters on Dec. 9. "I accept responsibility, and I also believe in correcting things and getting proactive."

"You haven't seen me retire from the job," he added. "You haven't seen me blame somebody else besides me for whatever the challenges are."

Whether the 71-year-old Baca will be forced to retire will be decided by voters in June. He faces several challengers in his bid to continue leading the world's largest sheriff's department — one that has a budget of $2.4 billion and a staff of about 18,000 responsible for protecting about 4 million people.

In previous years, his re-election victories had been almost taken for granted.

Baca won election in 1998 after challenging incumbent Sheriff Sherman Block, who died a few days before the vote. Now in his fourth term, Baca has trounced every challenger since then and ran unopposed in the last election.

But after 15 years in office, problems in the jails have taken a toll on his image.
---
AFTER AVOIDING THE PRESS, LEE BACA COMES OUT TO TALK ABOUT HOUSE TRASHING KIDS….AND A SNOWLEOPARD
An Op Ed from the LA Times Karen Klien puts the last seven days' news into perspective. (Or something like that.) Here's how it opens.
It was a little strange altogether — considering that the overriding issue this week in the L.A. County Sheriff's Department was its abominable treatment of inmates in its jails — to note that Sheriff Lee Baca felt he needed to leave his personal stamp on the case of a group of miscreant teenagers.

About 100 teens are thought to have broken into a vacant La Habra Heights mansion for a wild party, and 16 of them have been charged with looting the place of pretty much anything that could be carried, including designer suits and a mounted snow leopard valued at $250,000. The place was also trashed, with total damage amounting to $1 million. It was definitely an oddball crime, but not a topic of tremendous importance to the county.

But Baca wasn't inclined to leave this to his spokespeople — though considering the comments he delivered, he might have been better off doing so.
Please do yourself a favor and read on.
---
"A HIGHER LEAGUE OF SPECIAL"
Another LA Times Op Ed by another LAT staffer, Jon Healy, marvels over what kind of thinking could have precipitated the handcuffing and arrest of that Austrian diplomat and her huz.
What does it take to provoke a Los Angeles County sheriff's deputy to slap handcuffs on you? For a female Austrian diplomat, all it took was asking to see a supervisor at the Men's Central Jail.

That's according to one of the federal indictments unsealed Monday in Los Angeles. Granted, the indictments tell only one side of the story. But it's still astounding that a diplomat (and a female one at that) making a routine visit to the jail would end up in restraints.

[BIG CLIP]

Let's assume just for the sake of argument that the consul and her husband weren't the most cooperative and docile of jail visitors. Assume they were argumentative and demanding, or maybe even condescending. Regardless, U.S. law treats diplomats as special people with special privileges — as do the laws in the rest of the civilized world.

The problem here, according to the Justice Department, is that some in the Sheriff's Department considered themselves in an even higher league of special. As Andre Birotte Jr., the U.S. attorney in Los Angeles, put it in a statement: "The pattern of activity alleged in the obstruction-of-justice case shows how some members of the Sheriff's Department considered themselves to be above the law."

The indictment accuses Ayala of taking the consul and her husband to a deputy break room that's outside of public view and caused the consul to be searched — and not because she was suspected of being armed or having committed a crime.

But as demeaning as a search can be, it's positively kind in comparison to the beat-downs that the indicted deputies allegedly issued to other jail visitors.
---
---
Photo by Jaime Lopez, LASD