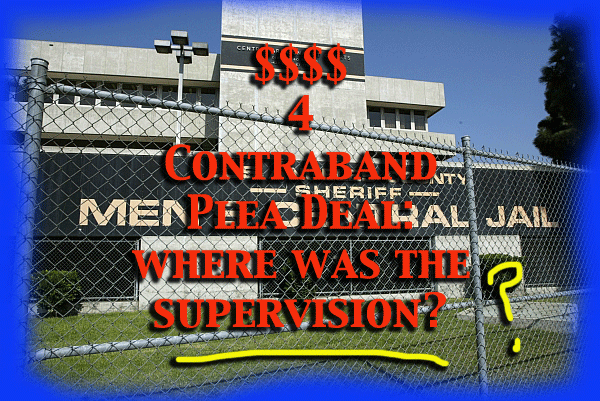 A former Los Angeles County Sheriff's deputy was charged today, Friday, with agreeing to accept $20,000 in bribes in exchange for smuggling contraband to an inmate inside the troubled Men's Central Jail, the facility that has been ground zero for the inmate-abuse-by-deputies scandal.

The case against Gilbert Michel, 38, was announced by United States Attorney André Birotte Jr. and Thomas E. Perez, the Assistant Attorney General for the Civil Rights Division.
Michel was of course the guy whose arrest for smuggling in a cell phone at the behest of the FBI's confidential informant got Sheriff Baca all in a lather. (Baca has since backed off and stopped blaming the people who caught the lawbreaking, bribe-taking deputy—rather than the deputy himself.)
In a plea agreement also filed Friday, Michel agreed to plead guilty to the charge and to cooperate in an ongoing investigation.
Michel, who resigned from the Los Angeles Sheriff's Department in September 2011, was assigned to the Men's Central Jail in downtown Los Angeles.
In the plea agreement, Michel admits that he agreed to accept $20,000 in cash in exchange for smuggling contraband into the jail for delivery to an inmate. The contraband included a cell phone, cigarettes and a note – which in jail parlance is called a "kite."
The inmate, as it turned out, was a confidential informant for the Feds.
Moreover, according to the plea agreement, the dollars for contraband deal wasn't a one shot. Michel. it seems agreed keep charging the phone for the inmate, holding the phone for safe keeping when he (Michel) went off shift, then returning the phone to the inmate/informant when the deputy came back on—each time for a hefty payment, which the informant/inmate made clear was from money obtained by illegal means.
The bribery charge carries a statutory maximum penalty of 10 years in federal prison.
The case against Michel is part of an ongoing investigation being conducted by the FBI, thus the plea deal in return for cooperation is considered significant by LASD watchers.