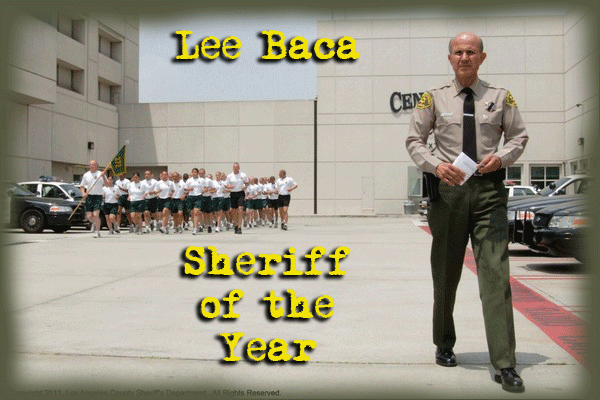 On Monday, the National Sheriffs' Association announced their choice of Sheriff Lee Baca as "Sheriff of the Year." The award—which is given "to recognize a sheriff who has shown unusual initiative and imagination in the performance of his/her duty"—will be presented to Sheriff Baca in June at the NSA's annual conference in Charlotte, North Carolina.
Given the deluge of problems and bad publicity that have bedeviled Baca and his department in recent years, many were perplexed by the announcement.
In Monday's statement announcing Baca's selection, the Association cited his progressive reputation and pointed to such model programs as the Baca's Clergy Council and his Education-Based Incarceration program (EBI), which Baca believes can help inmates better turn their lives around when they return to the their communities—and which, indeed, has gotten glowing reviews from the inmates who have graduated from EBI classes.
The Office of the Los Angeles County Sheriff manages the nation's largest local jail system housing nearly 20,000 inmates. Sheriff Baca developed Education-Based Incarceration (EBI) to address the high rate of offender recidivism in Los Angeles County. EBI uses innovative, evidence-based strategies to deliver education and life skills that provide hope and opportunity to offenders who want to live a better life and become contributing members of their communities. The Office also protects the largest court system in the nation.

Sheriff Baca is the Coordinator of Mutual Aid Emergency Services for California Region 1, which includes the County of Orange. Region 1 serves 13 million people.

Sheriff Baca is the founder of Public Trust Policing that includes diverse advisory councils; a Clergy Council of more than 300 ministers, pastors, priests, rabbis, imams, and leaders of every faith community. He also operates sixteen nonprofit youth centers; ten at-risk regional training centers for at-risk youth ages 10-18, and provides dozens of deputies to 240 elementary and middle schools who teach 50,000 children about positive solutions to the problems of drugs and gangs. He operates one of law enforcement's largest prevention and intervention programs in the nation.
Yet, despite Baca's long-term interest in progressive projects, and his latest steps toward some reform, critics found the timing of the honor baffling given the sheer number and seriousness of the scandals that have plagued Baca and the Los Angeles Sheriff's Department in the last few years—including a "persistant pattern" of abuse of inmates by deputies in the county's jails, accusations of favors doled out to the sheriff's friends and donors, a possible quid pro quo system of promotions run by the undersheriff, a rash of deputy gangs whose members may or may not engage in worrisome rites and rituals—and more. Several of the scandals have triggered what appears to be an ever-widening federal investigation, and have caused an unusual number of department captains and other high-ranking LASD supervisors to be relieved of duty and/or pushed into retirement ahead of probes into their conduct. Added to all that, a surprisingly lengthy list of supervisors with otherwise good records are suing the department.
"Jaw-dropping," was the word used by an LA County Board of Supervisors insider in reference to the award.
Robert Faturechi at the LA Times has written a longer story on Baca's selection. Here's a clip from its opening:
His department is being investigated by the feds. A county commission examining abuse in Baca's jails found him to be disengaged and uninformed, saying he probably would have been fired in the private sector. Secret deputy cliques with gang-like hand signs and matching tattoos have surfaced. And Baca has been accused of using his office for the benefit of friends, relatives and donors.

Despite those challenges, Baca has been awarded "Sheriff of the Year" by the National Sheriffs' Assn.

His spokesman said the honor was appropriate given Baca is "the most progressive sheriff in the nation" and "a guy that works seven days a week."

"This is his best year because people do their best when they face their biggest challenges and he is excelling," said sheriff's spokesman Steve Whitmore.

Baca's critics disagreed.

"You gotta be kidding," said Peter Eliasberg, legal director of the ACLU of Southern California. "The years of malfeasance in the jails and the blatant failure of the sheriff to address the problems make his winning this award mind-boggling."
One must apply/be nominated for the award, and have a recommendation from one's state sheriffs' organization. Winners are selected by a committee of three made of up of two past winners, and a civilian with knowledge of law enforcement.
---
Photo credit/Los Angeles Sheriff's Department