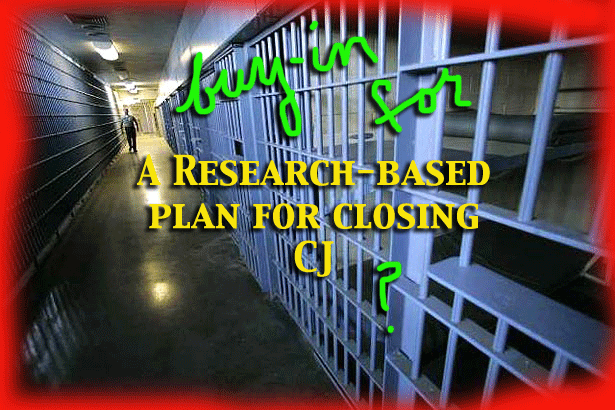 Since last fall Sheriff Lee Baca has insisted to the LA County Board of Supervisors that the county needs to spend $1.4 billion to build a state of the art jail facility, so that the notorious and violence-plagued Men's Central Jail can be closed and torn down.
Now, however, Baca has tentatively signed on to what many are calling a ground-breaking plan that is far more progressive—and far less expensive—than his earlier building extravaganza, yet one that it is hoped will result in the closing of the decrepit and difficult to guard Men's Central, while employing what experts describe as a fresh approach to criminal justice policy and practice.
At a Tuesday morning press conference held at the Los Angeles Sheriff's Department headquarters in Monterey Park, Baca stood with nationally known corrections expert, Dr. James Austin, and the ACLU's Peter Eliasberg and Margaret Winter, for the presentation of Austin's innovative roadmap that charts the ways that the County's jail population may be lowered enough to shut down CJ completely as soon as 2013.
The much-anticipated Austin report titled "Evaluation of the Current and Future Los Angeles County Jail Population," lays out in 32 pages of intensely researched text, graphs and charts, all of the elements that its proponents say are needed make the jail closing happen, while also keeping in mind public safety. The plan also factors in the state's AB 109 realignment plan that kicked in last October, and that is estimated to bring an influx of 7000 extra inmates into the county jail system by the end of 2014.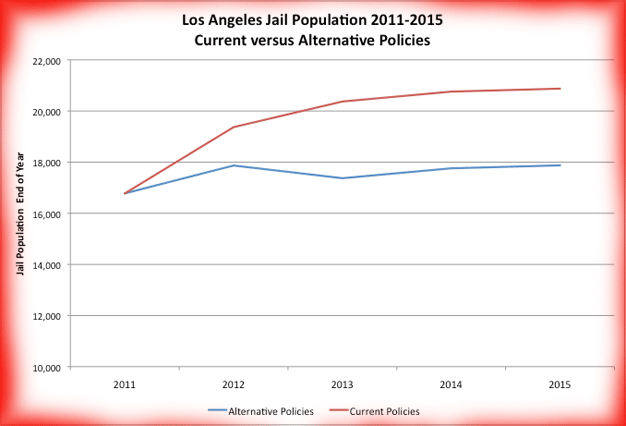 Among the points made in Austin's blueprint are the following:
The biggest chunk of the County's jail population is pretrial at 45 percent. These are people who are waiting to go to trial, but have not been convicted. (The rest are: sentenced with a pending charge, 18%, sentenced, 37%)
Most of that pretrial 45 percent are in for felony charges, about half of which are violent or sex related.
However, as Austin notes, this leaves a big chunk of people who are in jail while awaiting trial for more minor charges. Many of this group are in jail, not because they are considered a public safety risk, or a flight risk, but because they simply don't have the money or the assets (like a house) that will allow them to make bail.
Austin estimates that, by the end of 2014, the projected jail population of 21,000 can be safely reduced by about 3,000 inmates by implementing an "innovative" system pretrial supervision—meaning certain people will get out—pretrial—without having to post bail, but they will have some element of supervision to insure that they show up for their court dates.
The blueprint also calls for some reorganization of the county's existing facilities including the North County Correctional facility in Castaic, which would be renovated to replace the maximum-security beds lost at Men's Central, which currently houses 4,000 inmates, and the possible utilization of
five county conservation camps to increase the number of minimum-security beds. The county's Mira Loma Detention Center, which is presently contracted to ICE, is another facility listed as an alternative option in the Austin plan.
In addition, the multi-part strategy would include another leg that allows low-risk convicted felons to be supervised in the community if they complete education-oriented programs shown to cut down on recidivism—namely LASD's Education Based Incarceration (EBI) program, that also happen to be Baca's pet project. (At present, the EBI program serves approximately 1,200 inmates who receive counseling and education services in order to cut down their risk of recidivism, a strategy that statistically has been shown to be successful.) Austin estimates that the EBI part of the strategy, if properly implemented, could lower the future jails population by another 1000 inmates.
The ACLU, which paid for the Austin report, had tried in past years to get the LASD to allow Austin to study the LA County jail system and to make recommendations for lowering the jails population. Always before, Baca had declined the offer.
Then after news of the FBI investigation into jail violence broke, combined with the ACLU's harshest jails report yet, and ongoing critical coverage by such media outlets as WitnessLA, the LA Times and others, Baca agreed to let Jim Austin in. (Baca's cooperation was necessary in that large parts of Austin's report is based on analyses of LASD's internal figures.)
"The sheriff has said to us that he's committed to the proposal, and It's a huge step," said Peter Eliasberg, the So Cal ACLU's legal director, speaking about Baca's degree of sign-on to the Austin-crafted strategy. "We may disagree about a lot things, but where we can agree, we should be able to make real progress."
The ACLU's national jails expert, Margaret Winter, goes even further. "That Sheriff Baca strongly supports the Austin report and these recommendations indicates a seismic shift in attitude," she wrote this morning in a blog post, "a shift likely to reverberate and help trigger change around the nation."
Whether Baca's cautious sign-on on Tuesday will translate into action is something that we will continue to track.
---
UPDATE: SHERIFF'S DEPARTMENT SPOKESMAN STEVE WHITMORE, while reiterating that the sheriff was "going to consider the Austin report," was far less upbeat in his take than the ACLU.
"The sheriff is not committed to implementing the Austin plan," said Whitmore. "The ACLU should not oversell this."
Whitmore said that Baca had been exploring the pretrial release option for some time, but that it took cooperation from the court system, which the sheriff has not secured. Plus there's a cost factor and the DA factor."
District Attorney Steve Cooley has, thus far, not been enthusiastic about pretrial release.
So has progress been made?
For a functional answer to that question it appears that we are, once again, all going to have to…
…stay tuned.
---
Photo of CJ by Jay Clendenin/Los Angeles Times