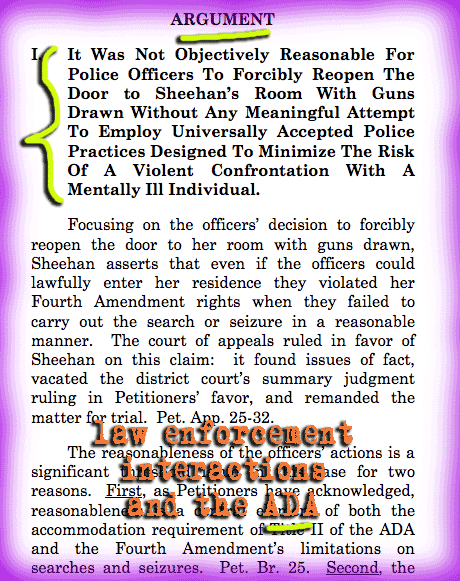 US HIGH COURT TO HEAR ARGUMENTS ON HOW POLICE HANDLE ARMED, MENTALLY ILL PEOPLE
This week, the US Supreme Court will consider in what capacity law enforcement officers must adhere to the Americans With Disabilities Act during an encounter with a mentally ill (or otherwise disabled) person who is armed and violent.
In San Francisco v. Sheehan, officers shot a woman with schizoaffective disorder in a group home who, in midst of a psychiatric crisis, had locked herself in a room with a knife after threatening her social worker. Sheehan survived the shooting. She has since sued the police department for resorting first to lethal force instead of attempting to deescalate the confrontation.
The Associated Press' Tami Abdollah and Sam Hananel have more on the case and why it is so important. Here's a clip:
Law enforcement groups are keeping a close eye on the Supreme Court case, which they say could undermine police tactics, place officers and bystanders at risk, force departments to spend thousands in new training and open them to additional liability.

The ADA was designed to regulate institutional policies, not an individual officer's behavior, said Darrel W. Stephens, executive director of the Major Cities Chiefs Association, which filed a brief supporting San Francisco.

Stephens said that while departments around the country receive training to de-escalate and avoid using force in a situation with an unstable person, it's not always possible to do so.

But mental health advocates say the ADA requires police to act less aggressively when arresting or detaining people with disabilities. Claudia Center, a senior staff attorney in the American Civil Liberties Union's disability rights program, said the ADA should apply to all situations, especially emergencies when the disabled most need to be accommodated.

"This case is not unusual. There are a lot of Sheehan situations out there where there is an opportunity not to rush in, and take a moment," Center said.
---
AND WHILE WE'RE ON THE TOPIC: RADLEY BALKO SAYS WE ASK THE WRONG QUESTIONS ABOUT POLICE KILLINGS
Last summer, Dallas police officers shot and killed Jason Harrison, a mentally ill man who police say threatened them with a screwdriver. Late last week, Harrison's family members, who are suing the Dallas Police Dept., released footage captured by one of the officers' body cameras during the encounter. (You can watch it target="_blank">here.)
The police department concluded their internal investigation into whether or not the officers broke any laws and chose to turn it over to the Dallas County District Attorney's Office.
The Washington Post's Radley Balko says that instead of just looking at whether the killing was lawful and within department policy, we should also ask whether the killing was necessary, or whether it could have been deescalated by the officers. Balko also says that if the killing of this man suffering from mental illness could have been reasonably avoided, we must also determine what needs to change in order to prevent such shootings in the future. Here's a clip:
Asking if a police shooting was legal tells us nothing about whether or not we should change the law. Asking whether or not it was within a police agency's policies and procedures tells us nothing about the wisdom of those policies and procedures. Of course, both of those questions are important if your primary interest is in punishing police officers for these incidents. But while it can certainly be frustrating to see cops get a pass over and over again, even in incidents that seem particularly egregious, focusing on the individual officers involved hasn't (and won't) stopped people from getting killed.

Let's go back to that Dallas shooting. Unfortunately, the video camera doesn't capture the critical moments immediately prior to the shooting. But it does capture the initial police contact with Harrison. Let's assume for a moment that the police account of the incident is 100 percent true — that Harrison did come at them with the screwdriver. The question we should be asking isn't whether or not the police decision to shoot Harrison at that moment was justified. The question we should be asking is whether the interaction ever should have reached that moment. Or, to go back to our more basic question: Was this shooting necessary?

The video strongly suggests that it wasn't. Why were two patrol officers responding to a call about a possibly schizophrenic man? Would it be better for a mental health professional to have accompanied them? If Dallas police officers are going to be the first responders to calls about mentally ill people who have possibly become dangerous, are they at least given training on how to interact with those people? Are they taught how to deescalate these situations?

From the video, it seems clear that these particular police officers did the escalating, not Harrison. It's the cops who begin yelling and who take a confrontational stance. Yes, Harrison was holding a small screwdriver. And yes, in the right circumstances, even a small screwdriver can do a lot of damage. That doesn't mean you pull your gun on everyone who is holding a small screwdriver. Now, there's probably nothing illegal about a police officer unnecessarily escalating a situation with his words or his body. There's certainly nothing illegal about his failure to deescalate.

But that's precisely why Was this illegal? is the wrong question. The better question is, Was this an acceptable outcome? And if the answer is no, then the follow-up question is, What needs to change to stop this from happening again?
---
GOV BROWN CALLS ON CALIFORNIA BUSINESSES TO EMPLOY EX-OFFENDERS TO REDUCE REVIDIVISM
At a employer forum at Merritt College in Oakland, California Governor Jerry Brown urged businesses to hire former offenders to give them the means to successfully transition back into their communities. Brown called the issue one of public safety as well as about "being a human being."
KQED's Sara Hossaini has the story. Here are some clips:
Brown says a lack of work will keep them locked out of a permanent place in their communities and, too often, locked up behind bars once again.

"This work I see is, yes, about public safety, but it's also about being a human being," says Brown.

[SNIP]

Now, Brown is hoping that providing employers with information and incentives will encourage more of them to do their part. That means tax breaks, talent matching, bond reimbursements and training subsidies of between $5-10,000 per employee.

Businesses can also take part in a Joint Venture Program that offers what officials call attractive benefits for employing people while they're still in custody, in the hopes of providing them a seamless transition once they're out.
---
LA COUNTY DISAGREES ABOUT HOW TO KEEP SEX-TRAFFICKED KIDS FROM BEING PULLED BACK TO THE STREETS
Within the last few years, LA County has shifted away from criminalizing and locking up sexually exploited minors as "prostitutes," instead treating them as victims and diverting them from juvenile detention into foster care. But placing trafficked girls into foster care and connecting them with services and mentors does not always work. Sometimes the young girls run away, and return to the streets and their pimps.
The LA County Board of Supervisors and head of the Department of Children and Family Services, Philip Browning, don't all agree on how to address this complex problem.
The LA Times' Garrett Therolf has more on the issue. Here's a clip:
…as county supervisors debate establishing a treatment center for these youth, the issue of locking up foster children has become a quagmire.

On one side are those who say the state should act like a responsible parent to stop children from leaving their home to meet pimps and johns. On the other side are those who say that locking up children mirrors the confinement that predators subject them to, and will ultimately fail to cure the problem.

"This is really the issue that everyone keeps coming back to," said Allison Newcombe, an attorney with the Alliance for Children's Rights who represents sex-trafficked children. "Everyone has such strong opinions."

Law enforcement officials say criminal gangs have increasingly turned from selling drugs to selling children for sex because a drug can be sold once, but a child can be sold repeatedly. According to the California Child Welfare Council, a child's life expectancy after being involved in sex trafficking is seven years, with AIDS and homicide being the leading causes of death.

Pimps capitalize on the porous barriers between foster care facilities and the outside world, advocates say, by calling vulnerable children, sending them letters and infiltrating group homes with young recruiters. In some cases, the pimps persuade children to get tattoos of their names.

Supervisor Sheila Kuehl, who opposes efforts to allow locking up foster children who are at risk of being lured into sex trafficking, said the recruitment for prostitution in the county's juvenile detention facilities proves that confining children is not a solution.

Leading the push to establish a locked facility for some foster youth are Los Angeles County's child welfare chief, Philip Browning, and Supervisor Don Knabe. Both are lobbying Sacramento lawmakers to change laws that currently prohibit confining foster care youth who are at risk.

Browning said he reluctantly came to support such an option after social workers watched children as young as 10 and 11 run from county foster care facilities to rendezvous with pimps and johns.

"We have a small number of youth in foster care where our current programs simply haven't worked," Browning said. "Frankly, I'm not certain that the current facilities provide the level of security that I would like."