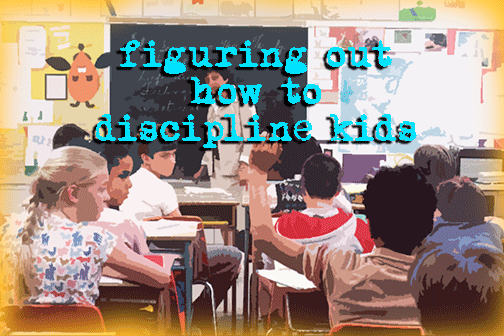 THIS AMERICAN LIFE TAKES A CLOSER LOOK AT SCHOOL DISCIPLINE PRACTICES
This past weekend, in a show called "Is This Working?" American Public Radio's This American Life broadcast a story about school discipline—two different methods in particular—and whether or not they work for kids.
The TAL episode begins by exploring racial disparity in school suspensions and expulsions for infractions like "disrespect" and "willful defiance," and the school-to-prison pipeline.
Reporter Chana Joffe-Walt talks with writer Tunette Powell and her sons JJ (5) and Joah (4), who have received eight suspensions between them (and whose story we shared here).
And in the second half of the program, host Ira Glass and Joffe-Walt tell of two completely different endeavors to change the way schools discipline kids.
The first is a system of charter schools tailored to poor and minority kids. The charter schools first started popping up around 20 years ago, and boasted strict, methodical discipline coupled with long school days, and a slogan telling kids to "sweat the small stuff."
The first generation of kids to enter these schools are now adults, and one of these students, Rousseau Mieze, shares his experiences, good and bad, with TAL. For instance, he was suspended on his second day for celebrating a perfect score on a math test, and was frequently disciplined thereafter for talking out of turn. Half of the first class dropped out before the end of the school year, but Rousseau went on to graduate college and is now a teacher at charter school that applies similar discipline methods.
Conversely, another discipline movement has been slowly sweeping through schools across the nation: restorative justice, a model based on healing and conflict resolution between students and their teachers and peers.
The full episode is quite good and worth listening to, even if you are familiar with school discipline issues.
---
LAPD CHIEF CHARLIE BECK FACES TRICKY DECISION ABOUT DETECTIVE'S FATE
While speaking at an LAPD training class, Detective Frank Lynga went on a vulgar tirade that included, among other things, calling black civil rights attorney Carl Douglas a "little Ewok," saying a female captain was "swapped around," and calling a certain lieutenant a "moron."
Now Chief Charlie Beck must choose whether to merely punish Lynga, or fire him, as a department board of rights panel has recommended. And it's a complicated decision because whichever way Beck moves, there will be constituencies who are upset. It is further complicated by the fact that Chief Beck did not fire officer Shaun Hillman who allegedly pulled a gun on a man and used a racial slur during a bar fight (which critics presume was because of his high profile uncle, a former LAPD deputy chief).
The LA Times' Kate Mather and Richard Winton have this complex story. Here's a clip:
Frank Lyga claimed that he drove his Jeep in the carpool lane at 100 mph, called a prominent black civil rights attorney an "ewok," quipped that a female LAPD captain had been "swapped around a bunch of times" and described a lieutenant as a "moron."

Then he recalled his fatal 1997 shooting of a fellow officer, an incident that sparked racial tensions within the department because Lyga is white and the slain officer was black.

"I could have killed a whole truckload of them, and I would have been happy doing it," Lyga recounted telling an attorney representing the officer's family.

Nearly a year after Lyga gave his controversial training lecture, LAPD Chief Charlie Beck must choose whether to follow a disciplinary panel's recommendation issued this week to fire the detective or reduce his punishment and let him keep his job.

The decision presents the chief with one of his biggest tests since his August reappointment to a second five-year term and is likely to reignite criticism of how he handles officers' discipline. Beck has clashed with his civilian bosses and rank-and-file officers on the issue, with some accusing him of being inconsistent.

On Friday, black civil rights advocates called on Beck to fire Lyga, saying that the narcotics detective's comments were racist and sexist and should not be tolerated. Meanwhile, Lyga's supporters say that he is genuinely remorseful, and note that Beck recently rejected another disciplinary panel's recommendations to fire a well-connected officer who was caught uttering a racial slur.

"This is a police chief's nightmare," said Merrick Bobb, a policing oversight expert.
---
FURTHER PROP 47 READING: ENDORSEMENTS AND CRITICISMS FROM NEWSPAPERS AND JUSTICE SYSTEM LEADERS
A former Santa Barbara County Superior Court judge, George Eskin, urges voters to pass prop 47. In an op-ed for the Santa Barbara Independent, Eskin, who is also a former assistant DA in SB and Ventura, says that "wobblers"—charges that could be designated as either misdemeanors or felonies—are often filed as felonies by DAs and are later reduced to misdemeanors, creating a needlessly expensive legal process. Here's a clip from his case for Prop 47:
I was a prosecutor and a defense attorney for 35 years before serving a decade as a judge on the Santa Barbara County Superior Court. In these experiences, I have seen how far we have strayed from sound criminal sentencing policies.

This is especially true of low-level offenses, many of which can be prosecuted as either a felony or a misdemeanor. District attorneys decide which classification to file, and a judge has no authority to influence their decision. DAs routinely file these cases as felonies, even though they are likely to conclude with a misdemeanor disposition.

The end result of this costly process, a misdemeanor conviction, does not justify the financial expense and the valuable resources invested by police, prosecutors, and the courts, and the ability to investigate, prosecute, and adjudicate serious and violent crimes is compromised.

And even if a felony conviction stands for these nonviolent offenses, the "felon" label will serve as an impediment to future employment and education opportunities, not to mention the obvious loss of employment and interruption of education and family life while someone is on trial or incarcerated.
UT San Diego, however, is urging voters not to pass 47, saying that while the state's prison population and recidivism rates do need to be reduced, and our "tough-on-crime" policies did not work, Prop 47 will not solve these problems. Here's a clip:
Stealing any handgun worth less than $950, now a felony, would automatically be a misdemeanor — and nearly all stolen handguns are worth less than $950; the language is so loose it would even make possession of date-rape drugs a misdemeanor; and the provisions for shoplifting and bad checks could cost retailers and consumers millions.

Finally, the prison money that would be saved and diverted to treatment programs, schools and crime victims — Lansdowne estimated it at $100 million to $200 million — is peanuts for a state the size of California. Which means thousands of criminals would be back on the streets where they would still not get treatment for their mental health disorders or their addictions.
Another former Superior Court judge, Harlan Grossman, who is also a former prosecutor and an FBI agent, in an op-ed for the Contra Costa Times, calls the measure "long overdue" and says it will help the state meet prison population reduction goals as well as save much-needed court resources to use on more serious criminal cases. Here are some clips:
Realignment significantly reduced overcrowding in our state prisons, but the number of inmates has been creeping back up over the past two years.

Without some additional sentencing changes, we will fall short of the goal of prioritizing jail and prison space while also making our justice system more equitable and fair. Fortunately, Proposition 47 could move us forward toward that goal.

[SNIP]

Another benefit of making these offenses misdemeanors is that it should lead to a quicker resolution of these cases, freeing up scarce resources to address the more serious offenses that threaten the safety of our communities.
KPCC has a short and sweet Prop 47 FAQ list with bullet points on what the measure would do, if passed, and why it's different from current laws.
---
REGISTER! VOTE!
By the way, today, October 20, is the cut-off to register to vote in the November 4 election. Go register! Quick! You can fill out the online application here.