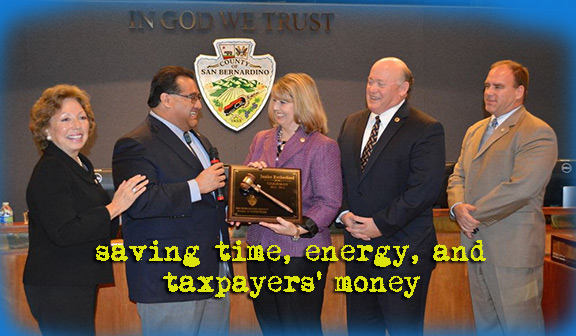 SAN BERNARDINO SUPERVISORS APPROVE LIGHTNING-FAST SETTLEMENT IN ALLEGED POST-HORSE-CHASE BEATING, SAVING TAXPAYER $$
The San Bernardino County Board of Supervisors agreed to pay $650,000 to Francis Jared Pusok, who was allegedly beaten by a group of deputies for more than two minutes after an intense horseback chase earlier this month. (Backstory and video are here.)
Wishing to avoid costly legal fees, the San Bernardino Supes made the decision in a remarkably quick eight days, before Pusok's attorneys even filed a claim.
Legal experts (and WitnessLA) were pleasantly surprised that the board assessed the situation and prepared a settlement so quickly.
The SB Supes efficiency in handling the issue was in stark contrast to LA County's history of dragging out litigation, only to settle anyway, sticking county taxpayers with the legal bills.
KPCC's Frank Stoltze has more on the settlement. Here's a clip:
"I support the action by the Board of Supervisors to handle this matter promptly," Sheriff John McMahon said in a statement…

"This is the fastest settlement I have ever heard in a case of alleged officer abuse," said Loyola Law School Professor Stan Goldman. "Usually these things go on for months and years."

He said the county likely saved money with the early deal. Cities and counties often hire outside counsel to handle police abuse cases, and that can be expensive. "Attorneys fees can really add up," Goldman said.

[SNIP]

According to the terms of the agreement, unanimously approved by the Board of Supervisors in closed session Friday, the county acknowledges no wrongdoing, according to the statement. The agreement settles all potential claims from Pusok.

"The sole purpose of this agreement for both parties is to avoid the costs involved in litigation," said Board of Supervisors Chairman James Ramos. "This agreement is a fair outcome for everyone involved, including the taxpayers."
---
CA SENATE COMMITTEE PASSES BILLS TO PROTECT FOSTER KIDS FROM BEING OVER-PRESCRIBED PSYCH MEDS
On Tuesday, the California Senate Human Services Committee unanimously approved a package of four bills designed to combat the excessive and alarming prescribing of psychotropic medications to California's foster kids. (For more on this issue, read Karen de Sá's powerful five-part investigative series for the San Jose Mercury News, "Drugging Our Kids.)
Among other changes, the bills will improve prescription tracking and oversight, and push doctors to choose non-medical treatments before psychotropic drugs.
The bills will have to jump through a few more legislative hoops.
De Sá has more on the bill package and what comes next. Here are some clips:
The foster youth told the Senate's Human Services Committee they'd been kicked out of residential treatment programs for refusing drugs that caused them debilitating side effects, had been prescribed four and five medications at once, and often suffered in silence when no one was there to listen.

Joined by public health nurses, social workers, advocates, county leaders and welfare directors, the former foster youth urged support for four bills that would improve court oversight of prescribing, better track medication use and call for non-drug therapies before medication. The legislation — authored by Sens. Jim Beall, D-San Jose; Holly Mitchell, D-Los Angeles, and Bill Monning, D-Carmel — comes after a yearlong investigation by this newspaper called "Drugging Our Kids."

[SNIP]

The chair of the Human Services Committee, Sen. Mike McGuire, D-Healdsburg, insisted Tuesday the four bills were only the beginning. His committee will soon hold a hearing on the pharmaceutical industry's role in the excessive prescribing to foster youth. California has to stop "drugging our kids," McGuire said. "We have to take the tens of millions of dollars we are spending on psychotropic medications and put it into trauma care."
---
LAPD OFFICER CHARGED WITH ASSAULT FOR ALLEGED BEATING, LAPD CHIEF EXPLAINS WHY THE VIDEO WILL NOT BE RELEASED
Last fall, a store security camera captured video of an officer allegedly kicked Alford in the head while he was being restrained on the ground. LAPD officials said Alford was not resisting arrest, and one viewer described it as "a football player kicking a field goal."
On Monday, the officer, Richard Garcia, was charged with assault for the alleged excessive use of force.
LAPD Chief Charlie Beck (backed by LA District Attorney Jackie Lacey) chose not to release the video of the incident, saying that it had the potential to compromise the criminal case against Garcia.
The LA Times' Kate Mather has more on the case and Chief Beck's decision. Here are some clips:
Beck acknowledged the public interest in viewing the footage of the Oct. 16 incident — which was captured by a security camera posted on a South L.A. building — but said Dist. Atty. Jackie Lacey "has been very, very clear that she does not want that video out there."

Releasing the footage before the officer's trial, Beck said, could taint the jury pool or "otherwise interfere" with the case.

"My desire here is justice," Beck told reporters Tuesday. "I know that there are other things that could be met by the release of the video. … But I want to get justice. And I think that's what this city deserves."

[SNIP]

On Tuesday, Beck said that after watching the video, he called Lacey and asked her office "to not only look at this case but to file criminal charges."

"I was shocked by the content of the video," he said.
---
ACLU SLAMS US MARSHAL WHO REPORTEDLY DESTROYED WOMAN'S PHONE WHEN SHE VIDEOTAPED AN INCIDENT
The US Marshals Service announced an investigation into a video captured in South Gate, CA, in which a deputy marshal appears to grab, throw to the ground, and kick the cell phone of a woman who was reportedly recording an incident between marshals and a biker gang.
In response to the video, Hector Villagra, executive director of the ACLU of Southern California said, "The ACLU of Southern California is deeply disturbed by the video released yesterday on YouTube, showing a law enforcement officer approaching a woman who appears to be lawfully filming a police operation from the sidewalk, grabbing her phone, smashing it to the ground and kicking it.
"There is no situation in which an officer can intentionally grab and destroy a camera being used to lawfully record law enforcement. The officer's conduct is a blatant and deliberate violation of the Constitution and his duties as an officer to abide by the law. Members of the public, on a public street, unquestionably have a First Amendment right to record law enforcement officers, acting in the course of their duties. Indeed, as recent events have shown, video recording of law enforcement activity plays a crucial role in holding police accountable for misconduct — particularly in California, where public access to information about officer misconduct is limited by state law."
Andrew Blankstein, Robert Kovacik and Willian Avila have more on the story for NBCLA.
---
A TINY FRACTION OF COUNTIES IN THE US STILL SENTENCE PEOPLE TO DEATH, LOS ANGELES IS ONE OF THEM
The US is in the midst of a decline in the use of capital punishment. While the death penalty is still legal in 32 states, the real work is being done at the county level. Out of the nation's 3,144 counties, only a handful of those are still carrying the torch: in 2012, just 59 of the country's 3,144 counties gave all of the death penalty sentences.
Los Angeles was among the overachievers.
The Atlantic's Matt Ford takes a closer look at the numbers and their implications. Here are some clips:
Los Angeles County is only twice the size of [Illinois's] Cook County, but Los Angeles County sentenced nearly five times as many people to death from 2004 to 2009. [Texas's] Harris County has roughly one million fewer people than Cook County, but Harris County sentenced almost three times as many people to death. [Arizona's] Maricopa County is roughly the same size as Harris County, but Maricopa County sentenced thirty-eight people to death while Harris County rendered twenty-one death sentences. [Florida's] Miami-Dade County, which has a population of approximately 2.5 million, only sentenced four people to death, whereas Oklahoma County, which has a population of approximately 750,000, sentenced eighteen people to death.

The effect is even more dramatic in the aggregate. Of the 3,144 counties or their equivalents in the United States, just 29 counties averaged more than one death sentence a year. "That 1 percent of counties accounts for roughly 44 percent of all death sentences" since 1976, Smith observed. A 2013 report by the Death Penalty Information Center found that 59 counties—fewer than 2 percent of the total—handed down all U.S. death sentences in 2012.