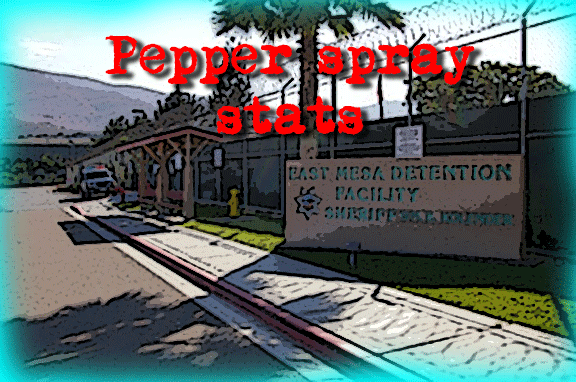 FREQUENT PEPPER SPRAY USE IN SAN DIEGO COUNTY JUVENILE LOCK-UP
There were 414 incidents in which pepper spray was deployed by officers in San Diego juvenile detention centers—four times as many as recorded in LA County juvenile facilities in 2011—according to records obtained by San Diego City Beat(link).
San Diego City Beat reporter and 2012 John Jay/Tow Juvenile Justice Reporting Fellow Dave Maass has the story for the Crime Report. Here are some clips:
When young people held in San Diego County's juvenile hall are disciplined with pepper spray, guards at the Kearny Mesa Juvenile Detention Facility ask afterwards if they want a shower.

The best response, says former youth offender Ian Arellano, is "no."

Water reactivates the sting—which then washes down your body, he explains. Instead of affecting just your arms or face, suddenly every pore burns.

"It hurts really bad," says Arellano, who was in and out of juvenile facilities in Southern California at least 10 times between 2007 and 2010. "They say it lasts for an hour, but it lasts all day."

The San Diego County Probation Department operates five detention facilities, with a total average daily population of 800 youths.

Arellano, now 22 and living in Southeast San Diego, says friends currently in juvenile hall tell him nothing has changed—despite assurances last year that the practice would be re-evaluated.

Records obtained by San Diego CityBeat through the California Public Records (CPRA) Act back him up.

They suggest that pepper spray—called "OC" (short for "Oleoresin Capsicum")— is deployed daily, sometimes multiple times a day, in the county's juvenile facilities.The records show a total of 414 incidents during 2012.

While that represents slightly more than a 10 percent decrease since the 2011, it's not clear that county justice officials are willing to address the problem seriously.

[SNIP]

"It's been a year since the Juvenile Justice Commission promised to monitor the use of pepper spray in San Diego's juvenile facilities and, specifically, to include pepper spray usage questions in its facility inspections," says Margaret Dooley-Sammuli, a senior policy analyst and incarceration expert with the American Civil Liberties Union (ACLU) of San Diego and Imperial Counties.

"CityBeat's findings—that pepper spray was used in San Diego juvenile facilities in 2011 at four times the rate of Los Angeles facilities—deserves a serious response."

Los Angeles County logged only 91 pepper spray incidents in juvenile halls in 2011.

[SNIP]

The Council of Juvenile Correctional Administrators (CJCA) notes that only 14 states have laws allowing pepper spray to be used in juvenile facilities. Only five states, including California, allow staff to carry pepper-spray canisters on their person, with the rest limiting its use to severe, riot-level emergencies.

In a 2011 report, CJCA said that there is a dearth of studies on the safety implications for juveniles. But it adds that most juvenile justice agencies say the argument that pepper spray use doesn't harm the relationships between staff and youth—relationships which are crucial to successful rehabilitation—is wrong.

"The use of pepper spray within juvenile detention facilities is very controversial," Krisberg says. "Many places don't do it. The Council of Juvenile Correctional Administrators basically says it shouldn't be done.

"There have been a couple of federal courts that have said it's an Eighth Amendment violation. Maybe it's not controversial in parts of California, but it is very controversial around the country."
---
LASD DEPUTY ALLEGEDLY SEXUALLY ASSAULTED WOMAN AND SOLICITED OTHERS WHILE IN UNIFORM
Palmdale LASD deputy Jose Rigoberto Sanchez was taken into custody Monday for allegedly raping a woman and soliciting bribes from other alleged victims while on duty. He has been charged with eleven felony counts, including rape under color of authority and kidnapping to commit another crime.
The LA Daily News has the story. Here are some clips:
The charges follow an extensive investigation by the District Attorney's Justice System Integrity Division and involve traffic stops of two female motorists.

All but one of the counts involve a woman who was stopped Sept. 22, 2010.

Sanchez allegedly offered not to arrest the woman on an outstanding warrant in exchange for sex, according to the District Attorney's Office.

Two nights later, he pulled over another woman on suspicion of driving under the influence and allegedly solicited a bribe in the form of sexual activity, according to the District Attorney's Office.

[SNIP]

Sanchez was relieved of duty with pay in 2010 and without pay starting Monday, when he was arrested, officials said.
---
COMMUNITY FASTING, DEMONSTRATIONS, AND BIG BACKERS FOR CALIFORNIA PRISONER HUNGER STRIKE
Family members and supporters of the California prisoners who are now on day 24 of the hunger strike held a demonstration outside the state capitol Tuesday and delivered a petition with 41,000 signatures to Gov. Brown asking for an end to solitary confinement. The issue has been gaining the attention and support of celebrities like Bonnie Raitt, Noam Chomsky, and others who also signed a letter sent to the governor.
The Associated Press has more on the backers and an update on the strike situation. Here's a clip:
Celebrities including Jay Leno and Gloria Steinem have condemned the isolation of inmates to control gang violence at California prisons – a practice that sparked a hunger strike by hundreds of inmates.

The Rev. Jesse Jackson, Bonnie Raitt, Peter Coyote and Noam Chomsky also signed a letter sent Monday to Gov. Jerry Brown that calls isolation units "extensions of the same inhumanity practiced at Abu Ghraib and Guantanamo Bay," the Los Angeles Times reported.

Raitt performed once at San Quentin and it "made a profound impact on her," spokeswoman Annie Heller-Gutwillig told the paper.

Families of some of the inmates being held in isolation also held a demonstration outside the state Capitol on Tuesday, where they said they delivered a petition to Brown bearing 41,000 signatures calling for an end to solitary confinement.

Meanwhile, prisoners continued a three-week-old hunger strike. Prison officials on Monday said 385 inmates have refused to eat since July 8, while 176 more are on shorter protests.
There will also be a rally and press conference today, Wednesday, at 12:00p.m. at the Downtown Federal Building, fasting and other community events in solidarity with the strikers and their core demands. According to the announcement, about 1000 people have signed up to participate in "Hunger for Justice," and supporters include James Cromwell, Angela Davis, Mike Farrell, Danny Glover, Elliott Gould, Chris Hedges, Michael Moore, Alice Walker, and Cornel West.