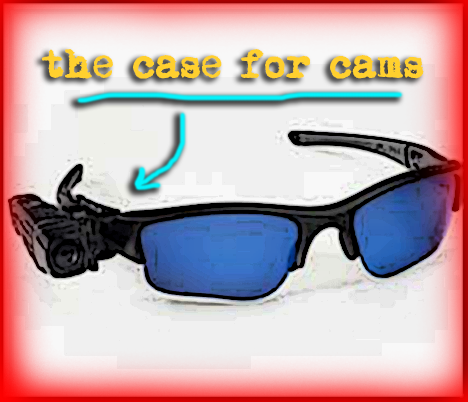 RIALTO POLICE SHOW HOW EFFECTIVE BODY CAMS CAN BE
The city of Rialto, CA has seen complaints against officers drop almost 90 percent, and officer use of force by nearly 60 percent, since an officer camera program was implemented in February 2012.
The NY Times' Ian Lovett has the story. Here's a clip:
Rialto has become the poster city for this high-tech measure intended to police the police since a federal judge last week applauded its officer camera program in the ruling that declared New York's stop-and-frisk program unconstitutional. Rialto is one of the few places where the impact of the cameras has been studied systematically.

In the first year after the cameras were introduced here in February 2012, the number of complaints filed against officers fell by 88 percent compared with the previous 12 months. Use of force by officers fell by almost 60 percent over the same period.

And while Mayor Michael R. Bloomberg railed against the federal court, which ordered New York to arm some of its own police officers with cameras, the Rialto Police Department believes it stands as an example of how effective the cameras can be. Starting Sept. 1, all 66 uniformed officers here will be wearing a camera during every shift.

William A. Farrar, the Rialto police chief, believes the cameras may offer more benefits than merely reduced complaints against his force: the department is now trying to determine whether having video evidence in court has also led to more convictions.

But even without additional data, Chief Farrar has invested in cameras for the whole force.

"When you put a camera on a police officer, they tend to behave a little better, follow the rules a little better," Chief Farrar said. "And if a citizen knows the officer is wearing a camera, chances are the citizen will behave a little better."
---
LONG BEACH GROUPS SAY LA DEPUTY TARGETED UNDOCUMENTED DRIVERS
Community organizations in Long Beach rallied Wednesday, calling for an investigation into an LASD transit deputy's alleged racial profiling and illegal vehicle impounding.
The deputy allegedly targeted Latino drivers, impounding the vehicles of undocumented immigrants and those with out-of-state licenses. One woman said the deputy told her that he would continue to do so until the immigrants "went back to their country."
The Long Beach Press-Telegram's Beatriz Valenzuela has the story. Here's how it opens:
Long Beach community groups are pushing for a complete investigation into allegations a Los Angeles County sheriff's transit deputy once stationed in Long Beach racially profiled motorists, illegally impounding vehicles and targeting a person who filed a complaint against him.

"We had a meeting with (Sheriff Lee) Baca back on March 2, but we haven't seen any resolution to the issue," said Laura Merryfield of the Long Beach Immigrant Rights Coalition, one of the groups that organized a rally Wednesday over the issue.

A report by the Los Angeles chapter of the National Lawyers Guild called the unidentified deputy's alleged actions a "serious abuse of police power" that included racial profiling and denial of due process rights.

The report alleges the deputy violated the law by impounding vehicles of drivers with out-of-state or out-of-country licenses, by denying impound hearings, conducting legally flawed impound hearings and by failing to release vehicles to licensed drivers — in one case, the registered owner of one of the vehicles. It is illegal to drive without a license, but generally vehicles are not impounded unless a licensed driver is unavailable to take the wheel or the driver's license has been revoked or suspended.
---
LASD DEPUTY AND JAIL EMPLOYEE CHARGED WITH COVERING UP INMATE ABUSE
Former Los Angeles Sheriff's Deputy Karin Cring and a custody assistant at Twin Towers, Jayson Ellis, were arrested Wednesday and charged with filing a false police report regarding another deputy's alleged 2010 assault on an inmate.
The LA Times' Richard Winton has more on the arrests and the alleged abuse of inmate Derek Griscavage. Here's a clip:
Karin Cring, a former deputy now living in Switzerland, was taken into custody Wednesday after authorities received information that she was at a residence in Covina.

Sheriff's investigators also arrested custody assistant Jayson Ellis, who has been on paid leave since July 2012 in connection with the investigation. Both were ordered held on $20,000 bail; Cring and Ellis were released on bail Wednesday evening, jail records show.

They have been charged with falsely reporting an incident in which authorities alleged that another deputy, Jermaine Jackson, assaulted an inmate using "a deadly weapon" — his feet.

Jackson was charged last year with causing great bodily injury, assault by a public officer and filing a false report in connection with that incident and another incident at the Compton courthouse lockup in 2009. He is awaiting trial.

Ellis, who has worked for the department since 2006, has been on paid leave, but after his arrest Wednesday, his status was shifted to unpaid leave, Sheriff's Department spokesman Steve Whitmore said.
These arrests bring up a great many questions. For one thing, why were Cring and Ellis not arrested until now, when the reported assault was in 2010?  Similarly, why was custody assistant Ellis put on paid leave a full year ago, in 2012?
 
More as we find out more.
---
NEW LONGFORM NONFICTION RECOMMENDED READ: THE GIRL WHO WOULDN'T DIE
This month, a new journalism project called The Big Roundtable, has published a remarkable story titled The Girl Who Wouldn't Die. The narrative, which chronicles Christina Martinez's fight for her life after she was savagely beaten, stabbed, and left for dead in Turnbull Canyon, is by award-winning former LA Times reporter, Erika Hayasaki, now an assistant professor in the Literary Journalism program at UC Irvine, and the author of the upcoming The Death Class: A True Story About Life (January 2014).
The Big Round Table is a publishing platform that exclusively features longform nonfiction—in other words, the kind of dynamic nonfiction storytelling that is now frequently ignored by the mainstream media. TBRT received its initial funding via a Kickstarter campaign that raised over $19,000 (the goal was $5,000).
Okay, here's a clip from The Girl Who Wouldn't Die:
If her father were alive, Christina Martinez knew, he would not approve of her riding in this car, through these unfamiliar neighborhoods, with these three men. She looked out the window. The green Mitsubishi made its way down Beverly Boulevard, but not in Hollywood. Here the street stretched through the Los Angeles outskirts of Montebello and Pico Rivera, past the East L.A. sheriff's station, past billboards in Spanish scrawled with graffiti, past check-cashing shops, liquor stores, taco stands, and men wearing long sleeves to cover their tattoos. This was a warm Tuesday in August 2009, and the moon was bright.

Christina, who was 20, called the men in the Eclipse her friends, but they were hardly more than acquaintances. She had hung out with them a few times, and they knew her boyfriend, Kilo, whom she had been dating for two months. She had spent much of this evening with Kilo at the home of his cousin, in Bellflower, north of Long Beach. The three men had stopped by, but mostly stayed outside.

When it came time to go, Kilo stayed behind. The men offered to give Christina a ride home. She accepted, because rides were not easy to come by, and because she'd accepted rides from the driver before. Christina and her son, Alexander, only a year old, lived with her mother, farther north in Lennox, next to Los Angeles International Airport. To the west was the beach. On the way, the men said, they might walk on the sand and smoke a little weed.

Christina was small, not even five feet tall. Even with the front seat pushed all the way back, she fit comfortably in the back, behind the driver. She wore shorts, Kilo's black T-shirt, and Etnies, size 5 ½, with pink E's on the sides. She had dark hair, freckles, arched eyebrows, piercings beneath her bottom lip, and a star tattooed on her right shoulder. She carried a white backpack with cow designs, along with a small red bag with a turtle print. Inside were her makeup, Social Security Card, zebra-printed sunglasses, and a marijuana pipe.

The Mitsubishi turned east. Christina realized: They were headed away from the beach. They stopped for gas, some cigarettes, and two Arizona iced teas. Then they headed east again.

"Where are we going?" she asked.

No one answered. Lil Wayne spewed from the stereo.

Christina felt a twinge of uncertainty, but she let it pass. Maybe the men had another stop to make before turning west toward the ocean.

[BIG SNIP]

Now Christina could see that they were headed toward the hills southeast of Los Angeles. Mike was sweating, driving 50 miles per hour through 30 mph zones in Whittier, past Spanish-style apartment buildings, pick-up trucks and older cars, and homes shielded from the sidewalks by sculpted trees. He drove through an intersection near the mouth of Turnbull Canyon. The road narrowed and wove into dirt hills on the left, past tree branches on the right that hung over the street like claws.

Mike cocked his head. He had an indecipherable tattoo, partly inked-over, on his neck.

"I'm going to have to tie your hands," he said.

"What?" she said.

"Tie her hands," Mike told Eddie.

Christina looked at Eddie, confused. Suddenly, Eddie was holding a rope…
(For the rest, go here.)
If you like the story, you can donate money to fund the author's future pieces.
Here's a little bit more about the Big Roundtable's format (but if you go over to their "About" page, there's a great little explanatory video):
The Big Roundtable is a digital publishing platform that aims to connect passionate nonfiction writers with readers who will support their work. We do this through experimental methods of gathering, selecting, editing, and distributing ambitious narrative stories, and, eventually, researching the reading and sharing behavior around those stories. And by convening forums—online and in person—where writers can learn and connect for mutual support.

The inspiration for the Big Roundtable came from the Algonquin Round Table, a group of New York City writers who called themselves "The Vicious Circle" and who'd meet at the Algonquin Hotel in the early 20th century. They were vicious; we are not.