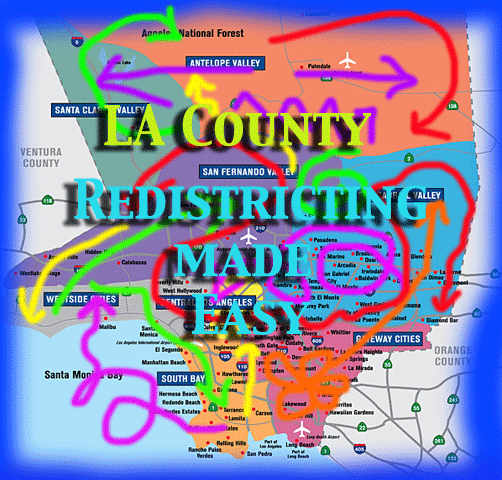 An 11th hour deal was struck in the LA County redistricting battle on Tuesday afternoon after a brief closed door session. When the Supes emerged from behind the closed doors, they voted and, all at once, the deed was done.
The winning plan that finally got the necessary four votes after weeks of stalemate was A 3, the redistricting scheme proposed by Supervisor Don Knabe—which leaves most of the supervisory districts largely unchanged.
The decision came after an earlier vote of 2 to 3 for the plan, which meant that no plan could be chosen—in that, for redistricting, four votes are required. That crucial last vote came after the addition of a somewhat complex amendment that moves a few communities from one district to another and, in so doing, made Knabe's plan presumably more palatable.
Mark Ridley-Thomas cast the swing vote that made the difference, added as it was to the existing votes of Zev Yaroslavsky, Don Knabe and Mike Antonovich.
Yet, why Ridley-Thomas decided to switch sides is a longer story.
For one thing, the last minute passage of a plan—any plan— kept the decision from being yanked out of the Supes collective hands and bounced over to a three-person committee made up of Sheriff Lee Baca, LA District Attorney, Steve Cooley and LA County Assessor John Noguez—an event that no one on the Board wanted.
But there's more to it.
First the back story.
Up until Ridley-Thomas's decision, the battle lines had been drawn as follows. (This is complicated, so bear with me.)
Zev Yaroslavsky, Mike Antonovich and Don Knabe supported Knabe's plan, A 3, which mostly left things as is, but—in an effort to satisfy the Voting Rights Act—took a little from Molina's District 1, still leaving her with a Latino majority of qualified Latino voters (59.7 percent), giving Knabe's District 4 a slightly larger citizen voting age Latino population (32.8 percent)—albeit not the majority necessary to easily outvote the district's white plurality (40.9 percent) to elect a Latino candidate, unless voters could be siphoned off from other blocks like the Asian/Pacific Islanders (17.3 percent) or African American voters (7.6 percent), or White voters, for heaven's sake. Of course, this is all presuming that racial and ethnic groups all vote as a block, which they don't (except when they do). In any case, you get my point. A 3's supporters contend that the plan puts another Latino supervisor within reasonable political striking range, without having to stack the deck.
Gloria Molina supported Gloria Molina's plan (obviously), known as T 1, which forces the slam dunk creation of a second Latino District, mainly by moving much of Zev Yaroslavsky's highly Democratic District 3 to into Republican Don Knabe's District 4, and giving Yaroslavsky a new District 3 that is cobbled together out of largely Latino areas of the north-ish mid-ish San Fernando Valley. In an effort to get some of the White Guys' support, Molina's plan leaves Knabe's district pretty much in place, the reasoning presumably being that Zev is terming out in 2014, so what does he care? Whereas Knabe is up for reelection in 2012 so will fight any plan that attempts to snatch away his base.
However, for Zev to have accepted Molina's plan, while it might have gained him some extra Latino support, would have meant infuriating much of his base, namely environmentally-focused progressives, and West Side and West Valleyite Dems, all of whom will be crucial for any mayoral run he might be planning.
Plus it seems Zev just didn't like the Molina plan.
Mark Ridley-Thomas, who also had a plan, which left Zev's progressive, environmentally-oriented, District 3 mostly in one piece, but carved up and moved Knabe's District 4 to the east end of the County, moving soon-to-term-out Molina's District 1 to the north-ish and mid-ish Valley in order to create two Latino majority districts.
(Are you still with me? Or did you just decide to flee and instead read about Nancy Grace's wardrobe malfunction on Dancing With the Stars?)
The problem with Ridley-Thomas's plan was that it was a no go with Knabe, and Molina was already committed to her own plan. Antonovich wasn't about to rattle any cages. And so on. Thus, while in some ways more agreeable to a majority than Molina's plan, it was still a non-starter.
This meant that the only swing vote, if there was going to be a swing vote, was Ridley-Thomas, mostly because his was the plan that couldn't possibly win, and everybody else had political reasons not to move from their positions. That meant, by default, MRT was the only person standing in the way of the decision being dropped into the waiting paws of the Gang of Three (Baca, Cooley and Noguez). However, for Ridley-Thomas to suddenly switch to the status quo plan proposed by the Republican White guy (Knabe), would not exactly thrill his base, which includes a large chunk of Latino voters in his district—unless….unless…. it was part of a SECRET PLAN.
The secret plan (okay, it wasn't that secret) is as follows: MALDEF (Mexican American Legal Defense and Educational Fund) and the So Cal ACLU have repeatedly threatened to sue if A 3 passes, contending that Knabe's plan is a violation of the Voting Rights Act, meaning that a court challenge will be successful. If A 3 is challenged, and a challenge is successful, this means a judge will create a brand spanking new second Latino district, Supes votes be damned. So, one could arguably say that a vote for A 3 is really a very savvy, super-ninja, back door vote to expedite the creation of two Latino districts—with the new district created by judges who are presumably free of the swamp of political concerns that plague all three of the Supervisors' plans.
Whew! Cool, huh?
(It should be mentioned here that not absolutely everyone agrees that A 3 will be struck down by the court. In fact there's a strong legal argument to be made against that conclusion. However, the viability of the legal challenge is sorta the conventional wisdom, at least this week, which in no way guarantees it's true, of course. But what is truth anyway, grasshopper? Ahem. Sorry. I digress.)
So there you have it. Plan A 3 wins—for now.
As for the future? Gentlemen and women start your engines. Let the lawsuits begin.
---
UPDATE: MARK RIDLEY THOMAS'S OFFICE JUST RELEASED THE SUPERVISOR'S STATEMENT RE: THE VOTE
Here're the heart of it:
I believe strongly that either S2 or T1 is the right redistricting map, reflecting appropriate communities of interest and complying with the Voting Rights Act. Unfortunately, the board was unwilling to compromise. Ultimately, a federal court will likely determine whether a second, effective Latino-majority district is legally required.

In order to expedite that court review, to avoid further divisive delay and to avoid an unnecessary gamble on the uncertainty of an untested political process, I voted for A3 as amended. However, let me be clear: in voting for the A3 map, my sentiments remain unchanged. I am not endorsing the status quo. Rather, it is my expectation that endorsing the status quo will have the opposite effect; far from resolving the issue, the Board has hastened the court decision that appears necessary to determine district lines that comply with the VRA. [Voting Rights Act]

When there is no compromise, the courts must decide.