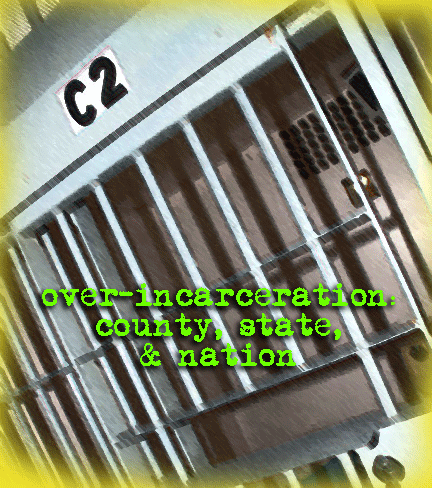 CALIFORNIA REALIGNMENT THREE YEARS IN: STILL OVERCROWDED WITH MINIMAL SAVINGS
California prison realignment, AB 109, (which diverts lower-level offenders from state prison to county supervision) was supposed to alleviate severe prison overcrowding while saving the state money. Three years into the implementation of AB 109, however, California is spending $2 billion more per year locking people up, jails are overcrowded, and the state prison population is on the rise, once again.
Through realignment, counties were allotted money to spend on things like community-based alternatives to incarceration, but some counties (Los Angeles, for instance) have failed to use available methods like split-sentencing and other programs to lower recidivism.
The LA Times' Paige St. John has more on the realignment issue. Here are some clips:
Nearly 15 months after launching what he called the "boldest move in criminal justice in decades," Gov. Jerry Brown declared victory over a prison crisis that had appalled federal judges and stumped governors for two decades.

Diverting thousands of criminals from state prisons into county jails and probation departments not only had eased crowding, he said, but also reduced costs, increased safety and improved rehabilitation.

"The prison emergency is over in California," Brown said in early 2013.

The numbers tell a different story.

Today, California is spending nearly $2 billion a year more on incarceration than when Brown introduced his strategy in 2011. The prisons are still overcrowded, and the state has been forced to release inmates early to satisfy federal judges overseeing the system.

Counties, given custody of more than 142,000 felons so far, complain that the state isn't paying full freight for their supervision. Many jails are now overcrowded, and tens of thousands of criminals have been freed to make room for more.

"The charts are sobering," Senate Public Safety Committee Chairwoman Loni Hancock (D-Berkeley) said at a hearing this year on crime, prison costs and inmate numbers.

Still, Brown insists his plan is working, although he has conceded that change can be slow. "It is not going to create miracles overnight," he said as he returned to his office from a Capitol rally for crime victims earlier this spring.

The governor's office has embraced the idea that much of the incarceration, probation and rehabilitation cycle should take place on the local level, instead of being left to the state.

Putting prisoners back in local hands "is encouraging and stimulating creative alternatives," he said.

[SNIP]

The prison population fell sharply at first, dropping from 162,400 to 133,000, but it is rising again. There now are 135,400 inmates in state custody, a number expected to grow to 147,000 in 2019.

The state Finance Department originally projected that realignment would reduce prison spending by $1.4 billion this fiscal year and that about two-thirds of that savings would be passed on to counties to cover the costs of their new charges.

Instead, the state's increased costs for private prison space and the compensation it pays out for county jails, prosecutors and probation departments adds up to about $2 billion a year more for corrections than when Brown regained office.

Without stemming the flow of prisoners into the system, the problems created by crowding continue. The Little Hoover Commission, an independent state agency that investigates government operations, said in a May report that realignment simply "changed the place where the sentence is served."
---
OVERCROWDING AT THE COUNTY LEVEL, AND WHAT LOS ANGELES COULD BE DOING ABOUT IT
Los Angeles County is facing A $1.7 billion (or more) plan to tear down and replace the crumbling Men's Central Jail. Currently, 4,000 more men are crammed into the facility than allowed by the government. There is no question that the aging and grossly overcrowded facility needs to be replaced, but there are ways to fix the population problem.
Before we get to that, LA Daily News' Christina Villacorte has the story on the overpopulated jail. Here are some clips:
Sheriff's Capt. Daniel Dyer, commanding officer of the downtown Men's Central Jail, couldn't help but grimace during a recent inspection of Dorm 9500.

More than 200 low-security inmates were crammed inside the room, every now and then tripping over each other's bunks spaced a foot apart.

The space was not originally intended to serve as living quarters, so toilets were an afterthought, installed haphazardly in the middle of a row of bunks in the 1980s. They're exposed to the room with no stall walls and only a few feet from the nearest bunk.

"That's just wrong," Dyer said, gesturing toward the inmates who have to eat and sleep next to the toilets.

[SNIP]

"We are at serious risk of litigation," Assistant Sheriff Terri McDonald warned. "If the courts take over, we'll end up spending a lot of money which could have gone toward rehabilitation and treatment."

County Assistant Chief Executive Officer Ryan Alsop said Gov. Jerry Brown's 2011 decision to ease overcrowding in state prisons by diverting inmates to county jails created a crisis.

"As a result of AB 109, Los Angeles County is now operating the population equivalent of two to three state prisons without the necessary infrastructure or adequate resources to do so," he said. "Something must be done."

Alsop called for additional funding support to ensure inmates' "appropriate and effective supervision and rehabilitation."

[SNIP]

The jail population peaked at about 23,000 in the late '80s and early '90s. Sheriff's Lt. Sergio Murillo recalled, "We used to have inmates all over the place — they were on the roof, in the chapel, on the floors of the cells."

The number dropped to about 15,000 three years ago, but AB 109 pushed it up to 19,000 currently. That's 4,000 more than government regulations allow.

"That's horrific, horrendous and unacceptable," said Peter Eliasberg, legal director of the American Civil Liberties Union of Southern California, a court-appointed monitor of the jails.

"It raises very significant questions as to whether this is an unconstitutional level of overcrowding, especially when they have space they are not utilizing," he added.

Dyer admitted the East Facility at Pitchess Detention Center in Castaic has room for 1,500 inmates but isn't being used because of budget problems.
SoCal ACLU Director Peter Eliasberg told WLA that if LA County is worried about getting sued by the federal government, we might want to find a way to use those 1500 beds in Pitchess.
Eliasberg also shared three ways to further lower the jail population, including amping up the county's currently minimal use of split-sentencing (dividing sentences into part jail time, part probation):
1. Have the Board of Supervisors authorize the Sheriff to do risk-based pretrial release, rather than having the county rely on the bail system, which is not risk-based and leaves lots of poor low risk individuals in jail awaiting disposition of their cases. If the Sheriff were to use a sound risk assessment tool to do non-bail pretrial release, it would likely lower the average daily jail population by about 1,000.

3. If the proposed state criminal justice trailer bill (AB 1468) passes, it will likely increase the amount of split sentencing in LA County significantly because it contains the presumption that an N3 [a non-violent, non-serious, and non-sex offender] will receive a split sentence "Unless the court finds, in the interest of justice, that it [a split sentence] is not appropriate in a particular case…"

Los Angeles has one of the lowest, if not the lowest rates of split sentencing in California at about 3%. By contrast, 87% of the N3s in Contra Costa receive split sentences; the figure is 67% in Riverside and 39% in Orange County. The best estimates are that if LA raised its rate of split sentencing to 30%, it would lower the average daily jail population by about 900 a night.

If the District Attorney achieves her goal of cutting the number of inmates with mental illness by about 1,000 through a diversion program, the Board of Supervisors gives the Sheriff pretrial release authority, and LA raises its level of split sentencing to 30%, the County would be looking at a reduction of the average daily jail population of about 2,900 below the projections that were used to justify the jail plan the BOS voted to move forward on in May.
---
BIPARTISAN SENTENCING REFORM BILLS DELAYED IN CONGRESS
Over the last few years, there has been a significant bipartisan push to reduce incarceration. Unfortunately, two promising and far-reaching criminal justice reform bills have stalled in Congress.
The first bill, the Smarter Sentencing Act, would, among other things, cut certain non-violent drug sentences in half. The second bill, the Recidivism Reduction and Public Safety Act, would allow low-risk offenders to earn credits toward release by completing rehabilitation and reentry programming.

An NY Times editorial explains why the bills have stalled, and calls on Congress to "do its job" and fix the defective laws feeding our over-stuffed prison system. Here's a clip:
Meanwhile, tens of thousands of federal inmates — many of whom have already served years of unjustly long drug sentences — continue to sit in overstuffed prisons, wasting both their lives and taxpayer dollars at no demonstrable benefit to public safety.

The slowdown is all the more frustrating because there is mounting evidence that criminal justice reform works. States from South Carolina to Ohio to Rhode Island have cut back on mandatory minimums, improved rehabilitation services and reduced their prison populations while seeing crime rates go down, or at least not go up.

So why the delay? One major factor has been resistance from members of the old guard, who refuse to let go of their tough-on-crime mind-set. In May, three senior Republican senators — Charles Grassley of Iowa, John Cornyn of Texas and Jeff Sessions of Alabama — came out against the sentencing reductions, arguing that mandatory minimums are only used for the highest-level drug traffickers. This assertion is contradicted by data from the United States Sentencing Commission, which found that 40 percent of federal drug defendants were couriers or low-level dealers.

Another factor was the Obama administration's April announcement that it would consider clemency for hundreds, if not thousands, of inmates currently serving time under older, harsher drug laws. Republicans complained that this — along with other executive actions on criminal justice by Mr. Obama and Attorney General Eric Holder Jr. — took the wind out of reform's sails.

But with the exception of some old-line prosecutors and resistant lawmakers, everyone still agrees on the need for extensive reform…
---
LA PROGRAM HELPS PARENTS COMBAT EFFECTS OF TRAUMA IN BABIES AND TODDLERS
A Children's Hospital Los Angeles program is targeting trauma and toxic stress experienced by babies, in hopes of averting mental health problems as they get older. The program provides in-home therapy and coaching for parents of babies and toddlers exhibiting signs of toxic stress. (For more WLA posts about trauma and toxic stress in children, go here and here.)
KPCC's Deepa Fernandes has more on the program. Here's a clip:
Through its "early childhood mental health program," the hospital sends therapists into the homes of hundreds of kids who are showing signs of anxiety, trauma and stress that can pile up causing what experts call "toxic stress."

…counselors in this program teach parents how to diffuse stress in the home and to understand and meet their children's emotional needs. About 400 families are served every year.

Among them are Shantoya Byrd and her toddler, Anmarie Paz.

When Anmarie was just weeks old, her aunt committed suicide in the home they shared.

"I was so, so, sad," Byrd said. "And then you feel really bad because you're like, now I have a baby, and the baby sees you so sad."

Byrd was also living with her mother, who was struggling with drug addiction. When Anmarie was six months old, social workers found the home unfit and removed her. She was reunited with her mother a few days later, when Byrd moved out on her own.

"When I got her back, I couldn't walk to the kitchen without her like following behind me screaming," she said. "If she could not like touch me, she would scream, she would cry."

Anmarie was suffering from severe anxiety. She cried and yelled nonstop. Byrd didn't understand why or how to deal with it.

[SNIP]

Child welfare workers referred Byrd to the program, which sent psychotherapist Lorena Samora to her Los Angeles apartment.

During weekly visits, Samora was able to coach the young mother on techniques for helping her toddler to self-soothe and lessen anxiety.