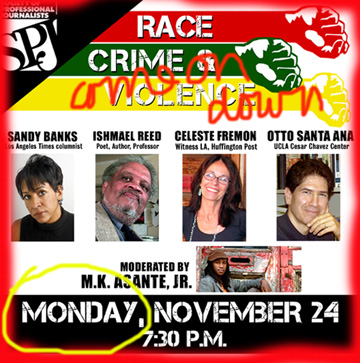 Tonight I'll be participating in a panel called "Race, Crime and Violence" sponsored by the Society of Professional Journalists. As the title suggests, we'll be talking about the way the media deals with race when reporting on crime and violence.
The panel organizers have gathered an interesting line-up that includes: Otto Santa Ana from UCLA, columnist Sandy Banks from the LA Times, and the wonderful poet/author Ishmael Reed.
(I'm the…um…white chick outa the bunch.)
Filmmaker/author M.K. Asante, Jr.. is moderating.
The panel starts at 7:30 p.m., with music and refreshments starting at 6:30.
It's being held at Eso Won Books, in Leimert Park, 4331 Degnan Blvd.
Come on down and talk….jeer…applaud….throw fruit, whatever you like.
***********************************************************************************************
And while we're on the subject of race in relationship to the coverage of crime…….blogger (and sometimes WLA commenter) Browne Molyneux has some interesting things to say over at LA Eastside about why she wasn't one bit sorry to see the demise of the LA Times Homicide Report.
As you know, I'm an ardent supporter of the Homicide Report, and was furious when the Times suspended it. But Browne's points are thought-provoking and very much worth a read.
Here are a couple of clips from Browne's list regarding why she she doesn't miss the blog in question:
2. [It] Gave the Times a whole section to point to when asked if they were covering the African-American and Latino communities, "We have the Homicide Blog, so we cover them everyday, actually we over cover them. We are quite diverse in our coverage." Why could not murders in our neighborhoods make the real paper?

3. Though I believed Jill Leovy's heart was in the right place, that blog was like a nuclear bomb. The road to hell is paved with good intentions (and quite a few book deals, yeah that would also include you Steve Lopez.) I understand that the point was to showcase and put a face on the violence. I think in general it just made people even more desensitized to Latinos and African-Americans dying in violent ways.
Race, Crime and Violence. How we report about that weave of issues ain't a simple matter.