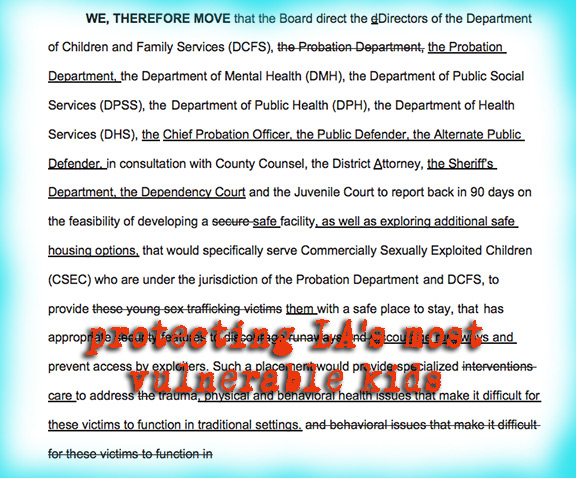 LA SUPERVISORS APPROVE PLANNING HIGH-SECURITY RESIDENCE FOR TRAFFICKED FOSTER KIDS
On Tuesday, the Los Angeles County Board of Supervisors advanced with a plan to build a residential facility for foster kids who are at risk of being trafficked by pimps.
Over the last few years, the county has moved away from criminalizing and incarcerating sexually exploited minors as "prostitutes," instead treating them as victims and placing them in foster homes. While this is a big step in the right direction, placing trafficked kids into foster care and connecting them with services and mentors is not always enough. Sometimes young girls run back to the streets and their pimps.
The LA County Supervisors and the head of the Dept. of Children and Family Services have butted heads on this complex issue for months. The current model is not keeping the trafficked kids safe from exploitation, and yet, confining the foster kids in their homes is not much different than incarcerating them, and pimps have their claws in juvenile detention facilities, says Supe. Sheila Kuehl.
The new high-security live-in facility will be built to keep pimps out, while still allowing foster kids to come and go. The Supes have set a three-month planning period, during which time more than a dozen county departments and agencies will work together toward finding a design that will keep kids safe.
(Read the backstory: here.)
The LA Times' Garrett Therolf has the story. Here's a clip:
"If they really want to leave, they can leave, but we want to discourage it by giving them a real opportunity to heal," Supervisor Sheila Kuehl said in an interview.

Supervisor Don Knabe, who advocated for a locked facility, cited a recent case of an 11-year-old girl who recently left a foster care group home to return to her pimp and work at an event where men paid to have sex with her.

Knabe's spokeswoman, Cheryl Burnett, said he "is pleased that we are moving forward, but he remains frustrated that he continues to hear that our ability to protect these girls is limited."

County staffers are analyzing available public and private facilities as a site for the new center. Possibilities include rehabilitating the closed MacLaren Children's Center in El Monte or one of the probation juvenile detention camps.

The supervisors established a three-month deadline for a detailed plan.
---
WHY PEOPLE CHARGED WITH MISDEMEANORS SO OFTEN GO WITHOUT LEGAL REPRESENTATION
The Sixth Amendment Center's David Carroll has an informative run-down on the reasons people go to jail every day in the US for misdemeanor offenses without ever speaking to a lawyer, in violation of their constitutional right to legal representation. Carroll also sheds light on why these widespread constitutional breaches have been left unchecked for so many years.
One of the reasons defendants go without representation is prosecutor interference:
Following their arrest, most people are brought to a police station or detention center for processing. At some point thereafter the defendant is likely brought before a judicial officer to determine whether or not he should be released pending further court action. In 2008, the U.S. Supreme Court determined that the right to counsel attaches the first time a defendant is brought before a judge or magistrate. From that point forward, a court cannot proceed with a critical stage of the case without offering counsel to the poor defendant. (The 6AC wrote a whole report on these requirements, available here.)

Despite this, prosecutors often interfere with that right to counsel process. If the defendant is out of jail pre-trial he may be required to meet with a prosecutor before getting his constitutionally guaranteed lawyer, or more likely, enter a guilty plea without ever getting that lawyer at all. For example, a Sixth Amendment Center report details how one misdemeanor court in Delaware asks defendants appearing for arraignment to wait in one of two lines based alphabetically on last name. After standing in line, the first person a defendant encounters is not a public defender, but a prosecutor seeking to make a plea deal. On an average day during out site visits, these two lines totaled approximately 200 individuals. Not surprisingly, more than 75 percent of misdemeanor defendants in Delaware proceed through the Court of Common Pleas without ever having spoken to a lawyer.
And many municipalities and states, California included, do not employ tracking systems to compile data on whether the Sixth Amendment and the Fourteenth Amendment are being carried out:
In Gideon v. Wainwright, the Supreme Court made the provision of indigent defense services a state obligation through the Fourteenth Amendment. Though it is not believed to be unconstitutional for a state to delegate its constitutional responsibilities to its counties and cities, in doing so the state must guarantee that local governments are not only capable of providing adequate rep­resentation, but that they are in fact doing so. A number of states have no institutional presence to begin to assess whether its constitutional obligations under the Sixth and Fourteenth Amendments are being met at the local level, including: Arizona, California, Illinois, Mississippi, Nebraska, Nevada, Pennsylvania, South Dakota, Utah and Washington.
---
FEDS RESPONSE TO RULING AGAINST LOCKING IMMIGRANT KIDS AND MOMS IN UNLICENSED FACILITIES: THEN WE WILL SPLIT UP THE KIDS AND MOMS
Late last month, a US District Judge in CA, Dolly Gee, issued a tentative ruling against detaining immigrant kids and their mothers in unlicensed facilities, and against locking up kids and an accompanying parent unless they pose a safety or flight risk.
The US Dept. of Justice says that if the three unlicensed facilities get shut down, it will mean separating mothers and their children when the moms are deemed a flight risk. There are more than 1,000 women and children incarcerated betweem the three facilities, most of whom say they crossed the border fleeing gang violence in Central America.
Attorneys for the immigrant families and the DOJ have until May 24 to agree on a solution before Judge Gee makes a final decision.
McClatchy's Franco Ordonez has more on the issue. Here's a clip:
Federal attorneys acknowledged the family detention system could collapse if the ruling stands. Leon Fresco, a deputy assistant attorney general, warned the court that such a ruling would actually encourage separation of parents and children and turn minors into "de facto unaccompanied children."

"This isn't a situation where we want to detain the mother. These are situations where we have to detain the mother, your honor," Fresco told the court.

The practice of family detention has reached a tipping point. Multiple lawsuits against family detention have been filed in California, Texas and the District of Columbia. Advocates for the mothers say it's unlawful to detain children with their parents in jail-like facilities.

The government has dug in its heels, arguing that it needs greater flexibility when detaining parents who are considered a flight risk but also that it needs to send a strong message to Central America that it's not OK to cross the border illegally.

[SNIP]

The government argued the agreement didn't take into account family detention, which didn't begin until 2001. Fresco told the court that the government needed greater flexibility if the parent is considered a flight risk or if the officials think it's safer to have the children with the parent.

He said he worried that if officials separated families, smugglers would seize the opportunity and take advantage of young migrants, pretending to be children's parents in order to avoid being detained.

"The outcome of this is going to be to separate families, create uncertainty where we don't have uncertainty now and to endanger children," Fresco said, according to the transcript.
---
SONOMA COUNTY SERIOUSLY CONSIDERS LAW ENFORCEMENT OVERSIGHT AFTER 13-YEAR-OLD IS KILLED
In late 2013, a Sonoma County deputy fatally shot thirteen-year-old Andy Lopez who was holding a pellet gun that the officer mistook for an assault rifle. Andy's death spurred lawmakers to reintroducing legislation that would require all fake firearms to be produced in bright colors.
Now, the Sonoma County Board of Supervisors is moving toward creating an Office of Independent Auditor to look into officer-involved shootings and complaints about the sheriff's department and the probation department. The Auditor would also act as a community liaison. The Supes set a June 16 deadline for job descriptions and budget for the Independent Auditor's Office.
The Santa Rosa Press-Democrat has more on the issue. Here's a clip:
"We need to turn this around fast," Supervisor Shirlee Zane said. "It's going to cost some money; it's got to go into this budget."

The auditor's office was the central and most ambitious recommendation in a package of proposals made by a county-appointed panel studying community relations with law enforcement agencies in the aftermath of Andy Lopez's October 2013 shooting death.

The 21 recommendations, put forward by the Community and Local Law Enforcement Task Force, cover a sweeping set of ideas — from boosting mural projects to improving student mental health services.

But of all the recommendations, the independent body overseeing law enforcement generated the most study and public debate. On Tuesday, the Board of Supervisors dedicated the bulk of its hearing — its first on the entire set of proposals from the task force — to the oversight office.

Board Chairwoman Susan Gorin called Lopez's death "a tragedy which is still tearing us apart" before supervisors voiced their support for advancing the auditor proposal. They said they would need more time to evaluate the other 20 proposals.