NEXT CHAPTER ON THE ONGOING CAMP KILPATRICK SPORTS PROGRAM STORY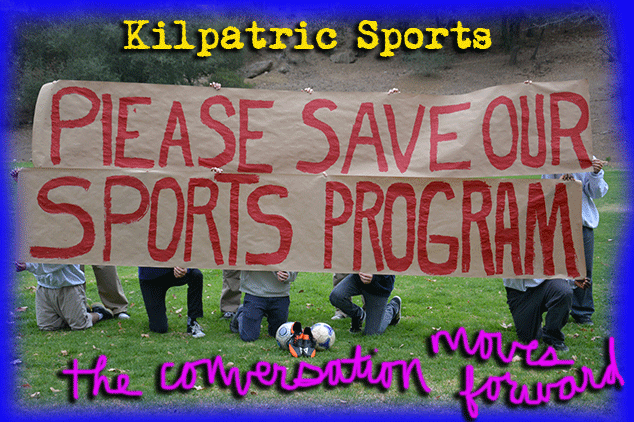 According to a motion sponsored at last Tuesday's board meeting by Supervisor Don Knabe, Probation Chief Jerry Powers was going to deliver a report on Tuesday of this week detailing exactly where and how he thought he could relocate the popular sports program that is right now in residence at Camp Kilpatrick.
Kilpatrick is the aging LA County juvenile probation facility that will be shuttered and torn down starting at the end of this month in order to make way for a brand new rehabilitation-centric juvenile probation camp that it is intended to be a model for future camps that help kids rather than simply punish them.
However, as much as California juvenile advocates are in favor of the new Kilpatrick project, the many fans of the sports program don't want to lose one good thing, in order to get another.
(For the back story on the Kilpatrick sports issue, see our post of last week.)
It was everyone's assumption that Powers' report would be presented publicly at Tuesday's meeting. But a few days ago, that plan changed and Powers said he would simply deliver his report to the supervisors on Tuesday, without a public presentation.
The report in question was finally delivered to all the Supes Wednesday, and we have obtained a copy.
There's lots of good news in what Powers has proposed, like the fact that Powers has set a firm timeline for the sports program reopening for the fall season. However, some of the details may produce complications—particularly the fact that the proposed location for the sports program is Challenger Memorial Youth Camp in the Lancaster area, more than an hour away from where Kilpatrick is now located in Malibu.
Yet, the proposal also describes the advantages that Camp Challenger has to offer, like two gymnasiums, multiple areas for practice fields, and others. It also helps that moving the sports program there will not displace any existing programs.
But it's complicated.
Hopefully, all parties can come together in good faith to work out any rough spots so that the sports program can resume for the Fall 2014 season with even more support than it has had in the past—which is what Powers has made clear he wants.
We also hope that this new plan will continue to support the work of the extraordinarily dedicated Kilpatrick coaches who continue to give so much of themselves to the kids who have been under their care.
We'll keep you up to date as this story unfolds further.
Here's a copy of Wednesday's report. Garfield sports proposal
---
JUDGE MICHAEL NASH'S EXCELLENT & LEGALLY TWEAKED PLAN TO RE OPEN CHILD CUSTODY COURTS TO THE PRESS
If you'll remember, at the beginning of this month, in a 2-1 decision a California appeals court closed off press access to LA's Juvenile Dependency hearings—aka where foster care cases are decided—in all but a few instances.
The ruling came more than two years after Judge Michael Nash, the presiding judge of LA county's juvenile court, issued a blanket order opening the long-shuttered court system to the press, on January 31, 2012.
Undeterred, Judge Nash will soon issue a new order complying with the appellate court decision and laying out a new procedure for journalists and members of the public seeking access to dependency hearings.
Journalist/advocate Daniel Heimpel has more on the story in the Chronicle of Social Change.
Here's a clip:
Today, Presiding Judge Michael Nash continued his campaign to encourage media access to Los Angeles County's historically closed juvenile dependency court, after a California appeals court had invalidated a similar, earlier order only this month.

While Nash had called the changes a "a distinction without a difference," in an interview with The Chronicle of Social Change last week, it appears that his new order will thread the needle on this highly contentious issue: by offering the press a way in, but forcing reporters to be conscious of the potential harm their coverage could cause to vulnerable children.

Nash sent a revision of his controversial 2012 order easing press access to a clutch of judges, journalists, child advocates and other stakeholders for comment. They have until April 14th, after which Nash intends on issuing a new order that will once again allow press into the courts.

Read the draft order HERE:

A key reason why two out of three judges in California's Second Appellate District ruled against the 2012 order was because they believed it stripped individual judges and court referees of discretion in excluding the press from sensitive hearings involving child victims of maltreatment.
Nash's rewritten order fixes all that.
---
DOES THE SHERIFF'S DEPARTMENT'S NEW INSPECTOR GENERAL HAVE THE NECESSARY POWER AND INDEPENDENCE?
The LA Times Editorial Board thinks new IG Max Huntsman needs more independence if he is to be effective. Here's a clip from the editorial:
It was no surprise last week when Los Angeles County Inspector General Max Huntsman recommended against renewing contracts with two agencies monitoring the Sheriff's Department. The same citizens commission that called for the creation of Huntsman's office also suggested that it absorb the functions of those other agencies, one of them established 22 years ago to report on excessive force and lax discipline, the other created nine years later to monitor the sheriff's handling of deputy misconduct allegations.

One lesson arising from the commission's hearings was that the county's existing oversight and reporting agencies were insufficient to end a pattern of abuse in the jails; the implication was that a differently constructed and empowered office would be better suited to the task.

That lesson and that implication could stand some scrutiny. Without it, the county could find itself with new titles and offices but the same problems it failed to solve a decade ago and a decade before that.

Just why, for example, were the special counsel and the Office of Independent Review inadequate? The citizens commission noted that both did their investigations and reports but both met with a "lack of meaningful or timely action" by the Sheriff's Department. And why did the department not respond? Because it didn't have to. Criticism and critiques were filed by both monitors with the Board of Supervisors, which too often failed to use the political power at its disposal to develop sufficient public pressure to get the sheriff to act.
---
A COOK COUNTY, ILL, JUDGE SENTENCED A KID TO DIE IN PRISON IN 1988 AND HATED THAT THE LAW MADE HIM DO IT
The Chicago Tribune's Duaa Eldeib and Steve Mills report about how judges are glad that the US Supreme Court ordered an end to mandatory life for kids. Now various state courts are stepping in to put the Supremes ruling into motion.
Here's a clip:
The Cook County judge made it quite clear he did not want to sentence Gerald Rice to life in prison without possibility of parole.

At the sentencing hearing in 1988, Judge Richard Neville noted that Rice was mildly mentally disabled and that evidence showed the 16-year-old had been coaxed by an older man into throwing a Molotov cocktail into a West Side house on a summer night two years earlier, killing a woman and three children. The co-defendant was acquitted.

Neville criticized state legislators for tying his hands and making a life sentence mandatory. Doing so, he said, stripped him of his discretion. He could not weigh Rice's age, maturity level, lack of a criminal record or his role in the murders. Urging Rice's attorney to appeal, the judge said he hoped that such mandatory sentences would be outlawed someday.

"I think it is outrageous that I cannot take that into consideration in determining what an appropriate sentence is for Mr. Rice," a transcript quoted Neville as saying about Rice's fate compared with his co-defendant's. "It is with total reluctance that I enter the sentence, and it is only because I believe I have no authority to do anything else that I enter this sentence."

Nearly a quarter-century later, the U.S. Supreme Court fulfilled the judge's hopes, ruling that mandatory life sentences violated the Eighth Amendment's prohibition on cruel and unusual punishment. Last week the state's highest court weighed in, ruling that inmates in Illinois who received mandatory life sentences for murders that they committed as juveniles should receive new sentencing hearings.

"It's a judge's job and usually they're the best qualified to decide what kind of sentence is appropriate," Neville said last week. "I've got the most information and the best view of what happened and of the defendant's background."

Neville retired from the bench in 1999 and now is a mediator.

The ruling by the Illinois Supreme Court on Thursday affects about 100 inmates who were under 18 at the time of their offenses, according to state prison officials. The youngest four were 14, while about half were 17. The vast majority were sentenced in Cook County. Most were convicted of more than one murder.