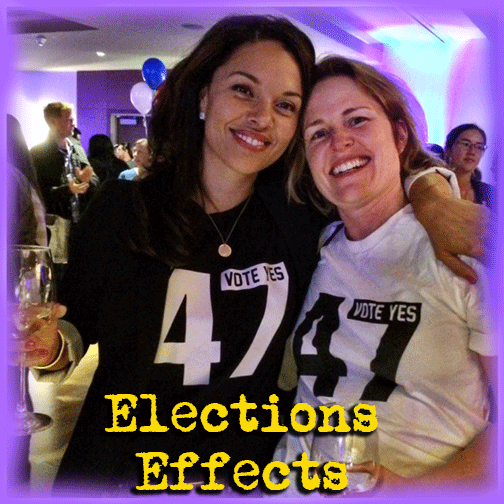 In the days since California voters passed Prop. 47 by a healthy margin, real world responses to the initiative's victory have been swift. For instance, Kristina Davis of the San Diego Union-Tribune writes that in San Diego County, teenagers were released from juvenile hall the day after voting day, while the SD Public Attorney's Office was getting 200 calls an hour from inmates in the county's jail hoping for reduced sentences.
In the Bay area, judges did not even wait for election results to be certified before resentencing inmates and reducing charges write Matthias Gafni and David DeBolt in the San Jose Mercury News.
And in Santa Rosa County one lawbreaker was very, very cheery when he showed up in court on November 5, according to the Press Democrat's Paul Payne.
Here's a clip:
When Judge Lawrence Ornell took a seat in his Santa Rosa courtroom the morning after Election Day, a man with an "I voted" sticker on his lapel walked up to the bench, beaming.

Ornell noticed the man's sunny disposition then looked down at the charge. It was possession of cocaine, an offense that a day earlier was a felony but with the passage of Proposition 47 by California voters had been reduced to a misdemeanor.

His chances of receiving a stiff punishment vanished overnight.

"He was smiling ear to ear," Ornell said Thursday, recounting the man's good fortune. "He was a happy man."

The scene is playing out frequently these days as courts, prosecutors and police grapple with a new reality intended to cut prison crowding and save hundreds of millions of dollars for rehabilitation.

Proposition 47 reclassifies nonviolent offenses that used to be felonies — including many property crimes valued at $950 or less, grand theft, forgery, shoplifting and simple drug possession — and reduces them to misdemeanors carrying lighter punishments.

Some estimate a third of all felonies, many drug-related, will be downgraded to lesser crimes, creating a domino effect that will keep petty criminals out of custody and free some who are already behind bars.

Statewide, as many as 40,000 people a year could be affected, the Legislative Analyst's Office said.

State prison officials estimate 4,770 inmates would be eligible to petition the court for resentencing and possible release. Nineteen are from Sonoma County, local prosecutors said, and the Sheriff's Office has identified 209 of its 1,200 jail inmates for possible consideration.

All would go before a judge who would review the details of their offenses and their records. Those previously convicted of violent or serious crimes would not qualify, Assistant Sheriff Randall Walker said.
---
SHERIFF-ELECT JIM MCDONNELL WILL GATHER INFO BEFORE STAFFING & FOCUS FIRST ON LA COUNTY JAILS
Soon-to-be LA County Sheriff Jim McDonnell was still in a post-election daze, with zillions of requests for meetings, interviews, and call-backs piling up, when LA Daily News reporter Rick Orlov talked to him about his plans.
Here's a clip:
"I am not looking at any big transition team," said McDonnell, who spent the bulk of his career at the Los Angeles Police Department, where he was second-in-command, and served as a chief of police in Long Beach since 2010. "I will reach out to different experts, but I want to talk to the people in the department and see the talent that is there."

His first priority in rebuilding confidence in the troubled department, McDonnell said, will be a review of the county jail system to determine what changes have been made since the release of a critical report by the Citizens Commission on Jail Violence, of which he was a member. Its jail system — the largest in the world — holds an average of 18,000 to 20,000 inmates a day, about 17 percent of whom are believed to have mental illnesses.

"I want to see what has been done and what can be done as quickly as possible," McDonnell said. "It is our top priority."

But before he does that, there is a long-delayed trip to Boston to see his 88-year-old mother and celebrate with his family back there.

"I'll be there four days, but there is not a lot of time left before I take office," McDonnell said. "I have just a few weeks before I take office on Dec. 1."
---
NATIONAL ELECTIONS WON'T PARTICULARLY AFFECT SO CAL BUT STATE ELECTIONS WILL, WRITES LA TIMES JIM NEWTON
LA Times columnist Jim Newton lists those of last Tuesday's races most likely to affect the actual lives of So Cal voters—most particularly the election of Jim McDonnell as LA County's new sheriff, the passage of Jerry Brown's water bond, and the victory of Sheila Kuehl in the LA County Supervisor's race. Here're are some clips:
The Sheriff's Department has struggled for decades, resisting attempts to reduce violence in jails and impose meaningful civilian oversight. Sheriff Lee Baca often seemed overwhelmed by the task, and Baca's former top deputy, Paul Tanaka, who ran against McDonnell in last week's election, was widely seen as an impediment to reform.

McDonnell, by contrast, has pledged to move ahead with efforts to constrain excessive force and to lead the agency into a more sophisticated relationship with the public and county government. And he has the right credentials to make that happen. Most recently, McDonnell headed the Long Beach Police Department. Before that, at the LAPD, McDonnell helped lead the department to a new kind of policing that embraced community engagement, and he did it at a time when that department was trying to reconstruct trust after years of controversy — as the Sheriff's Department is today.

It won't be easy, but McDonnell has a chance to make real progress.

[BIG SNIP]

Most of the post-election commentary on Kuehl's victory has focused on whether she can hold the line on county worker pay hikes, given the backing that public employee unions gave her. That's a fair question, though Kuehl is famously stubborn and a little bit prickly, so I wouldn't envy the person trying to call in a chit with her.

To me, the more intriguing aspect of her victory is what it might mean for one of the county's gravest responsibilities: the operation of its foster care system, which cares for children who have been the victims of abuse or neglect and which has seen too much tragedy. This is an area that Kuehl knows and cares about.

Kuehl, whose sister is a judge in the Sacramento foster care system, speaks movingly of her determination to help young people. And as a state legislator, she wrote a slew of bills intended to protect children in the system.

Now she's about to join a board that oversees the largest child welfare system in the nation, one that is responsible for more than 30,000 children at any given time.
---
DAILY BEAST'S TINA BROWN HOSTS AMERICAN JUSTICE SUMMIT LIVE STREAMING ON MONDAY
Tina Brown Live Media is co-hosting what is being called The American Justice Summit, which will live stream on Monday from 1:30 p.m. to 6:30 p.m. Eastern, featuring the likes of John Jay College president Jeremy Travis, Orange is the New Black author Piper Kerman, New Yorker legal analyst Jeffrey Toobin, Equal Justice Initiative founder and author of Just Mercy, Bryan Stevenson, Right on Crime's Grover Norquist, and many, many more.
I've you've got an interest in criminal justice issues, it'll likely be worth your while to tune in to this event.