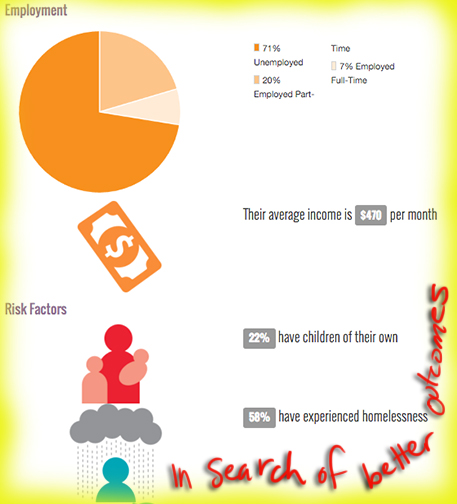 REPORT LOOKS AT CHALLENGES FACED BY FOSTER KIDS WHO ARE PREGNANT OR PARENTS
A study by First Place For Youth compares the outcomes of transition-aged foster youth who are pregnant or parenting with non-parent foster kids.
First Place for Youth is a non-profit that helps foster kids aging out of the system with housing and other services in Los Angeles, San Francisco, Alameda, Contra Costa, and Solano counties.
The study, which used data from teens and young adults within the program, and found that the participants who were parents were less likely to have a job or high school diploma (or GED), and the parents had a harder time attending higher education or pursuing a career than the non-parents.
And foster kids in California are far more likely than their non-child-welfare-involved peers to be pregnant or have children of their own. According to Alliance for Children's Rights, girls in foster care in LA are 2.5 times more likely to be pregnant by age 19 than girls not involved in the child welfare system. And 50% of 21-year-old young men aging out say they have gotten someone pregnant, compared to 19% of 21-year-old males not in foster care.
The report recommends boosting access to affordable child care, providing more parenting services to foster youth (for both moms and dads), developing a pregnancy prevention strategy, and providing extra income for foster kids who are working and going to school while raising kids.
The report also recommends that counties opt-in on CA Senate Bill 1252 to extend eligibility to age 25 for a transitional housing program, pointing out that parenting foster youth need far more support adjusting to independent adult life than non-parenting foster kids.
The study was funded by the Butler Family Fund, the Conrad N. Hilton Foundation, Hedge Funds Care and Kaiser Foundation Hospital Fund.
---
US SENATE APPROVES $35 MILLION TO HOUSE LA'S HOMELESS VETERANS
On Wednesday, the US Senate voted unanimously to fund $35 million in construction work on a decrepit Department of Veterans Affairs building in Westwood to house homeless vets.
The decision is an important one, as there is a serious shortage of beds for the more than 4,000 homeless military veterans living in Los Angeles County.
If the House of Representatives approves the bill, the $35 million would provide seismic retrofitting for a portion of the historic VA campus, which has been underutilized due to its current dilapidated condition. The Senate-approved renovation will quickly provide housing for 65 veterans in need.
If completed, the a draft plan for the whole campus would create permanent housing for 900 vets and traditional housing for 700 more.
KPCC's John Ismay has more on the issue. Here are some clips:
With more homeless veterans than any other city in the U.S., Los Angeles has been scrambling for ways to house those in need. Last year, under a settlement agreement, the V.A. agreed to repurpose the campus to help house homeless veterans.

Veterans had sued the V.A., claiming misuse of the property, which was donated to the federal government to serve those who served in the military. Instead, large sections of the campus were leased out to businesses and nonprofits who had nothing to do with veterans.

[SNIP]

The $35 million would provide earthquake retrofits to a building that could house about 65 veterans–making the price tag more than a half million dollars per bed.

Seems steep–and the V.A. has acknowledged that demolishing the historic buildings that litter the campus and erecting new ones would be much cheaper. But the process for doing so is much slower, particularly since the government believes the existing buildings have historical value.

"The campus has a number of beautiful old buildings, that are outdated and underutilized," said Milo Peinemann of New Directions, a non-profit organization that works to house homeless veterans.
---
ACTING CLASS IN LANCASTER PRISON GIVES INMATES NEW HOPE, JOB SKILLS, AND AN OUTLET
Inmates at a California State Prison in Lancaster learn interpersonal skills and how to manage stress through meditation and acting classes led by teachers and mentors from the Strindberg Laboratory.
People Magazine's Tiare Dunlap has more on the program. Here's a clip:
The Strindberg Laboratory currently employs three acting teachers who are graduates of its programs in jails and homeless shelters – a number the directors say will grow to at least 10 within the year.

Teacher Tony Cedeno was serving a three-year sentence in Men's Central Jail in Los Angeles when he met Bierman and Pakarinen, who he calls "my angels from God."

"When I met them, I was fully involved in the gangs," Cedeno, 52, tells PEOPLE. "I came out one morning of their drama class to give notes to somebody and I wound up staying."

Cedeno, formerly known as "Teardop," was coping with HIV positive status and substance abuse issues when he became involved with the program. He says he "never in a million years" could have imagined acting would change the course of his life.

"I just gave it a chance," he recalls. "I played my mother in our first show and it helped me to process a lot of feelings I was harboring and gave me a chance to look at the part I played as a son rather than what my mother had done to me."

Most of the plays the program puts on are written or adapted by the actors themselves. This allows for a greater creative expression and helps with two practical concerns.

"It's easier because if you do a play you have to learn lines," Bierman says. "A lot of the guys, especially if they're dealing with addiction, can't remember anything."

Cedeno contacted the couple one day after being released from jail. After participating in productions on the outside, Cedeno became a Strindberg Laboratory teacher. He now leads acting workshops at Project Alofa, a Long Beach, California, organization that assists formerly incarcerated individuals and the LGBTQ community – a role he takes extremely seriously.

"I released my tension in the theater and that's what I do today," he says. "I'm still clean and sober going on three years thanks to them."

"I work extra hours because it's like therapy for me," he continues. "After getting shot, getting stabbed, getting thrown off of bridges, getting tied up in handcuffs, being the victim of home invasions, these people make me feel safe. I feel a safety, I feel like they're teaching me. They're teaching me how to be human again."