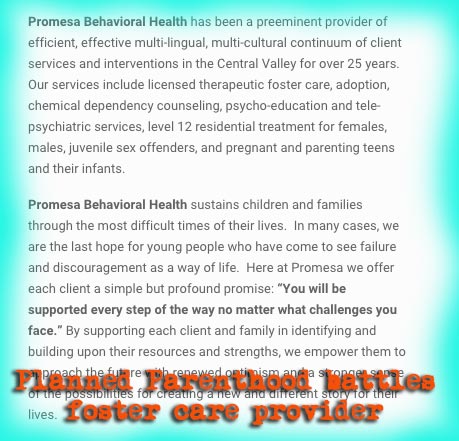 PLANNED PARENTHOOD LAWSUIT SEZ PROMESA GROUP HOMES VIOLATE FOSTER TEENS' REPRODUCTIVE RIGHTS
Planned Parenthood is suing a chain of Fresno group homes for allegedly punishing female foster children in its care for receiving reproductive health care and obtaining contraceptives. The government-funded Promesa Behavioral Health group homes force the young girls to allow a staff member to watch their ob-gyn exams and to sign away their medical privacy rights. Group home staff members take away privileges (like watching TV, listening to music, and receiving visits with family members) if the girls are found in violation of Promesa's abstinence policy by having condoms, getting the Depo-Provera contraceptive shot, or showing any other signs of sexual contact.
Promesa has seven group homes in Fresno County, and received a whopping $4.7 million in government funding in 2014.
In the suit filed by Planned Parenthood and three 18-year-olds under Promesa's care, the reproductive health care provider calls Promesa's practices "all the more harmful because youth in foster care have a particularly compelling need for access to contraception and regular reproductive health care."
Foster kids in California are far more likely than their non-child-welfare-involved peers to be pregnant or have children of their own. According to Alliance for Children's Rights, girls in foster care in LA are 2.5 times more likely to be pregnant by age 19 than girls not involved in the child welfare system. And 50% of 21-year-old young men aging out say they have gotten someone pregnant, compared to 19% of 21-year-old males not in foster care.
One of the plaintiffs says that when Promesa staff found out that she was pregnant at 17, the group home barred her from visits with her mother and first child, and pressured her to get an abortion. She says Promesa staff punished her for refusing the abortion by blocking her from visits with her second child after she gave birth.
Planned Parenthood's lawsuit seeks an injunction banning Promesa from confiscating contraceptives, forbidding foster youth from seeking reproductive health services, and punishing girls who do not comply with the unlawful policies.
Courthouse News Service's Elizabeth Warmerdam has the story. Here's a clip:
Plaintiff L.B. says: "When (she) went to gynecological appointments, Promesa group home staff insisted on staying in the exam room with her, and listening to her entire conversation with the medical provider."

She says she was punished with restrictions for what she told the medical provider, and that Promesa staff confiscated condoms from her three times while searching her room and told her "she would get in trouble if she had them or had any reason to use them."

Plaintiff A.Z. says a Promesa staff member insisted on accompanying her into her ob-gyn exam last year, and when A.Z. requested a Depo-Provera contraceptive shot, "the group home staff member told her that she was not allowed to have the shot."

The complaint continues: "The staff member explained that she did not need the shot because she was not allowed to have sexual contact while living at the group home. The staff member told her that if she did have the shot, she would be punished and get an 'R.' A.Z. decided to get the Depo-Provera shot that day anyway. When she told Promesa staff, the response was, 'Just know you are getting an R.'

"Getting an 'R' means that a Promesa resident loses important 'privileges' at the group home, including leaving the house, watching television, or listening to music. Sometimes it results in an early bedtime or loss of visitation, including visits with family members.

"On a number of occasions, Promesa staff also tried to force AZ. to let her ob-gyn share confidential medical information with the group home staff. When A.Z. directed her doctor not to fill out forms disclosing to Promesa what happened during her ob-gyn appointment, Promesa staff threatened her with an R if she did not permit her doctor to complete the forms."
---
JUDGE BLOCKS CA GOV. JERRY BROWN'S IMPORTANT CRIMINAL JUSTICE REFORM BALLOT INITIATIVE
On Wednesday, Sacramento County Superior Court Judge Shelleyanne Chang blocked Governor Jerry Brown's proposed ballot initiative to give judges sole discretion (rather than prosecutors) over whether a child defendant is transferred to adult court, and increase inmates' access to early release credits. (Read more about the initiative and its implications: here.) The ruling will likely delay the ballot measure until 2018.
The judge ruled in favor of the California District Attorneys Association [CDAA] and Sacramento County resident Anne Marie Schubert, whose lawsuit accused Brown of forgoing a necessary period of public review for one of the amendments, and "cut in line to the front, ahead of other initiatives". The judge's ruling blocks California Attorney General Kamala Harris from publishing Brown's "Public Safety and Rehabilitation Act of 2016" which would have allowed Brown to begin gathering signatures.
The Associated Press' Don Thompson has more on the judge's decision. Here's a clip:
"The court finds that the attorney general abused her discretion," Chang said, ruling that the amendments radically change the focus of the original initiative without allowing for necessary public comment.

"What the amendments did was the type of mischief the Legislature had in mind" when it required that amendments to ballot initiatives be related to the original initiative, the judge said.

Friday was the deadline for Harris to act, but Chang agreed with the California District Attorneys Association and Sacramento County District Attorney Anne Marie Schubert after they sued over the ballot measure.

The ruling could delay signature-gathering for Brown's initiative beyond this year and possibly push it to the 2018 ballot.

Chang's ruling "makes it impossible" for proponents to put the initiative before voters this year, said attorney James Harrison, who argued on behalf of the original proponents who allowed Brown to alter their measure.
---
NEW PROPOSED LEGISLATION TO STAMP OUT THE USURIOUS CASH BAIL SYSTEM NATIONWIDE
US Congressman Ted Lieu (D-Los Angeles) introduced legislation Wednesday that would end the controversial use of money bail at the federal level, and block access to Edward Byrne Memorial Justice Assistance Grants for states that keep their money bail systems in place. (In 2012, California received the largest Byrne JAG sum: $32 million.)
The No More Money Bail Act of 2016 aims to reform a system which disproportionately affects the poor, and is a key contributor to overcrowding in jails and prisons. More than 60% of jail inmates nationwide are awaiting trial. Most cannot afford to post bail.
In a previous WLA bail-related post, we pointed to an excellent John Oliver segment on the horrors of the cash bail system.
"No one should ever be deprived of their liberty before trial because they are poor–especially when defendants who are alike in every other way are able to purchase their release by cutting a deal with a for-profit bail bondsman," said executive director of the Pretrial Justice Institute, Cherise Fanno Burdeen, announcing the organization's support of the legislation.
The Pretrial Justice Institute launched a campaign to do away with needless arrests and bookings, and replace money bail with risk-based detention. "Even three days in jail pretrial has been show to make low-level defendants more likely to reoffend," said Fanno Burdeen.
---
FORMER FOSTER CHILD APPOINTED FIRST EVER CA FOSTER CARE OMBUDSMAN
The California Department of Social Services has appointed Rochelle Trochtenberg—a former foster youth whose story was featured in Karen de Sá's powerful investigative series on the over-prescribing of psychiatric medication for foster kids—to be the state's foster care ombudsman.
Diagnosed with a number of mental illnesses as a kid in an LA County group home, Trochtenberg was put on damaging cocktails of psychiatric medications, some of which included lithium, Depakote, Zyprexa, Haldol and Prozac.
After aging out of the foster care system and leaving the psychotropic drug fog behind, she became a major child welfare advocate, serving on the state's Child Welfare Council and a group working to end the excessive use of psychotropic medications to treat California foster kids.
Thirty-three-year-old Trochtenberg is the first former foster child to hold the position in California (and possibly the nation). As ombudsman, she will head an office that looks into complaints and child welfare system failures.
Here's a clip from de Sá's story for San Jose Mercury News:
"It's a pleasure when you're able to appoint the right person to the role at just the right time and Rochelle is that," said Will Lightbourne, director of the California Department of Social Services. Lightbourne described Trochtenberg as a "balanced, thoughtful person" who will help tackle the ongoing overhaul of California's residential group homes and a series of new laws designed to reduce the excessive use of psychiatric drugs in foster care. "I just have the greatest regard for her," Lightbourne said.

For the past eight years, Trochtenberg has worked on foster care, juvenile justice, homelessness, LGBT rights and mental health issues for Humboldt County. She also holds a key leadership post on the statewide group working to reduce psychotropic drug use, and has served for years alongside judicial and political leaders on the state's Child Welfare Council.

Growing up in the Los Angeles foster care system, Trochtenberg was diagnosed with a slew of mental illnesses and prescribed multiple overlapping drugs that caused serious health problems. Today, off medications and suffering from none of the illnesses she was told she had in foster care, she holds a master's degree in social work and is poised to begin her four-year state post on March 28, with an $81,312 annual salary and a staff of 15.

Suddenly, Trochtenberg finds herself packing up to move from Eureka to Sacramento — a surprise twist in her life. "It's given me this opportunity to pause and reflect," she said. "If 10 years ago somebody said you're going to be the foster care ombudswoman, I would have laughed in their face. I'm really just humbled by the opportunity."

California is one of more than 20 states with similar ombudsman posts, but it was among the first, establishing the office in 1998 following a push by the advocacy group California Youth Connection. The office is responsible for educating foster youth about their rights and how to report violations. It also investigates and resolves individual complaints, summarizing them in reports to the Legislature.