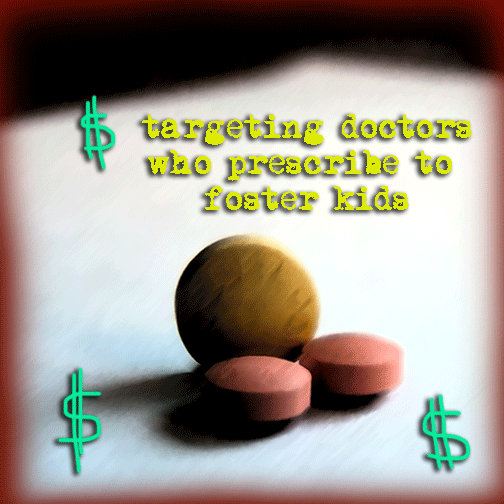 "DRUGGING OUR KIDS" PART 3: A SWEET DEAL BETWEEN FOSTER CARE PRESCRIBING DOCS & PHARMACEUTICAL COMPANIES
In August and September we linked to parts one and two of Karen de Sá's invaluable investigative series for the San Jose Mercury on the widespread and unchecked use of psychotropic prescription drugs to medicate California's foster kids. (links)
In part three of the powerful series, de Sá exposes pharmaceutical companies' major targeting of doctors who treat kids in foster care, who are covered under Medi-Cal. On average, these foster care prescribing doctors are rewarded—with money for travel, meals, profitable speaking gigs, and research trials—more than double what regular California doctors receive in payouts from drugmakers. In fact, between 2010 and 2013, pharmaceutical companies gave $14 million in payouts to doctors who prescribe to kids in foster care. And doctors who wrote more than 75 prescriptions for foster kids per year received four times as many payouts than the lower-prescribing doctors.
Here's a clip from the findings:
Foster care prescribers reap nearly 2½ times more than the typical California doctor: From 2010 to 2013, almost 30 percent of all California doctors — and about 35 percent of foster care prescribers — received at least $100 from drug companies. But while the California doctors in that group received an average of $10,800 apiece over the four-year period, foster care prescribers typically received far more, nearly $25,000 each

Frequent prescribers are generally rewarded the most: Doctors who wrote more than 75 prescriptions to foster children in a year received more drug company payments than those who wrote fewer. While the margin fluctuated from year to year, on average the higher prescribers in the most recent fiscal year collected almost four times — or about $10,000 more — than the lower prescribers in 2013.

The bulk of the payments fund drug company-sponsored research: The 17 drugmakers who reported payments steered more than $11.3 million in research funds to doctors who prescribe psychotropic drugs to the state's foster kids, with Eli Lilly — maker of the antipsychotic drug Zyprexa — leading the pack by spending $6 million.

The companies kept some of their big researchers busy in other ways: Six of the doctors who earned among the largest research grants also tallied a cumulative total of almost $400,000 in speaking and consulting fees and another $45,000 in travel and meals.
We really hope de Sá's editors put this excellent series up for prizes when the time comes.
---
KINDERGARTNERS IN HIGH-VIOLENCE COMMUNITIES BRING STRESSES OF FAMILY AND NEIGHBORHOODS INTO THE CLASSROOM
in an op-ed for the LA Times, Judy Belk, president and CEO of the California Wellness Foundation, tells of her daughter Casey's experience teaching a kindergarten class in a St. Louis school not too far from Ferguson, MO.
Belk noted that many parents really strive to give their kids what they need, but often found the challenges stacked against them are overwhelming.
Here's a clip:
Casey quickly figured out that schools are not closed systems. When a family is dysfunctional or broken, the problems follow the student into the classroom. Her principal waited with a student for hours to be picked up by a parent who never appeared. Finally, at 8:30 p.m., the principal had to turn the child over to child protective services.

Still, Casey has been impressed at how, with limited resources and parenting skills, and brutal work schedules, the parents try their best to provide for their children. She also sees a large number of involved, caring fathers countering the stereotype of the absent black male.

But the families and the school struggle to make everything work in one of the city's most crime-ridden neighborhoods. Shortly after school started, there was a drive-by shooting at a convenience store directly across the street from the school. Classes had just been dismissed, and several of Casey's students were in the store as bullets flew, though none was wounded.

Casey's text messages are discordant. One day she sends cute pictures of her kids in Halloween costumes; the next she alerts me that the school is on lockdown because of nearby gunfire. Recently, after yet another shooting, her principal canceled all outdoor recess. And now, in anticipation of a violent response to the upcoming Ferguson grand jury announcement, emergency supplies have been delivered to the school in case it becomes too dangerous for students or teachers to leave the building for a day or so.

But I'm trying hard to stay calm and take my guidance from Casey. She says she's not scared — just angry that her kids have to live under these conditions. She intends to stay at least until the end of her two-year commitment. And after that? She's already thinking about what more she can do: "I thought by teaching kindergarten, it would be early enough to make a difference, but … we've got to intervene earlier, focus in on parenting."
---
LA COUNTY SETTLES COSTLY, SIX-YEAR LAWSUIT ALLEGING MISTREATMENT OF INMATES IN WHEELCHAIRS
A lawsuit challenging alleged mistreatment and appalling living conditions for inmates in wheelchairs within Men's Central Jail has finally been settled after a six-year-long fight from the county.
Some of the changes required by the settlement have already been implemented. Wheelchair accessible toilets and showers are now in two wings of the jail, for instance. The settlement also calls for work and education opportunities for inmates with ambulatory disabilities, as well as working wheelchairs. In addition, the settlement will pay $2.2 million in attorneys fees.
The LA Times' Cindy Chang has the story. Here's a clip:
Two wings of the Twin Towers jail have already been fitted with wheelchair-accessible toilets and showers, as required by the settlement. The county jail system now employs an Americans with Disabilities Act coordinator, and inmates may appeal to the jail's chief physician if they are denied the use of a wheelchair or walker.

The Sheriff's Department's new inspector general will monitor the agreement for three years.

One of the plaintiffs' attorneys, Jessica Price of the American Civil Liberties Union of Southern California, said conditions have improved recently. But she questioned why the county fought the lawsuit when the jails clearly were not providing for disabled inmates' basic needs.

"There was no rational basis for the county to dispute the fact that there were bathrooms that wheelchairs could not access," Price said. "That was not a factual question, yet the litigation went on for six years."
We had that same question, too.
---
RECENTLY RELEASED FROM PRISON AND STRUGGLING TO GET BY ON THE OUTSIDE
As part of KQED'S Vital Signs series, Aus Jarrar, who was recently released from prison, and now interns at a service center for former inmates, shares his story. Because Jarrar is ineligible for food stamps, he struggles to eat—missing the hours the food bank is open—in order to maintain his internship toward a drug and alcohol counseling accreditation.
Here's how his story opens:
Walking by that restaurant back there, I smelled some barbecue. Somebody's really cooking. You know the funny thing? Since I got out, I've been really full maybe three times.

It was a shock to me the morning I woke up out here that my breakfast wasn't ready. I was in prison for a total of 11 years. I took breakfast for granted.

I'm Palestinian. I'm not a citizen so I don't qualify for food stamps.

The prison system, they give us $200 to leave with. I had no clothes, and I have no food. So I had to make the choice: do I want look professional, so I can get a job? Or do I want to eat?