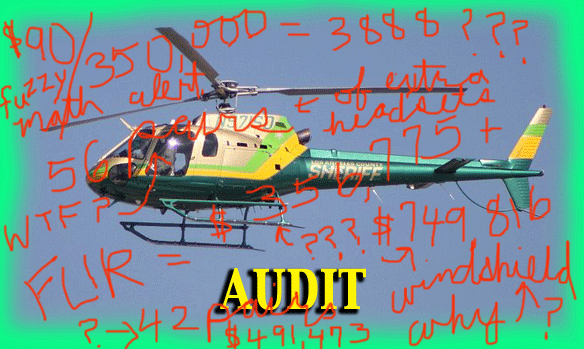 UPDATED:
(Scroll down for update and Audit}
---
---

Part 2 of the much delayed audit of the Los Angeles Sheriff's Department's Aero Bureau, the elite LASD division that oversees the department's aircraft, is due to be delivered to the Board of Supervisors on Thursday.
The audit from the office of the County Auditor-Controller, was requested last April by Supervisor Zev Yaroslavsky after both WitnessLA and the LA Times reported on a list of possible instances of wrongdoing inside the bureau.
From what we understand the audit did not substantiate wrongdoing in the charges of manipulation of flight records to produce overtime, or of retaliation against whistleblowers.
However, the audit reportedly did find that three flights constituted "improper use of resources", which we presume are the flights that WLA reported on here..
Based on the reports we've gotten from multiple sources inside Aero Bureau, we find it surprising that the audit discovered no problems with overtime manipulation, et al. But we've agreed to hold our fire, so to speak, until we read the report.
More soon.
---
UPDATED:
Below you'll find the audit itself. (And here's a link, if the embed is slow to load.)
As you will see, with regard to the reported inflating of missed call stats and short-staffing flights to give the impression that more overtime was needed, the auditors state they did not "find evidence that established any of the overtime abuse allegations."
As for the misuse of aircraft, the auditors say they "selected a sample of three alleged flights that could be considered egregious misuse of County resources, and substantiated the allegations."
This tends to suggest there were other flights that were also possible instances of "egregious misuse of County resources."
In any case, after the holidays we plan to check in with some of our Aero Bureau sources and get their reaction to the audit.