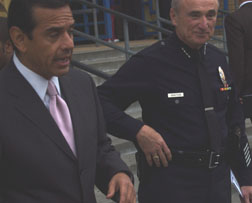 And book a seat for Bill, too.
Dear Honorable Mayor V:

I'm one of the few people in Los Angeles who are happy you've been out of town so much this year. I applauded your efforts on behalf of Hillary. It's important to get a Democrat in the White House to reverse years of neglect of urban problems and mass transit needs. And I even buy your justification for the quarter-million-dollar junket to Israel.
So, as a supporter of your travels, I am hoping you can squeeze in one little in-state trip to the capitol of your dreams this Tuesday. That's right. Get yourself to Sacramento in time to testify before the Assembly Public Safety Committee on behalf of Gloria Romero's bill that would end our secret police state. We want to restore some degree of openness to LAPD misconduct hearings. To make it easy for you, I've listed Southwest Airlines early-morning flights and provided the link to online reservations. Also, this is not the first time I've nagged you about this. I pestered you here and here. So get packing!
Happy travels, Mr. Mayor.
Los Angeles to Sacramento:
2625 6:00am 7:15am Nonstop 1:15 $149 $134
2284 7:45am 9:00am Nonstop 1:15 $149 $134
2357 9:40am 10:55am Nonstop 1:15 $149 $134
328 11:55am 1:10pm Nonstop 1:15 $149 $134
Go online and book your flight: /www.southwest.com/cgi-bin/showItinerary
Very Truly Yours,
L.A. Sniper