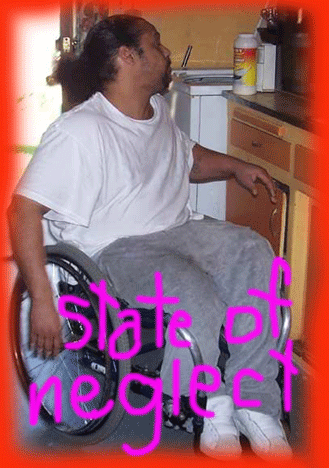 Peter Johnson was fifteen years old when he was shot, 24 years ago. He was waiting for a bus, and the shooter was aiming at someone else. The bullet hit his spine. Now he is paralyzed from the chest down. He has no feeling in his legs. But he can get around pretty well with a wheel chair.

In October of 2007, Johnson was arrested for petty theft. After booking, he was kept in the inmate reception center of the LA County jail for between 8-10 hours. Evidently this section of the jail has no wheel-chair accessible bathrooms so,although Johnson told deputies of his mounting discomfort, it appears they did nothing. Johnson was left to relieve himself in his chair and clothes. He also had no access to drinking water as the water fountain was too high for him to reach from the chair.
When finally Johnson was transferred to jail proper, things just got worse.
*******************************************************************************************
Donald Peterson is 47-years old and a veteran. He served in the military for more than nine years in Panama, Granada and in Desert Storm. In 1989 he broke his back in a work accident. Later he was shot in the back and in the hip. As a consequence of the injuries and the subsequent surgeries, Peterson needs a wheelchair to get around.

After Peterson was charged with a crime and taken to LA County jail to await court proceedings, his wheelchair was taken away altogether. Instead, he was given a walker, which he was unused to using so he repeatedly fell. He was also denied the catheter bag he depended upon for nighttime relief so often slept in soiled sheets. When Peterson was transferred to another cell, for several days he was even denied the walker and was reduced to crawling.
*******************************************************************************************

These and scores of other alarming tales of disabled inmates—many convicted of nothing, and awaiting trial—being denied basic services, medication and necessary treatment are all part of a law suit that was filed yesterday by the ACLU and the Disability Rights Legal Center in order to stop what the ACLU describes as "systemic discrimination against inmates with disabilities."
In an investigation that included interviews with almost 70 inmates over several months, the civil rights attorneys heard accounts of them having to sit or lie in their own waste for hours because wheelchair-accessible toilets and showers were either non-existent or dangerous, or because guards took away catheter bags that allowed them relief at night. Others had to drag themselves on the floor because they had no access to their wheelchairs or, when they did, bathroom doors weren't wide enough for them.

"There were no grab bars," said Francis Tribble, an inmate who is in a wheelchair after a car crash shattered his left leg and crushed his feet. "I had to lower myself out of my wheelchair at the entrance to the toilet and crawl and drag myself along the ground . . . then pull myself up to the seat. The ground was filthy, which made it even worse."

Several of those involved in the jail monitoring and inspections, describe conditions for the disabled as the worst they've seen in any American corrections facility.

"This is the most egregious example of government brutality I have ever witnessed," said Virginia Keeny, one of the attorneys filing suit. "These individuals are being treated worse than animals."

When I chatted yesterday about the issue with ACLU spokeswoman, Celeste Durant, she said that she was surprised that, other than the LA Times, there has been virtually no coverage of the jail conditions at all since the ACLU announced the suit. "Only the Times and one TV crew from Fox 11 covered it," she said. "There has not the kind of attention you'd think this kind of story would get."

In the Times story, reporter Richard Winton quotes Sheriff Lee Baca as blaming jail overcrowding and aging facilities for the problem.
"We do, quite frankly, the best we can. But we can do better," he said. "The ACLU is wonderful at presenting our problems but never comes up with any solutions."
It should be noted that if the state legislature goes ahead with its latest plan to relieve overcrowding in the California's prison, then the LA County jail's over crowding dilemma—and the care of disabled inmates— may get much, much worse, not better.