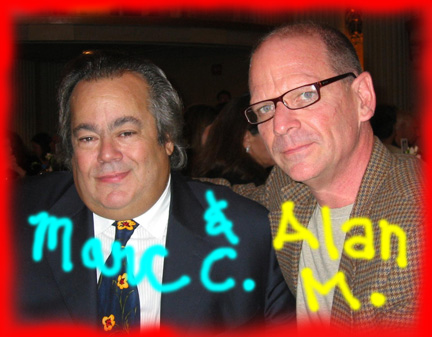 Blogfather, Marc Cooper and guest blogger, Alan Mittelstaedt at a PEN USA Awards dinner

After ten days at the grassy and bucolic writers' paradise that is Bennington, I lost all of my contemplative calm by straying for a couple of frenetic but interesting days to Washington D.C. (More on that later.)
Now, it's great to be glad to be back in our flawed but vital town.
In the meantime, the excellent Alan Mittelstaedt has:

1. Challenged the mayor to wear an Antonio-Cam so we can see how he's REALLY spending all those 20-hour work days

2. Caused a citywide stir by theorizing convincingly about who's orchestrating the leaks that have effectively set fire to the career of LA's City Attorney.
3. Given deserved slaps upside the head to both the mayor and the LAPD chief—among others—for knuckling under to the police union and refusing to go to bat for Gloria Romero's EXTREMELY WORTHY anti-police secrecy bill, even though they originally backed the thing.
4. Broken stories on: the closing of Monty's Steak House in Pasadena and….
5. .. Been well ahead of the rest of the LA pack in announcing the very cheering hire of David Zahniser by the Los Angeles Times…
AND A LOT MORE

As a consequence, I'm trying to lure Alan into contributing to WLA on a far more regular basis. Will have news on that soon. 'Till then, look for him to stick around through the weekend….and, with any luck, for a lot longer.

AND NOW, A ROUSING ROUND OF RAUCOUS APPLAUSE FOR ALAN!!!!!!!!!!