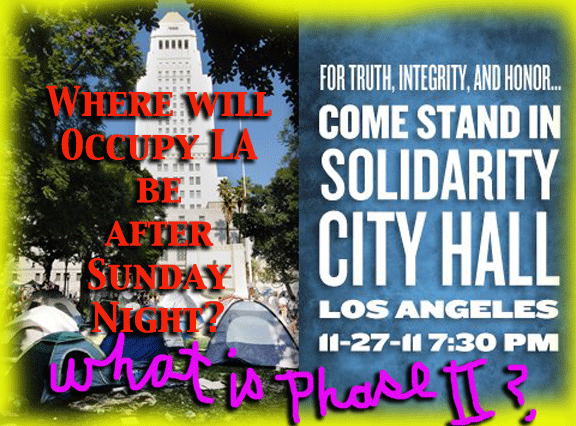 9:23 AM MONDAY: It is unclear what will happen next. But congratulations to LAPD and Occupy LA for a peaceful night. GREAT photo from the LA Times' Rick Loomis expresses it all.
---
6:30 AM MONDAY: the live streamers are still up, giddy, having coffee, and asking for Superfood Smoothies and donuts. There were a handful of arrests when a few people threw a bamboo-edged sword (or some such thing) at police.
People have been allowed to return to their tents. "It's a victory," say organizers.
---
2:01: AFTER MANY RUMORS OF WHAT KIND OF ACTION THE LAPD WOULD TAKE, 2 HOURS AFTER THE DEADLINE, OCCUPIERS WERE PEACEFUL AND LAPD WAS RESPECTFUL AND RESTRAINED…
If stragglers started provoking arrest by waylaying cars, the police were willing to step in, but otherwise, at just after 2 am, the mood on both sides was restrained,. Both Occupiers and cops seemed to be satisfied with themselves for having performed well.
PS: Hmmm. I wonder if the Teepee that has just appeared in the street will be a problem.
---
1:42 AM: POLICE ARE SPREADING THE WORD: GET OUT OF THE STREET AND BACK INTO THE PARK AND YOU WON'T BE ARRESTED. STAY IN THE STREET AND GET ARRESTED.
Some listen, some don't.
---
1:01 AM: DRAWING HEARTS AND PERIMETER MARCHES
Ongoing streaming video now is covering a group trying to organize a "perimeter march" around the park. The group spontaneously decides to draw hearts on their hands so if there's a problem with police, they can hold up their palms—thus revealing the hearts.
"It's a great visual," says one of the organizers and whips out her red Sharpie, which is quickly passed around. At first a couple people draw their hearts incorrectly so that they will appear upside down when palms are held in the outstretched "stop" position. But eventually everyone gets it right. But they don't leave to march. There are too many distractions.
There is talk about whether gas masks or scarves scented with vinegar are passed out to combat any pepper spray or worse.
And the beat goes on.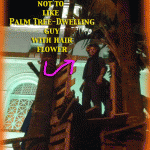 ---
LAPD NOW ON TACTICAL ALERT
Commander Andy Smith originally said no. But evidently things have changed. /strong> Now the LA Times reporters confirmed it.
---
12:27 AM: OKAY, WELL, 12:01 HAS PASSED, AND….
….The main area of possible conflict is in the street, at First and Broadway and near the LA Times, while cops stand nearby in riot gear. The OLA organizers are trying to get the straying children to go back to the park instead of being blatantly provocative.
And two of the best live streamers in the street are here and here.
---

11:05 PM: AS THE DEADLINE APPROACHES, CONFUSION AND TENSION RISES
The seemingly conflicting messages from the Powers That Be have people on edge as may be seen in the live streaming.
---
10:20 PM: THE OLA GENERAL ASSEMBLY IS OVER AND THE CONSENSUS IS DEFINITELY TO STAY
The consensus among those 1000 or so milling around the General Assembly Sunday night was that Occupy LA is going to stay put. (The General Assembly—or GA—is the nightly meeting and also the voting body for the Occupy movement. )
I guess we'll see what how that staying put will play out when it comes into contact with the city's park closing order after midnight.
---

UPDATE – 9:31: TALKED TO LAPD'S COMMANDER ANDREW SMITH AND HE MADE THE 12:01 PM DEADLINE SOUND A BIT….UM…FIRMER THAN THE MAYOR'S CHARACTERIZATION
Commander Andrew Smith made some televised statements tonight about the grounds around the capital closing at 12:01 and intimated that closure meant closure—which did not sound like the gradual process alluded to by the mayor earlier in the evening. Smith who, in addition to being head of LAPD media relations, is the former head of the department's Central Division, the downtown LA police station. He also was a commanding officer for Central Bureau, which covers downtown as well as adjacent areas of the city. In other words, Smith knows the area in question better than most on the command staff.
When I talked with Smith on the phone in order to try to get some clarification regarding his press statement, he mostly reiterated what he'd said earlier, that the department wasn't going to share its planned tactics beforehand, but that everyone had had plenty of warning that the grounds were going to be closed for repair, etc. etc.
When Smith finished, I asked him whether or not he actually knew what the planned tactics were going to be.
"Yes. I do," he said. Then laughed. "And I can't tell you." I tried various other weaseling techniques without success. He said he'd chosen his words for the press statement very carefully, in order not to say too much or too little.
Smith invited me to call back after midnight. I said I'd call.
---
UPDATE – 8:27 PM: ….AND YOU TOO CAN BE THERE FROM THE COMFORT OF YOUR LAPTOP, IPAD, PHONE, ET AL….WITH OCCUPY'S LIVE STREAMING
Right now my favorite live stream is here at OccupyFreedomLA, which bounces from reportorial coverage to more personal chatter—both good. But there are a lot of live streams, so take your pick.
---
UPDATE 7:53: MAYOR VILLARAIGOSA MAKES CLEAR THAT THE EVICTION WILL BE A GRADUAL PROCESS IN STATEMENT RELEASED TONIGHT
In Sunday night's statement, the Mayor described a step-by-step process clearly designed to prevent confrontation.
"As Chief Beck has made clear, though the park will officially close tonight at 12:01 a.m., the department will allow campers ample time to remove their belongings peacefully and without disruption."
Whether it will actually prevent confrontation remains to be seen. We'll have to wait until all the steps are taken and still some of the campers don't leave, which sounds like it may occur on Monday.
---
UPDATE – 7:37 PM: MIDNIGHT RIDAZZ HAVE CALLED FOR A "BIKE SWARM" TO PROTECT OCCUPYLA
The popular group of bicycle enthusiasts known for organizing a twice a month midnight ride that often draws a thousand or more riders, has called for a "bike swarm" around OLA, with riders gathering at 9 pm in anticipation of the 12:01 deadline.

---
UPDATE – 7:15, BILL ROSENDAHL TWEETS VIDEO OF HIS SPEECH TO OCCUPY LA THIS MORNING


The speech—augmented by the "human mic"—seems to get a good response until he gets to the part about leaving city hall.
---
UPDATE 6:50: LAPD MEDIA RELATIONS SAYS "NOTHING HAS CHANGED FROM THE ORIGINAL PLAN, BUT….
….When asked what exactly the original plan was, the LAPD Media Relations officer said the department planned to "observe and monitor the situation." When pressed further, he confirmed that by "the situation" he meant the Occupy LA eviction "situation."
"They have their orders," he said, "and the department is in constant contact with the Occupy organizers,…and we're observing and monitoring…"
All of which doesn't seem to contradict what Captain Rodriguez said.
So…. we'll see.
---
UPDATE – 6:40 pm:
I just spoke to the LAPD's Sergeant Mathes, who is the watch commander on at the department's downtown-located Central Division tonight and I asked him about Rodriguez's statement. He said he had no clue, that the decisions regarding Occupy LA's eviction were all being made at a command staff level. Central Division would be mostly business as usual tonight, unless needed, he said.
---
UPDATE: 5:10 PM
LAPD CAPTAIN RODRIGUEZ SAYS NO ACTUAL RAID SUNDAY NIGHT
According to LAPD Captain Jorge Rodgriguez, head of the department's Newton Division, who was speaking with some Occupy LA organizers Sunday afternoon on the video linked below, there will be no aggressive police action until at least first light Monday morning. However Rodriguez specified that he wasn't in on the planning and that things were still in flux.
The conversation with Captain Rodriguez and more is captured on this US Stream video recorded at 4:30 pm Sunday. Tune in.
---
"Come Stand In Solidarity at City Hall Tonight 11.27.11 7:30pm" reads the notice posted a little after noon on Sunday at the Occupy LA Facebook page—a half day before the scheduled eviction from City Hall grounds that Mayor Antonio Villaraigosa announced would take place at exactly 12:01 a.m. Sunday night.
The posting continues with advice for all potential participants in whatever happens Sunday night. To wit:
Dear Occupiers, We love you! We are a peaceful movement and regardless of any attempt to disband us, we remain resolved to end Corporatocracy and to restore U.S. Democracy.

Dear LAPD, Please know that we recognize you are part of the 99%. Please remain peaceful and respectful.

Dear MSM, We recognize you are part of the 99%. Please bring on board lights, long lenses and lots of batteries. Ask for overtime in advance.

Dear Supporters, Please bring your love and support as well as recording devices.

See you at Solidarity Park
More to come (obviously).
---
Photo of OccupyLA Panorama by Eric Spiegelman