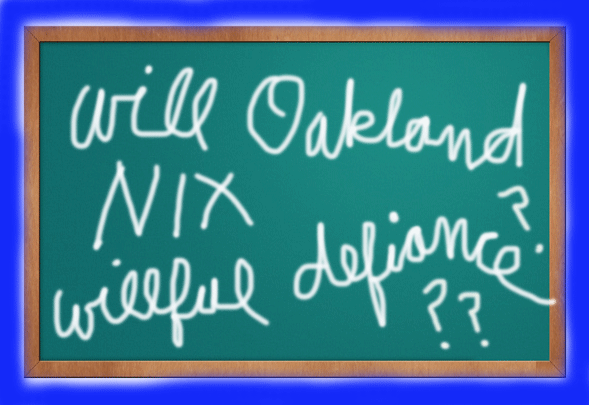 On Wednesday afternoon, May 13, the Oakland Unified School District board is planning to vote on whether or not to eliminate all "willful defiance" suspensions and involuntary transfers by July 1, 2016.
Representatives of a coalition of organizations that are pushing for the vote—including Public Counsel, the Black Organizing Project, the ACLU of Northern California, and others—have commended the district for making "great strides" by instituting changes in its discipline policy that have decreased school suspensions by 50% in the last 2 years.
But in a statement issued Tuesday, the group pointed out that African-American students continue to be removed from school at "extremely disproportionate rates," particularly for "disruption and willful defiance." (Although African American students made up 28% of the students enrolled in OUSD, in 2013-14, they accounted for more than half of the students suspended for "disruption and willful defiance.")
Willful defiance, as you may remember, is the nearly infinitely expandable category that means kids can be tossed out of school for such minor misbehaviors as talking back, failing to have school materials, forgetting to turn off a cell phone, and dress code violations.
Los Angeles Unified School District, which is the largest district in the state, and the second largest in the nation, banned willful defiance as a cause for suspension in May of 2013.
Then in September 2014, Governor Jerry Brown signed into law AB 420, a bill that eliminated all expulsions for the catch-all category, and banned its use for suspensions in grades K-3.
The law made California the first state in the nation to put such limits on the use of willful defiance.
In a November 2013 policy statement, the American Academy of Pediatrics said that "out-of-school suspension and expulsion are counterproductive to the intended goals, rarely if ever are necessary, and should not be considered as appropriate discipline in any but the most extreme and dangerous circumstances…"
We'll let you know how the vote turns out.
---
UPDATE: Oakland did indeed vote unanimously to eliminate willful defiance as a reason to suspend any student and to invest at least $2.3 million to expand restorative justice practices in its schools. Good job, Oakland!
---
MEANWHILE, BACK IN LA COUNTY, SUPES VOTE TO END PROGRAM THAT TURNS LASD DEPUTIES INTO ICE AGENTS
At Tuesday's board meeting, in a 3-2 vote, the LA county Supervisors voted to dump a long-controversial immigration-related program, which former sheriff Lee Baca had been notoriously loath to relinquish, many thought, because of the extra funding it brought in from the feds.
KPCC's Leslie Berestein Rojas has more on the story. Here's a clip:
The Los Angeles County Board of Supervisors voted Tuesday afternoon to discontinue the immigration enforcement program known as 287(g), which since 2005 has allowed trained deputies to act as immigration agents in county jails.

Supervisors Hilda Solis, Mark Ridley-Thomas and Shiela Kuehl voted in favor of the motion to scrap the program, a voluntary partnership with the Department of Homeland Security.

Under 287(g), sheriff's deputies trained by U.S. Immigration and Customs Enforcement were tasked with questioning jail inmates about their immigration status, and notifying federal agents.

The board meeting was packed with activists for and against discontinuing 287(g), with dozens of people stepping up to comment before the vote took place. Those against the program said it exacerbated deportations and separated families; those in favor of keeping the program argued that it promoted public safety.
The vote was taken after nearly three hours of impassioned public comment, most of it by community members with personal stories to tell about how 287(g) had affected their lives.
But while the supes closed one door to ICE, they opened another with an agreement to cooperate with a new federal program known as the Priority Enforcement Program, or PEP, which replaces the unpopular Secure Communities, and which allows ICE to be invited inside the jails in certain instances, theoretically when inmates who have convicted more serious crimes are deemed deportable.
Supervisor Sheila Kuehl voted against the PEP agreement.
---
CIVIL RIGHTS ATTORNEY HAS MORE ON WHY HE BELIEVES POLICE BODY CAMS WILL BE GREAT FOR COPS AND COMMUNITIES
Oakland police have seen use of force incidents cut in half since their employment of police body cams, and the number of complaints against police have tumbled as well, writes civil rights attorney James S. Muller in an Op Ed for the LA Times, about what he has concluded regarding the need for body cameras based on his years of suing police in court.
Here's a clip from the opening:
Across the table from me, about to be deposed in a case of alleged LAPD excessive force, sat a young police officer. For once, I thought, I was facing a cop who might help my case. She clearly wasn't accustomed to this. I could read in her face a combination of anger and disgust. Maybe, I thought, just maybe, she would tell the truth.

It was an especially egregious case. An elderly woman had been thrown down the steps by an officer pursuing a suspect. The woman suffered a devastating compound fracture of her leg; she wouldn't walk again. It was avoidable, bad policing, and I hoped the officer who had witnessed it might not feel bound by the cop code of silence.

As it turns out, I was wrong. That deposition would be one more in the long history of the refusal of police to be honest about excessive force, a history that those of us who do civil rights work know all about but that the general public has only begun to understand as videos of bad policing come to light.

The practice of police videotaping is both part of the solution for excessive force and evidence of how routinely officers have lied about it with impunity. Results from police departments using body cameras demonstrate these effects.
Read on.