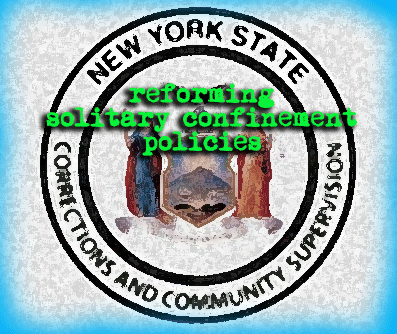 NY BECOMES LARGEST PRISON SYSTEM IN THE US TO BAN ISOLATION OF INCARCERATED KIDS
On Wednesday, the state of New York agreed to stop using solitary confinement as a punishment for inmates under 18, in response to a New York Civil Liberties Union lawsuit. The state will also limit its use of solitary confinement for other inmates: it will no longer be an option for disciplining pregnant prisoners, and isolation of the developmentally disabled will be capped at 30 days.
NY Times' Benjamin Weiser has the story. Here's a clip:
State correction officials will also be prohibited from imposing solitary confinement as a disciplinary measure for inmates who are pregnant, and the punishment will be limited to 30 days for those who are developmentally disabled, the court filing says.

The agreement imposes "sentencing guidelines" for all prisoners, specifying the length of punishment allowed for different infractions and, for the first time in all cases, a maximum length that such sentences may run, the civil liberties group said. No such guidelines exist, except in cases involving certain violent and drug-related offenses.

"New York State has done the right thing by committing to comprehensive reform of the way it uses extreme isolation, a harmful and inhumane practice that has for years been used as a punishment of first resort" in the state's prisons, said Donna Lieberman, executive director of the organization.

Several states, including Colorado, Mississippi and Washington, had begun to address the issue of how to reduce the use of solitary confinement; a Senate judiciary subcommittee is holding a hearing next week on the issue.

Taylor Pendergrass, the lead lawyer in the case for the civil liberties group, said a small number of states had also banned or limited the use of solitary confinement for inmates under 18, in adult or juvenile detention facilities.

But given New York's size and visibility, the agreement places the state "at the vanguard" of progressive thinking about how to move away from "a very punitive system that almost every state has adopted in one form or another over the last couple of decades," Mr. Pendergrass said.

[BIG SNIP]

Under the agreement, 16- and 17-year-old prisoners who are subjected to even the most restrictive form of disciplinary confinement must be given at least five hours a day of outdoor exercise and programming outside of their cells. The state must also set aside space at designated facilities to accommodate the minors who would normally be placed in solitary confinement.
---
LA TIMES BOOK AWARD FINALISTS
The finalists for the LA Times Book Awards were announced on Wednesday.
This year, WLA's editor judged Current Interest in nonfiction, of which there were five outstanding books shortlisted:
"Five Days at Memorial: Life and Death in a Storm-Ravaged Hospital" by Sheri Fink (Crown)
"Thank You for Your Service" by David Finkel (Sarah Crichton Books/Farrar, Straus and Giroux)
"Detroit: An American Autopsy" by Charlie LeDuff (The Penguin Press)
"Manifest Injustice: The True Story of a Convicted Murderer and the Lawyers Who Fought for His Freedom" by Barry Siegel (Henry Holt & Co.)
"Going Clear: Scientology, Hollywood, and the Prison of Belief" by Lawrence Wright (Knopf)
There are a number of great books in every other category, as well, so go check out the rest of the finalists. Award winners will be announced on April 11 (followed by the LAT Festival of Books on April 12-13 at USC).
---
HIGHER RATE OF PEOPLE OF COLOR HELD IN PRIVATE PRISONS THAN PUBLIC PRISONS
An even larger racial disparity exists in private prisons than in public prisons, according to a new study by UC-Berkeley researcher Christopher Petrella. All nine states analyzed in the study, including California, showed higher percentages of people of color in private prisons than in public facilities.
Mother Jones' Katie Quandt has more on the study's implications (including some very helpful graphs). Here's a clip:
Once sentenced, people of color are more likely than their white counterparts to serve time in private prisons, which have higher levels of violence and recidivism (PDF) and provide less sufficient health care and educational programming than equivalent public facilities.

The study compares the percentage of inmates identifying as black or Hispanic in public prisons and private prisons in nine states. It finds that there are higher rates of people of color in private facilities than public facilities in all nine states studied, ranging from 3 percent in Arizona and Georgia to 13 percent in California and Oklahoma. According to Petrella, this disparity casts doubt on cost-efficiency claims made by the private prison industry and demonstrates how ostensibly "colorblind" policies can have a very real effect on people of color.

Private prisons have consistently lower rates of older inmates because they often contractually exempt themselves from housing medically expensive—which often means older—individuals (see excerpts from such exemptions in California, Oklahoma, and Vermont), which helps them keep costs low and profits high. This is just another example of the growing private prison industry's prioritization of profit over rehabilitation, which activists say leads to inferior prison conditions and quotas requiring high levels of incarceration even as crime levels drop. The number of state and federal prisoners housed in private prisons grew by 37 percent from 2002 to 2009, reaching 8 percent of all inmates in 2010.
(Read on.)
---
ASSEMBLING AN LASD CIVILIAN OVERSIGHT COMMISSION
In an LA Times editorial (part two in a series this week), Robert Greene says that a civilian oversight commission for the LASD should not be comprised of five members chosen by the five LA County Supervisors. This format would not be far enough removed from the influence of the Board of Supervisors to provide real, independent oversight, he says. Instead, the board should consider a larger number of commissioners, appointed, in part, by people other than the Supervisors.
Here are some clips:
The size and composition of a citizens' oversight body is inextricably linked both to its mission and to the nature of the authority to which it reports. If it's a five-member panel, with each member appointed by and answerable to the supervisors, why not just have the supervisors exercise oversight directly? Isn't that what we already have, and what already failed to hold the sheriff to account for the beatings of jail inmates, the inept hiring of deputies, the enormous liability payouts?

In fact, such a commission might be even worse than the status quo, because it would provide a misleading veneer of independence and lend political cover to the supervisors, who could attempt to pull the sheriff's strings via their commission appointees without being quite as obvious about it.

Consider, for example, the 10-member redistricting commission that the supervisors appointed in 2010 to redraw the county election map. In this case, each supervisor got two appointees, all of whom are fairly well-regarded people, but all of whom were selected to in at least some sense do the bidding of the supervisor who appointed them. They voted accordingly, becoming proxies for the supervisors. It was obvious whose bidding they were doing. Why bother with such a commission?

No doubt members of the Board of Supervisors would protest: We never told our Boundary Review Committee appointees how to vote! But they didn't have to. The appointees knew who they were working for, and they knew that they could be replaced.

There was far less of a concern with the seven-member Citizens' Commission on Jail Violence, the panel that the Board of Supervisors created and appointed in 2011 to examine improper use of force in county jails and recommend corrective action.

Yes, each of five members was appointed by a county supervisor. But then those five appointed two more, establishing a measure of separation from the board.

[SNIP]

The mission was limited, as was the panel's duration. And because the same news stories and lawsuits that moved the board to create the commission also focused public attention on its proceedings, there was little chance of supervisors trying to sway their appointees without being noticed.

But a permanent commission to oversee the Sheriff's Department would continue to operate during times of both great and paltry public attention, and would have to resist influence by the Board of Supervisors or, again, what's the point?