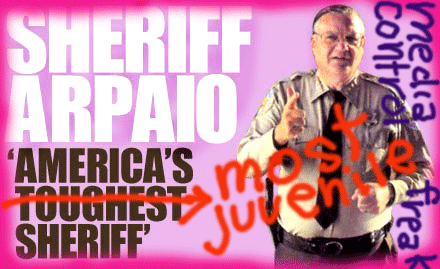 As you go into the weekend, this is a wild ride of a story that is definitely worth reading. Most of the events have occurred in the last 48-hours. Here are the high points:
On Thursday, night the two chief execs of Phoenix New Times, Michael Lacey and Jim Larkin—guys whose company, New Times Media, also happens to own the LA Weekly, OC Weekly, and the Village Voice—were arrested in Phoenix by the Maricopa County sheriff's deputies on charges of revealing grand jury information.
But, before we get to the grand jury info and the arrest, a little back story:

In 2004 and 2005, New Times did several articles investigating the famously colorful Sheriff of Maricopa County, Joe Arpaio.

And Joe really, really, REALLY didn't like that.

For those of you unfamiliar, Joe Arpaio has long been a media darling for his quirky "tough-on-crime" methods, which include making jail prisoners wear pink underwear, putting them on stripe-suited "chain gangs," having them sleep in tents in inclement weather, making them eat outdated and green-tinged bologna, and so on. If Joe Arpaio didn't exist, someone would make him up.

Yet, although Arpaio presents himself as an amusing and eccentric tough dude able to give the bad guys what they deserve, there have been far darker stories of abuses, injuries and deaths at the hands of deputies in his jails, political dirty tricks, plus a string of curious financial dealings—all of which the alternative newspaper dutifully and rightly dug into. Here's how former Phoenix New Times reporter (now Village Voice editor) Tony Ortega explains it:
Taking advantage of post-9/11 privacy statutes, for example, Arpaio had convinced the county to remove from public view records of the million-dollar commercial real-estate transactions he was making. How,[New Times reporter] Dougherty wondered, was a modestly paid county sheriff making those kinds of deals?
The issue that triggered the grand jury and the appointment of, in all seriousness, a special prosecutor (a person named Dennis Wilenchik who was supposedly hand chosen by Sheriff Joe, and is incidentally under investigation by the Arizona Bar) is the fact that the Phoenix New Times published Joe's home address in one of their articles.

Nevermind that the thing is easily available online. (I found it here in less than three minutes. The property is listed under his wife Ava's name. And a quick cross-check turned this up to verify it.)
Reality be damned, Jumping Joe persuaded the Maricopa County Attorney to charge New Times and reporter Dougherty with a felony for listing the address. And then came the Grand Jury and the subpoena delivered to New Times.
And what a subpoena it was!
The thing not only demanded all reporters' notes and the like regarding any past article done on Arpaio from 2004 forward, but incredibly also required that Phoenix New Times turn over the IP. addresses of all the online readers of the publication since Jan. 1, 2004, plus their Internet domain names, browsers types, and a list of other Web sites they visited before reading New Times.

Yowzer.
All because New Times published Joltin' Joe's home address.
Excessive? Overeaching. A tad unconstitutional maybe?

The New Times head guys decided enough was enough….. and published the contents of the subpoena Thursday morning, under their own byline. Thursday night, Sheriff's deputies showed up at both men's house and hauled them off to County lockup. (No word yet on whether they were allowed to keep their own underwear or whether pink undies were involved.)

All day Friday, after the word got out, the media frenzy heated up to the point that even the New York Times did a story.
Finally, the press attention had its effect. By Friday afternoon, the Maricopa County Attorney decided that maybe this whole thing wasn't making him look all that good. So he dropped the various charges, as the Arizona Republic reports here.
Maricopa County Attorney Andrew Thomas announced Friday afternoon that he was dismissing the case against New Times and that no charges would be pursued against the editors and writers involved in the case.

Thomas also said he was dismissing special prosecutor Dennis Wilenchik, who had pursued the case on the county's behalf.

Thomas said that mistakes were made, that the case had been grossly mishandled and that he was uncomfortable with where the case had gone.
Uh, you got that right, Andy. A little late. But better than not at all.