---
With Taylor Walker
---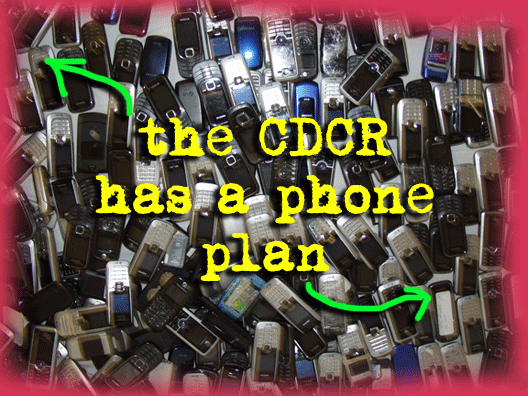 NEW UMBRELLA PHONE TECHNOLOGY WILL BLOCK CELL PHONE CALLS FROM PRISON SAYS CDCR

On Monday, the California Department of Corrections and Rehabilitation announced that it was implementing a new inmate telephone system that will both curb unauthorized cellphone use in lock-ups, and also reduce call rates for prisoners' families. Global Tel*Link was awarded the contract to put in the the new technology, with the plan set to start taking effect by the end of the year.
Here's a clip from the CDCR's press announcement that explains some of the details.
Managed Access technology uses a secure cellular umbrella over a specified area blocking unauthorized cellular communication transmissions, such as e-mails, texts, phone calls, or Internet access.

In 2011, CDCR tested the Managed Access technology at two institutions. The test was conducted over an 11-day period for approximately eight hours a day. During the test, the equipment detected a total of 2,593 unique wireless devices. The equipment blocked more than 25,000 unauthorized communication attempts, such as calls, texts, emails, and efforts to log on to the Internet from a smart phone.

In 2007, CDCR staff discovered nearly 1,400 contraband cell phones. In 2008, it was 2,800; in 2009, 6,995; in 2010, approximately 10,760; in 2011, more than 15,000; and to date this year, 2,181 contraband cell phones have been discovered in prisons and Conservation Camps.
---
DEATH ROW INMATE IS HIS OWN BEST LAWYER
The NY Times Adam Liptak has the interesting tale of a mentally ill death row inmate who seems to be better at representing himself than either of his previous lawyers. Here's a clip:
Albert Holland Jr., a death row inmate in Florida, has no legal training and seems to be suffering from a mental illness — "perhaps a disorder involving paranoia or delusional thoughts," a federal judge wrote recently.

But he turns out to be a pretty good lawyer. Two years ago, in allowing Mr. Holland a fresh chance to make his case after his court-appointed lawyer blew a crucial deadline, the Supreme Court praised Mr. Holland's legal acumen. Indeed, Justice Stephen G. Breyer wrote, Mr. Holland had had a better understanding of the complicated time limits for challenging death sentences in federal court than his lawyer had.

Mr. Holland made good use of the opportunity the Supreme Court gave him. A couple of weeks ago, he won a decision granting him a new trial. In the process, he opened a window on the astoundingly spotty quality of court-appointed counsel in capital cases.

The lawyer whose work the justices had considered was the least of it; he had merely been unresponsive and incompetent. Mr. Holland's earlier lawyers had failed him in much more colorful ways.

Consider Kenneth Delegal, who was assigned to defend Mr. Holland at a 1996 retrial on charges that he killed a Pompano Beach police officer in 1990. Mr. Delegal was removed from the case after being sent to a mental health facility. Later, the two men would see each other at the Broward County jail, where Mr. Delegal was held on drug and domestic violence charges….
There's more to this story, so read the rest.
---
NO PULITZER IN FICTION THIS YEAR, JUDGING PANEL IS NOT ONE BIT HAPPY
So the Pulitzer Prizes were announced Monday….and no fiction prize was given, a decision by the Pulitzer board that made the fiction judging panel more that a little cranky.
The way it works is that the judges pick three finalists and then the Pulitzer board picks a winner.
Here's a clip from the Daily Beast's story on the No-Winner situation.
…On Monday, the prize committee announced that it had not chosen a winner for the fiction award for the first time since 1977. "BREAKING: Fox News Wins Pulitzer for Fiction," the comedian Andy Borowitz quipped, as readers and pundits around the world took to Twitter to vent their outrage.

Maureen Corrigan, one of three jurors for the fiction prize, says she was just as shocked as everyone else when she learned Monday that there would be no fiction winner. "Honestly, I feel angry on behalf of three great American novels," said Corrigan, a critic in residence at Georgetown University and a book critic for NPR's Fresh Air.

Corrigan, along with Susan Larson, former books editor of The Times-Picayune and host of The Reading Life on WWNO-FM, and Michael Cunningham, author of the 1999 Pulitzer winner The Hours, read about 300 novels each over the course of six months. They then met and corresponded to pick three finalists: the late David Foster Wallace's posthumous and unfinished The Pale King, which was pieced together from manuscripts by Wallace's editor, Michael Pietsch; the young Karen Russell's quaintly surreal debut Swamplandia!; and Denis Johnson's stark and spare novella Train Dreams. The three were submitted to the Pulitzer Prize board, made up of 20 journalists and academics, 18 of them voting members, who must come to a majority vote on the winner. Or not, as was the case this year.
I read all three of the books that Corrigan lists as her panel's finalists and, I can assure you that any one of the three would have made a genuinely swell winner. Had it been left up to me, I'd have likely picked the Denis Johnson book, Train Dreams, which features sentences so gorgeous they could nearly stop your heart. Still it would have been easy to make a case for either of the other two.
However, none-of-the-above is not a workable choice. Really, it's not.
Yet the fact that both the Huffington Post and Politico, and that smart 24-year old from PA won their first awards nearly makes up for it.
Among the more notable winners were the Huffington Post's David Wood, who grabbed the award for national reporting for his reporting on the physical and emotional challenges facing American soldiers who were severely wounded in Iraq and Afghanistan. The award was HuffPo's first-ever Pulitzer.

Politico also earned the right to call itself a Pulitzer-winning publication for the first time, thanks to Matt Wuerker's political cartoons.

Meanwhile, 24-year-old Sara Ganim and the staff at Pennsylvania's Patriot-News nabbed the award for local reporting for uncovering the Jerry Sandusky sex scandal at Penn State.