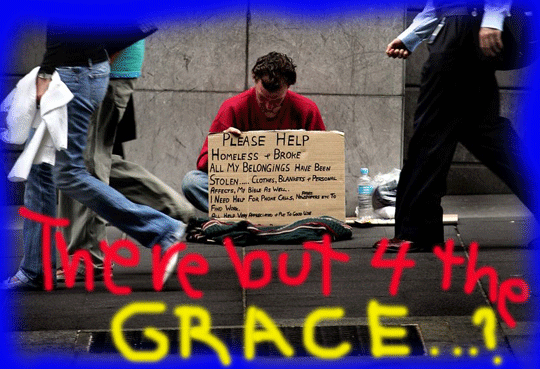 Tourist states with temperate climates, such as California and Florida, have long been magnets for the homeless. Los Angeles is the nation's homelessness capital, with an estimated 73,000 people on the streets. A survey of 3,230 homeless people last year in Los Angeles County found nearly 7 percent living in vehicles, according to the Los Angeles Homeless Services Authority.

"It's trending toward an increase," said Michael Stoop, acting executive director of the National Coalition for the Homeless. "People would rather live in a vehicle than wind up in a shelter, and you can't stay on a friend's couch forever."

The above clip is from an article that ran in Briebart on Monday. It described how an increasing number of people in Los Angeles are living out of their cars—like Richard. Except that he used to be living out of his car, but the thing has since broken down. Now he's dependent on shelters and the Motel 6, the latter only when he has the money.

Also, Richard doesn't live in LA but in Orange County, where, according to this year's County of Orange Community Indicators Report, there are 30,000 homeless who need a place to sleep each night, but there are less than 900 emergency shelter beds in the entire county.

It is deeply disturbing to realize that our social safety nets are so porous that someone as intellectually vigorous and productive as Richard could so easily fall through them. Yet, along with the undeniably harrowing details of his circumstances there is also the fact that he has been able to accomplish quite a lot given his situation. Not only was Richard commenting on my blog and Marc's, he was also one of three regular co-hosts over at Randy Paul's blog, Beautiful Horizons, where he wrote smart, newsy, opinionated posts sometimes several times a day with seeming ease—like these from last June.

As I mentioned yesterday, I asked Richard to write a little about his present situation,—which he said he was finding difficult to do now that his health was more tenuous. Yet a week later he sent me a first installment:
My name is Richard. I'm 61 years old. I'm part of a growing army of homeless people here in Orange County who are neither mentally ill— at least at the start— or chemically dependent on alcohol or drugs. How I got here is the story I'm going to try to tell. Up front, let me say it will be hard. I've never been very good at talking about myself and the idea of opening up about this is difficult.

While my family has Sicilian and Italian roots, my mother was brought up with all the Yankee values that one could expect of the Connecticut home where she was raised.

My father was the first in his family to go to college and but, when he graduated in 1931, found a degree in French Literature was not a key to fame and fortune. So he found what work he could and raised a family. My brother was born in 1932. I followed fourteen years later.

I grew up in Norwalk, a working class neighborhood of Los Angeles. We had a nice house – VA and FHA financed, of course.. The depression made my father risk-averse. I think he would have made a great teacher but he didn't think of going back to school on the GI Bill. Neither did he join with friends in business opportunities that might have paid off handsomely. Instead, he stayed with the security of the post Office. But he always found time to instruct me in the Great World outside. Weekends were spent at all the museums, ports, and other diversions of Los Angeles. He was a great instructor.

That is all I have the energy for right now. But before I go on I'd like to say a word or two about "Homelessness" and what it means. What does it mean to you for example? Probably the image of a dirty drunken or crazy middle aged man comes to mind. Well that is one view and its not wrong. But it's not completely right either.

Yes we are dirty and we smell. There are few showers on the street and even fewer bathrooms. And when you wear the same clothes day after day – the scent of Irish Spring is not yours. After a bit we stop noticing the smell, but we know that you do. It is one of the things that serves as a barrier to social intercourse. We know people are turned off from us and we draw away.

About the alcohol and drugs: Sure, that's how many ended up on the street. But not all. A surprising number are working men in their fifties rendered redundant by this economy.

A lot can also be said about the shameful dumping that occurred in the sixties when we closed the big mental institutions but failed to create the half-way houses needed to bridge the gap. Living on the street is stress-inducing anyway – if you're not clinically depressed, you likely have far more serious mental or emotional problems.

And, yet I see a lot of people like me, with disabilities—maybe work related —that are not addressed in any adequate way.

It took me three days to finish this much so I'll sign off. More soon.

But before I go, let me say this. I made choices. Many of them turned out to be bad.
Some of you have kindly expressed the desire to help Richard. Later today, I should have some information as to where you can send money, should you wish. I'll post it as soon as I get it.
*********************************************************************************************
PART III on Monday
(The photo, which is not of Richard, came from the LA Homeless Blog.)