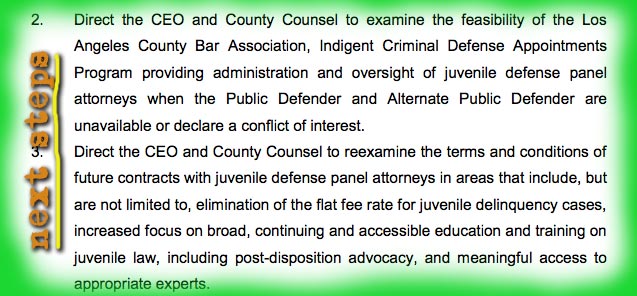 LA COUNTY SUPERVISORS PREVIEW MOTION TO RESEARCH WAYS TO OVERHAUL JUVENILE INDIGENT DEFENSE SYSTEM
On Monday, LA County CEO Sachi Hamai released a colossal 258-page report highlighting inequalities in representation for indigent juveniles who are represented by private panel attorneys, rather than the county's public defenders. If you are unfamiliar with the issue, when public defenders are unable to represent juvenile defendants (often because of a conflict of interest), the kids gets bounced to panel attorneys, who are paid a shockingly low flat-fee stipend for each case.
Among other noteworthy findings, the report revealed that panel attorneys, when compared with public defenders, consulted with fewer experts, filed fewer motions, and provided less documentation in support of their client. And those kids with panel counsel were more likely to be sent to adult court than their peers represented by public defenders. (Read more about the report in our earlier post: here.)
A motion previewed at the LA County Board of Supervisors meeting on Tuesday would direct the CEO and County Counsel to look into a number of possible reforms to the way poor juveniles are represented in Los Angeles (with the help of a consulting expert on indigent defense), including the creation of an oversight unit for panel attorneys run by the LA County Bar Association, elimination of the problematic flat-fee structure for panel attorneys, increasing access to appropriate experts, merging the Public Defender's Office with the Alternate Public Defender's Office, and increasing use of alternate public defenders in juvenile cases, among other actions. Currently, only Lancaster uses alternate public defenders for juvenile defense when public defenders are unavailable or have a conflict of interest. Panel attorneys are used less often under this structure (similar to the way adult indigent defense is set up in LA County). The motion directs the CEO and County Counsel to report back on these possible reform areas in 90 days.
Supervisor Mark Ridley-Thomas, who co-authored the motion with Supe. Sheila Kuehl, said the proposal addresses "an area that needs our urgent attention." The Supes are expected to consider the motion at next week's meeting.
---
LA COUNTY CONVICTION REVIEW UNIT IS WADING THROUGH A FLOOD OF CASES
Since its launch nine months ago, LA County District Attorney Jackie Lacey's Conviction Review Unit—which investigates innocence claims—has been slammed with 730 petitions from people who say they're innocent.
The Conviction Review Unit has only made it through preliminary reviews of about a third of the cases. A total of 213 cases are ready for an in-depth review, a couple of cases are currently undergoing a more thorough innocence review, 42 cases have been rejected outright, and 13 claims have been referred to staff for further action.
Advocates say the pace is frustratingly slow considering some men and women may be needlessly behind bars, but DA Lacey says the task force is "working as diligently and as hard as we can to quickly get cases reviewed."
KPCC's Ashley Bailey has more on the issue. Here's a clip:
"I think the DA's heart is absolutely in the right place, I think the problem has been getting the unit up and going and understanding how these decisions will be made," said Loyola Law Professor Laurie Levenson, founder of the university's Project for the Innocent.

"On our end, that's a bit frustrating 'cause we have cases that we want resolved today," she said.

As of this March, 213 cases are ready for review, 42 claims have been rejected, 13 have been assigned to staff for followup, and a couple are under a much more thorough investigation.

Lacey said she's mindful that people are sitting in prison every day and there could be a person who is wrongfully convicted waiting for help, but asked for patience and cooperation while investigators conduct a diligent review.

The goal of L.A. County's unit is to investigate credible claims where new, substantial evidence, such as DNA, casts doubt on a conviction of someone still in prison on a serious or violent felony.

"The person has to currently be in custody and has to be a case where they claimed actual innocence from the get go, so we have of course murder cases that fall into that," Lacey said. "These are serious cases where someone is probably doing life or a substantial amount of state prison time."
SAN DIEGO JOINS THE PARTY
San Diego County has joined a growing number of cities and counties across the nation—Los Angeles, Santa Clara, Brooklyn, and Philadelphia among them—with task forces to investigate wrongful convictions. SD's new conviction review unit will be comprised of two full-time prosecutors to work in conjunction with the SD Public Defender's Office and the California Innocence Project to write justice system wrongs.
The San Diego Union-Tribune's Kristina Davis has more on the welcome announcement from SD District Attorney Bonnie Dumanis. Here's a clip:
"We recognize that despite our goal of pursuing justice and truth, in a few instances new evidence is discovered and in some cases, mistakes are found," Dumanis said in a news conference Wednesday. "As prosecutors, our legal, moral and ethical obligation is to ensure the right person is convicted for the crime charged."

The unit is already looking at about 10 cases.

The work will be done in coordination with the Public Defender's Office and the California Innocence Project at California Western School of Law. Both applauded the district attorney for her willingness to give convictions a second look.

"As good as our system is, as much checks and balances as we have, people do slip through the cracks," said Public Defender Henry Coker. "Things look like what they're not, and lives are lost in that process."

Justin Brooks, director and cofounder of the California Innocence Project, said the District Attorney's Office has been at the forefront of a nationwide sea change recognizing it is possible to put innocent people in prison.

"It's all of our job together to right these wrongs," Brooks said. "… It should be done in a way that's not about pointing fingers but getting the right result."

Claims of innocence must meet a certain threshold for review: the conviction must have occurred in the San Diego County Superior Court, the convict must still be serving the sentence, the crime must be a serious or violent felony (that is, murder, kidnapping, rape), there must be credible and verifiable evidence of innocence, and the convict must be willing to cooperate with the process.

Prosecutors realize they will likely be inundated with requests that don't fit that criteria, but they promised to still look through each application for cases that should be reviewed. If the circumstances don't necessarily fall into their jurisdiction, they said they will pass the request along to the appropriate person.

The unit will be led by Deputy District Attorneys Bryn Kirvin, who has served as the office's ethics coordinator, and Brent Neck, who for the past five years has worked as the office's liaison to the Innocence Project.
---
PRESIDENT OBAMA COMMUTES SENTENCES FOR 61 PEOPLE
On Wednesday, President Barack Obama commuted the sentences of 61 Americans serving time in prison under outdated, tough-on-crime sentencing laws.
The move is a significant one for a president who has faced criticism from activists in past years for granting few people clemency.
President Obama has now commuted sentences for 248 people—more than the last six presidents combined, although ___ of those six presidents granted more pardons than Obama has thus far. For instance, while former President George W. Bush commuted just 11 sentences, he pardoned 189—a good deal more than Obama's current 61, according to the US Department of Justice comparison chart. (If you are fuzzy on the difference between the two, a pardon wipes a person's criminal record and restores rights, a commutation shortens a person's sentence, but does not offer a clean slate.)
More than a third of the people benefiting from Obama's latest clemency push were serving life sentences.
"The power to grant pardons and commutations… embodies the basic belief in our democracy that people deserve a second chance after having made a mistake in their lives that led to a conviction under our laws," the president wrote in a letter to the 61 clemency recipients.