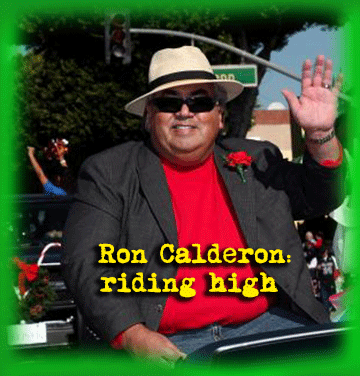 California State Senator California Senator Ronald Calderon was taken into custody Monday morning after surrendering to federal authorities to be arraigned Monday afternoon on 24 counts that include corruption, mail fraud, wire fraud, bribery, conspiracy, money laundering….and more.
Thomas Calderon, the former speaker of the California state assembly, and Ron Calderon's brother, surrendered this past Friday when federal charges against both men were announced by U.S. Attorney Andre Birotte.
As you may know by now, Ron Calderon is accused of being involved in two elaborate schemes in which he allegedly solicited and accepted around $100,000 in cash bribes along with trips to Las Vegas, expensive dinners, and gratis stays at golf resorts, plus a couple of high-paying jobs for his son and his daughter (requiring little or no work). In return Calderon allegedly exerted influence on state legislation that was favorable to those doing the bribing.
In one of the bribery set-ups that resulted in the charges against Calderon and his brother, the state senator allegedly took money and favors from a guy named Michael Drobot, the former owner of Pacific Hospital in Long Beach, which is a major provider of two kinds of expensive and delicate spinal surgeries that are often billed to workers' compensation programs. (Drabot has accepted a plea agreement and is cooperating with the feds.)
The California law that Calderon reportedly worked to keep on the books (it has since been repealed), allowed a hospital to essentially bill twice for an expensive piece of hardware used in the surgeries. (First the hospital got to bill workers comp for the full cost of the surgery—which amounted to a 20 percent more than the facility would have gotten if it was being paid under Medicare. Then it got to bill all over again for the hardware—the average price of which, was already paid for in the original billing).
In the companion case filed on Friday, Drobot admitted that his hospital exploited this law, which was known as the "spinal pass-through," law, by billing insurance providers at highly inflated prices for the device in question that had been bought from shell companies that Drobot controlled.
"Drobot allegedly bribed Ron Calderon so that he would use his public office to preserve this law that helped Drobot maintain a long-running and lucrative health care fraud scheme," said the US Attorney's office in one of its official statement.
In addition, Drobot had reportedly been paying kickbacks to doctors and chiropractors who, in return, recommended to what would amount to thousands of patients that they have their pricey surgery at Drobot's Long Beach hospital, even if they lived a hundred or more miles away from Long Beach, and there was perfectly appropriate facility far closer to their homes.
"The co-conspirators lined their pockets by ripping off insurance companies to the tune of hundreds of millions of dollars," said California Insurance Commissioner Dave Jones.
---
THE AFFIDAVIT AND THE STING
The charges against the Calderons were, to a great extent, previewed last October when reporters from Al Jazeera America managed to get their hands on a sealed 125-page federal affidavit that was used to get a judge to sign off on the FBIs raid of Calderon's office some months earlier.
The affidavit (which was redacted by Al Jazeera to block out the identities of the undercover FBI agents involved in a sting against Calderon) is replete with lots of alleged dialogue between Calderon and the three FBI undercovers, who were posing as the head of a new (and fake) LA film company, the film company's money man, and the film guy's good-looking girlfriend, who was in need of a job. Calderon allegedly provided said girlfriend employment on the state's dime—until such time as the fake film guy "was no longer with" his fake girlfriend. (Nope. Not making this last part up.) Oh, yes, and Calderon allegedly solicited and accepted bribes from the undercover FBI agents in return for pushing legislation that would be favorable to their "film company."
US Attorney Birotte looked grim as he talked to reporters on Friday about the case against the high-living Calderon brothers. "Holding elected office means accepting the public trust…" said Birotte. "And the vast majority of officeholders do so with dignity, honor and the well-being of their constituents. When you selfishly line your pockets, it's up to us to take steps to hold these individuals accountable."
Indeed.