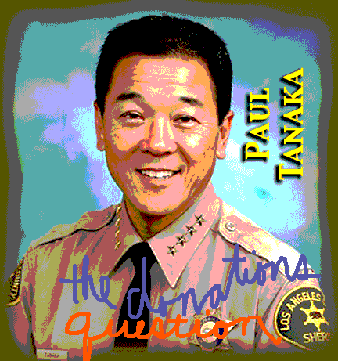 The Daily News has both a follow-up story and an editorial on Supervisor Gloria Molina's Tuesday motion to forbid county employees from asking subordinates for campaign donations.
First, here's a clip from the story by Christina Villacorte, which mostly recounts why Molina introduced the motion, then has a denial-filled response from LASD spokesman Steve Whitmore.
Supervisor Gloria Molina said she sought the changes after hearing complaints that Undersheriff Paul Tanaka allegedly sought donations to run for mayor of Gardena.

"This stems from articles that I read about our undersheriff, in which people made accusations that they were solicited for donations, and that those who gave money received consideration," Molina said.

"I don't know if the accusations are true or not, but what I'd like to do in a proactive way is to say that we will not permit this," she added.

Steve Whitmore, spokesman for the Sheriff's Department, categorically denied that Tanaka used his influence over his subordinates to fill his campaign war chest.

"The undersheriff of the L.A. County Sheriff's Department is not swayed by people who donate to his Gardena mayoral campaign or those who do not donate," Whitmore said.
Right.
The editorial acknowledges that our reporting on the Tanaka donations has brought up troubling issues, but then it raises some interesting points of its own. Here's a clip:
….the motion raises (but ignores) another tricky issue about employees contributing to the campaigns of potential bosses: the case of public employee union contributions. How can it be wrong for an individual employee to contribute to a supervisor's campaign but right for a union?

Molina wrote in the motion: "When managers of supervisors solicit or accept campaign contributions from employees who they supervise, evaluate, and approve for promotions and advancement, there will be, at a minimum, a perception of a conflict of interest."

Perhaps, but doesn't the same potential conflict — or perception of — arise when the contributions by a group of public employees help to elect their own boss? By definition, quid pro quo goes both ways.

Those are questions we hope will be asked when county lawyers return next month with a proposed policy — if they can find a way around free speech rules. In the end, they may conclude that the negative publicity surrounding such misdeeds by one manager is enough to extract more-ethical behavior by all the rest.

Still, as futile an exercise as this may be, periodic discussions about how public officials should conduct themselves is always a worthwhile endeavor. For starting that conversation, and bringing the stories about Tanaka to light, Molina deserves credit.
Indeed, when the county lawyers return in a month, the discussion should be interesting.