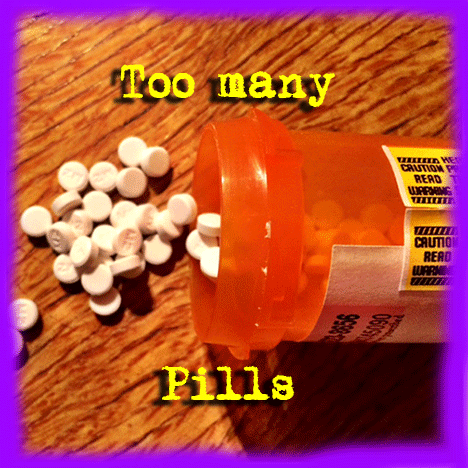 NEW STUDY SHOWS ADDED HEALTH RISKS FOR CHILDREN TAKING ANTIPSYCHOTICS
Last week we reported on an alarming new federal report from the US Department of Health and Human Services' Office of Inspector General that documented excessive use of antipsychotic drugs to treat poor children (many of them in foster care) on Medicaid.
Now a new study, published Monday in JAMA Pediatrics by researchers from The Children's Hospital of Philadelphia's PolicyLab, suggests that prescription antipsychotics may elevate a child's risk for Type II diabetes by nearly 50 percent.
Among children who are also receiving antidepressants, researchers found the risk may double.
The research newswire NewsWise reports that researchers cautioned against over-reaction to the findings, pointing out that the baseline risk for diabetes among youth not exposed to antipsychotics was 1 in 400, rising to 1 in 260 among those being given antipsychotics.
Newwise also noted "emerging evidence that Medicaid-enrolled children are far more likely than privately insured children to be prescribed antipsychotic medications."
Overall, over 25 percent of Medicaid-enrolled children receiving prescription medications for behavioral problems were prescribed antipsychotics by 2008, largely for less severe disorders.

"With such vast numbers of children being exposed to these medications, the implications for potential long-lasting harm can be jarring," said David Rubin, MD, MSCE, the study's lead author..
To say the least.
---
HOW WE SHOULD COMPENSATE SOMEONE FOR DECADES OF LOST FREEDOM?
The New Yorker's Arial Levy writes about John Restivo, who lost 18 years of his freedom after being convicted of rape and murder of a young woman in 1985. DNA evidence set him free in 2003. The story of the $18 million settlement Restivo may or may not get opens the complex discussion about what we owe those who are wrongly convicted.
Here's a clip:
Restivo had never met the victim and had no criminal record, it became clear that he was a suspect. One of the detectives grabbed him by the throat, he recalled recently. "He starts screaming, right in my face, 'Is this how you killed her?' And I'm, like, This is insane." They kept him at the station for twenty hours, during which he was not allowed to rest or eat or call his girlfriend and let her know where he was. Restivo remembers that when he said he had a right to a lawyer, Volpe told him, "This is un-America: you have no rights here." Then Volpe's partner, Robert Dempsey, hit him in the face.

Restivo had grown up thinking of the police as good guys—his father had spent twenty years on the Nassau County force—and he was stunned by his treatment. As soon as he was released, he went to see a lawyer, who took photographs of his bruises and filed a complaint against the detectives. (Dempsey denied hitting Restivo.) But the police did not relinquish the case. "It's quite possible that the fact that he called a lawyer right away made them think that he was guilty," Anna Benvenutti Hoffmann, one of Restivo's current lawyers, said. "Anything is a sign that you're guilty, once they get a feeling that they don't like something about somebody."

Restivo's phones were tapped. His home was bugged. "Everywhere I went, they started following me around," he said. "I'm trying to continue running a business, and if I go to somebody's house to do an estimate or a moving job, I'm afraid the cops are going to show up. Anybody I associated with, they're starting to snatch off the street—and they're not just bringing them in for a half-hour chat."

On the night of the crime, Restivo had been in Wantagh, sanding floors at his new house with a friend; the police brought the friend in and questioned him for ten hours. "They told me, 'We're going to turn your life into an effing nightmare,' " Restivo said. " 'And we're going to turn your brother's life into an effing nightmare. We'll turn your mother's life into a nightmare. We'll turn your son's life into a nightmare.' And they did."

[SNIP]
Restivo was convicted and given 33-to-life. He was released after 18 years when DNA evidence proved him innocent. Now Restivo may or may not get $18 million in compensation.
So what do we owe people like Restivo, or the recently released inmate who served 30 years in an Alabama prison?
It's an interesting question, and an interesting longread story.
Nina Morrison, of the Innocence Project, told me, "I think for a lot of the clients there's a sense that this is going to be the thing that helps them move on. But then the jury goes home; we all go home. And then, at the end of the day, they are still left with the enormity of what they've lost."
---
COUNTY MAY PAY $5.3 MILLION TO FAMILY OF UNARMED MAN SHOT BY LA COUNTY DEPUTIES
And while we're on the topic of damage awards, Jose de la Trinidad was a 36-year-old father of two when he was shot five times in the upper and lower back by Los Angeles County Sheriff's deputies who believed he was reaching for a weapon after a pursuit. A witness to the shooting has always maintained that the unarmed De la Trinidad was complying with deputies and had his hands above his head when he was shot.
The LA County Board of Supervisors are expected to vote on the high ticket payout on Tuesday.
Frank Stolze of KPCC has more. Here's a clip:
[If the supervisors agree to the payout, this] would settle a federal civil rights lawsuit filed by the family that claimed deputies opened fire on Trinidad, even though he had his hands in the air and his back to deputies.

"He had not violated any law and posed no risk to deputies," the lawsuit said. "He exited a vehicle and obeyed the instructions of deputies to stop and raise his hands."

He had two daughters — ages 3 and 6 — at the time of his death. Relatives say he held down two jobs to support them and his wife.

In February, the board agreed to pay $1.5 million to the family of Arturo Cabrales, who was also fatally shot by a sheriff's deputy.

[SNIP]

In May, the L.A. County District Attorney's office concluded the two deputies "acted in lawful self-defense and defense of another when they used deadly force."