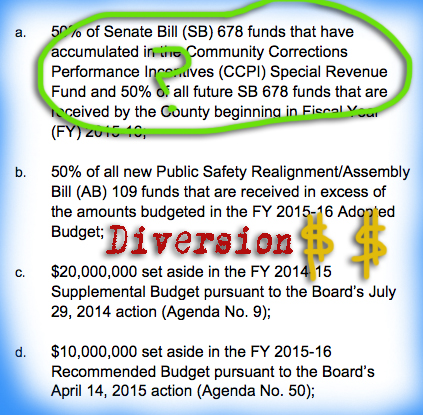 LA COUNTY BOARD OF SUPES, PROBATION DEPARTMENT CLASH OVER FUNDING FOR DIVERSION PROGRAM
On Tuesday, Sept. 1, the LA County Board of Supervisors is slated to re-vote on a jail building plan, after the original vote was found to be in violation of the state's open meetings law. On the agenda, it was attached to a program to divert the county's mentally ill from jails, which will also be reconsidered Sept. 1.
In the meantime, a disagreement about how the board plans to fund the diversion plan has arisen.
Over a period of five years, the LA County Probation Department has received $200 million in state money allocated to help keep people with felony convictions from getting locked up for certain probation violations.
The Supes want to redirect half of the state money from Senate Bill 678 to set up and run the planned Office of Diversion and Reentry which would be under the county's Health Services Department.
But LA County Probation Chief Jerry Powers argues that SB 678 money is intended solely for probation programs, and that if the Supes get their way, it would likely be to the detriment of future probation program funding.
The LA County Supes have already set aside $30 million in county money, but had banked on about $100 million in additional state funding. The probation chief says he is willing to help the board come up with money from somewhere else. And Supe Mark Ridley Thomas says he believes the board is committed enough to this comprehensive diversion program that they will find another source of funding if necessary.
We'll keep you updated on the issue.
The LA Times' Abby Sewell has more on the issue. Here's a clip:
Probation chief Jerry Powers has protested, saying the money must go to his department and be spent on felony probationers. In a letter to county supervisors, Powers warned the board's plan "would likely jeopardize future [state] funding" for a wide range of programs.

State officials echoed Powers' concerns and said they have raised the issue with county leaders.

"We have always understood [money authorized by Senate Bill 678] to be a probation program, and the dollars in the program are calculated based on the number of people that probation is keeping out of prison or jail," said Diane Cummins, a special assistant to Gov. Jerry Brown. "It seems clear in the statute that the money has to go to probation."

The new diversion office would be part of the county's Health Services Department, not the probation department.

Supervisor Mark Ridley-Thomas, who proposed the new diversion program, said the issue is being reviewed by county attorneys.

"We rely on legal opinions rather than that which is being asserted by a given department head," he said.

Ridley-Thomas said even if the state money can't be used for the new diversion office, the board's "commitment to diversion is so high that I suspect the board members will be motivated to find the necessary resources to fund" the program.
---
THE STATE OF SOLITARY CONFINEMENT IN NEW YORK
The final story in a three-part NPR series on solitary confinement in the US focuses a lens on New York, where major efforts (and lawsuits) have been changing when and how long prisons can hold inmates in isolation cells.
NPR's Brian Mann takes a look at both sides of the debate. On one side, the head of the NY prison guard's union, Mike Powers, says the solitary confinement is an indispensable deterrent and is used strategically by officers to keep prisons safe.
On the other side, reform advocates say isolation is inappropriately used as a "default mechanism," and that studies on the issue suggest solitary confinement can cause serious psychological damage.
(Here's where we linked to part one and part two.)
Here's a clip:
"Our SHUs are not the dungeons that people portray them to be," Powers says…

"I don't know how many times I've had an offender, an inmate, tell me that 'I'm not going back in there, Powers. You can count on that,' " he says.

This is the debate happening across the U.S. Many corrections officers see solitary confinement as a normal practice, relied on for decades.

Reform advocates say isolation is used far too often. They point to the fact that many of the 4,500 inmates held in New York's isolation cells before last year's agreement were teenagers, pregnant women and inmates who committed minor infractions.

"Five out of six offenses that lead people into solitary are for nonviolent ticket infractions, like excessive bearding or having too many stamps," says Five Mualimm-ak, now a reform activist, who spent 11 years behind bars on weapons charges, including five years in solitary. The figures come from a New York Civil Liberties report released in 2012.

"Socially, it made me numb. I felt like I was stripped of all the skills I was used to using on a human-being level," Mualimm-ak says.

Solitary confinement is getting a second look from politicians as part of a general shift away from tough crime policies and because studies show isolation can harm inmates' mental health and lead to more crime once they're released. In a statement, New York's acting corrections commissioner, Anthony Annucci, said the reform effort here will make prisons "more humane."

But with details of New York's new policy still being hashed out, Soffiyah Elijah with a pro-reform group called the Correctional Association worries that opposition from prison guards will block significant change.

"It's the No. 1 hurdle because they are on the front line, they're given amazing discretion to abusively use the ability to put somebody in solitary confinement, and it's their default mechanism," Elijah says.
---
VIDEO RELEASED OF CONTROVERSIAL LASD LAKEWOOD SHOOTING OF MENTALLY ILL MAN – QUESTIONS STILL REMAIN
On July 6 in Lakewood, Los Angeles County deputies shot and killed John Berry, a 31-year-old mentally ill man who had likely gone off his medication.
John's brother, Chris Berry, a federal law enforcement officer, saw the whole thing. He was the one who called the cops on John. Chris says that when he requested a mental evaluation team, which would have included a mental health care professional, he was told deputies would be responding instead.
Berry's family has released video captured by a witness at the scene that has been included as evidence in a civil trial.
Deputies say Berry rammed his car head-on into a patrol car, pinning an officer between the two cars before the witness started filming. His family says he didn't hit the patrol car. They say the video depicts deputies peppering Berry with bullets as he is backing up in the car.
The LA Times' Corina Knoll and Rubin Vives have the story. Here's a clip:
But Berry was not himself and appeared to be off his medication July 4 when he showed up at home upset that he had lost his job. He called the police to complain that he wasn't being allowed access to the belongings in his room. When a deputy arrived, Berry gathered some possessions and left the house he shared with his mother, sister, brother and a niece.

Two days later, Berry reappeared at the house, parking his car on the front lawn. His older brother went out to talk to him.

"He was sitting in the driver's seat of his BMW," Chris Berry, 37, recalled. "I could tell he hadn't slept in a while."

Chris Berry, a federal police officer who works at a facility with two psychiatric hospitals, said he called the Lakewood sheriff's station and asked that a mental evaluation team be dispatched. He was informed that deputies would be sent instead.

The deputies who arrived were immediately aggressive and escalated the situation, Chris Berry said. He said he watched as they unleashed pepper spray, shot his brother with a Taser at least four times and struck him with batons. His brother, he recalled, looked stunned and cried, "What did I do wrong?"

"They said he accelerated and crashed into the police car. That did not happen — I was there for the whole thing," Chris Berry said. "But they have to say that because it justifies their aggressive actions.… I believe in my heart and I know Johnny wasn't trying to hurt them."

Chris Berry said that as a law enforcement officer, he is pained to be mixed up in what feels like a family fight. "I called one brother to help another brother and…" He stopped, unable to finish the sentence.

The family hopes the release of the video will hold the department accountable while also forcing law enforcement agencies to rethink how they interact with the mentally ill.
---
LONGREAD: WOMEN IN PRISON FIND HEALING AND PURPOSE THROUGH EDUCATIONAL AND THERAPEUTIC PROGRAMS
The Desert Sun's Anna Rumer has a great longread about redemption for incarcerated women (often victims themselves) in California detention facilities, and the programs that helped them change their trajectories. Here's how it opens (but do read the whole thing):
Looking at Danielle Barcheers, it's impossible to imagine her as a killer.

The perky 34-year-old often wears a smile and makes repeated apologies for the "mess" in her spotless cell. She comes off like a beam of light amid the 1,640 women serving time at the California Institution for Women in northern Corona.

She's come a long way. In 1997, 15-year-old Barcheers became the youngest girl in California at the time to be tried and convicted as an adult after helping murder her boyfriend's grandmother.

Sentenced to 25 years to life, politicians bragged about locking away a child they considered an uncorrectable bad seed — a distinction Barcheers found herself believing for a long time.

But in the 18 years since she first said goodbye to her physical freedom, she's found another way to free herself and other women as a mentor and certified drug counselor.

Most of these women were victims themselves, prison counselors say — victims of addiction, physical abuse, sexual violence and broken homes. But somewhere along the way, they became the victimizers.

Since Barcheers was sentenced, she's seen a 180-degree change in the political attitude about rehabilitation. Today, prison officials look to education, counseling and social programs to help provide the women their greatest opportunity to escape the cycle of violence.

Of those who are given a second chance, only half will make enough of a change to leave behind the mistakes and traumas that haunt them. But others find hope.

Barcheers may never banish the ghosts of her past completely, but she has made peace with them and, for the first time in her life, herself.