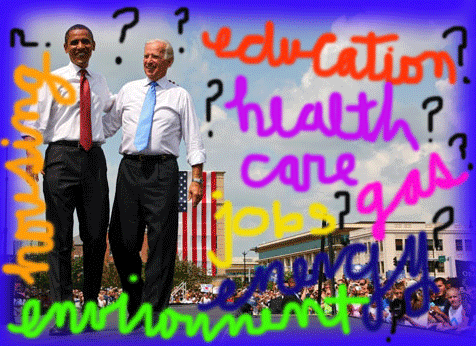 As we gear up for this week's Democratic convention, here are a bunch of must-read stories, each variations on a theme:
1. OBAMA AND BIDEN – PLEASE REBOOT BEFORE PROCEEDING
First there is a cautionary lecture from Frank Rich in the NY Times, who tells Obama and Biden that they'd better retool their message ASAP to focus on the problems that are really of concern to Americans. Below are the most relevant 'graphs:
…..zero hour is here. As the presidential race finally gains the country's full attention, the strategy that vanquished Hillary Clinton must be rebooted to take out John McCain.

Economic anxiety is the new terrorism. This is why the most relevant snapshot of voters' concerns was not to be found at Saddleback Church but at the Olympics last Saturday. For all the political press's hype, only some 5.5 million viewers tuned in to the Rev. Rick Warren's show in Orange County, Calif. Roughly three-quarters of them were over 50 — in other words, the McCain base. By contrast, a diverse audience of 32 million Americans tuned in to Beijing that night to watch Michael Phelps win his eighth gold medal.

This was a rare feel-good moment for a depressed country. But the unsettling subtext of the Olympics has been as resonant for Americans as the Phelps triumph. You couldn't watch NBC's weeks of coverage without feeling bombarded by an ascendant China whose superior cache of gold medals and dazzling management of the Games became a proxy for its spectacular commercial and cultural prowess in the new century. Even before the Olympics began, a July CNN poll found that 70 percent of Americans fear China's economic might — about as many as find America on the wrong track. Americans watching the Olympics could not escape the reality that China in particular and Asia in general will continue to outpace our country in growth while we remain mired in stagnancy and debt (much of it held by China).

How we dig out of this quagmire is the American story that Obama must tell. It is not a story of endless conflicts abroad but a potentially inspiring tale of serious economic, educational, energy and health-care mobilization at home. We don't have the time or resources to go off on more quixotic military missions or to indulge in culture wars. (In China, they're too busy exploiting scientific advances for competitive advantage to reopen settled debates about Darwin.) Americans must band together for change before the new century leaves us completely behind.
2. THE BIG BAD COST OF BACK TO SCHOOL
One example of where Obama/Biden need to be looking was exemplified in newspapers from the San Jose Mercury News to the New York Times, which had weekend articles about how the nuts and bolts of sending kids to school may cause economic hardships for many families this fall. The articles described how cafeteria lunch prices are jumping and how school districts in California and elsewhere, now faced with high gas prices, are being forced to charge for the school bus service that had always been provided for the district's kids for free.
(cough—$10 billion monthly burn rate in Iraq—cough)
3. COLLEGE TUITION BLUES
While K-12 parents struggle, there is also the matter of higher education. In an opinion piece in Sunday's LA Times, a young woman named Zoe Mendelson, who will be a freshman at Barnard College this fall, talks about the difficulties of affording college in an era with dwindling financial aid available for middle class students, even those who are scholastically outstanding. She is lucky, Zoe says, because her parents are lower income and could save nothing to send her to college. But many of her friends with grades and test scores at the top of their class were ineligible for most scholarships.
Here is a clip from Mendelson's piece:


My friend Maggie is far more disciplined and hardworking than me, and, like me, she graduated in the top 10 of our high school class. She emigrated from Russia when she was 5. Her dad is a limo driver and earns just enough to support their family of four. Maggie has been accepted at Bard College, which gave her a significant aid package, but she is still responsible for $8,000 a year. Bard assumed that she'd be able to get a loan for that. She applied for a dozen and was rejected for all of them.
Is this how we make American strong? Really?
4. THINKING OUT OF THE XO BOX
Finally one more education story. But this one, sent to me by commenter Woody from the Birmingham News, contains solutions not just problems.

It deals with the Birmingham, Alabama, school system's decision to buy all its elementary school students those cheapie, you-can't-kill 'em XO laptops that were designed for kids in developing countries. This spring, Birmingham tried out the XO strategy in a pilot program that was a rousing success.
Now mind you Birmingham ranks 107 out of 127 school systems in Alabama, which ranks 48 among 50 state in America.
But Birmingham aims to change all that. And the XO idea represents one small victory that district and city officials hope will trigger more needed victories for Birmingham's kids.
The Birmingham city school system is the first in the nation to distribute the XO laptops to students on such a large scale.

"We've been last in so many things, it just kind of dawned on me it would be kind of nice to be first in something that makes sense," said Mayor Larry Langford…
Education is just one of the problem areas that the Democrats must address this week.
Obviously there are one or two (or ten) others. So stay tuned.
**********************************************************************************************************
5. OOPS, I DID IT AGAIN
Meanwhile, if you haven't already seen it, check out this LA Times story about how the FBI saw the mortgage crisis coming but was too focused on terrorism—and illegal immigration—to act on the looming catastrophe that it very clearly recognized.