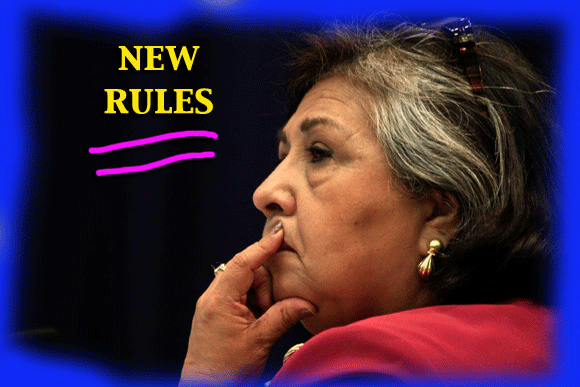 A spokesperson for Supervisor Gloria Molina confirmed that it was WitnessLA's Dangerous Jails reporting by Matt Fleischer, "detailing Undersheriff Tanaka's campaign contributions from subordinates" that stimulated Molina's decision to craft the motion that was presented at the board meeting on Tuesday, a motion that would prohibit county managers from asking for or accepting such contributions . "It was a cause for great concern," said said Roxane Marquez, Molina's spokeswoman, of the matter.
"Sup. Molina is well aware that she can't stop people from simply giving contributions — that would be a violation of federal free speech rights. But she's concerned about higher-ups soliciting campaign donations from employees whom they manage. That's exactly what prompted her motion."
The motion, which was passed on consent on Tuesday without discussion or public comment, directs the County Counsel to present a "workable policy" to the Board of Supes in 30 days, after which time it will be discussed and brought up for a vote.
We truly thank Supervisor Molina for taking the initiative to make the motion. Like many, we thought it was a bit odd that such a rule wasn't already in place. Soliciting (or accepting) campaign donations from those to whom one can dispense promotions, choice work assignments, and other work-related favors—particularly donations for a city campaign that in no other appreciable way affects the donor employees' lives—would seem to us to be, at best, managerial conflict of interest 101.
Thus we thank the supervisor for not only noticing the problem —but doing something about it.
(The reporting that prompted the motion may be found here, here and here.)
---
UPDATE: The LA Times reporters Robert Faturechi and Jack Leonard have a new story on Sup. Molina's motion and her concerns.
According to the Times:
Sheriff's spokesman Steve Whitmore denied that contributions affect personnel decisions. Whitmore, who said he was speaking on behalf of Baca and Tanaka, said the department welcomed Molina's motion.
The Times also noted that in their own 2006 analysis of donations given by sheriff's managers to Sheriff Lee Baca's campaigns, "…73% received promotions, while of those who did not contribute, 26% received promotions."
We have long hoped the Times might do a similar round of numbers crunching with the donations pattern we have flagged.
---
---
CITY COUNCIL TO VOTE WHETHER OR NOT TO END TRUANCY TICKETS
The LA City Council will vote Wednesday on whether or not to change the city's truancy policy to eliminate fines, which are onerously high for low income kids and their families to pay, and have been shown not to improve attendance at all, but rather can lead to additional missed classes.
Advocacy groups such as the Youth Justice Coalition, the So Cal ACLU, Public Counsel and the Children's Defense Fund are expected to have roused supporters to pack the hall (if the emails I've received are any indication).
It should be noted that all of the organizations supporting the change in the law are adamant about school attendance being critical for educational success, but say that LA schools need alternatives to criminalizing truancy, including programs that address the root causes of a kid's chronically missing school.
---
SUPREME COURT PUTS NEW LIMITS ON THE NECESSITY OF WARNING PRISONERS ABOUT THEIR RIGHTS BEFORE QUESTIONING
Adam Liptak explains the decision in Wednesday's New York Times. Here's a clip:
In a busy day at the Supreme Court, the justices on Tuesday issued a decision limiting the circumstances in which prisoners must be told of their rights before they are questioned, added to what had already been a long schedule for arguments in the challenges to the 2010 health care law and made public an internal ethics resolution from 1991.

The question in the case concerning prisoners, Howes v. Fields, No. 10-680, was whether an inmate's confession to a sex crime should have been suppressed because he did not receive the familiar warnings required by Miranda v. Arizona before he was questioned. The answer turned on whether he was in custody at the time.

Justice Samuel A. Alito Jr., writing for the majority in the 6-to-3 decision, said that "custody" for these purposes "is a term of art that specifies circumstances that are thought generally to present a serious danger of coercion."
---
RENOWN JOURNALIST MARIE COLVIN AND FRENCH PHOTOGRAPHER REMI OCHLIK KILLED IN SYRIA
Two journalists—one a legend—the other young, courageous and just beginning to win awards, were killed in Homs, Syria, when rockets hit the house where a group of reporters were staying. This and this report have some of the details.
The news is made sadder, coming as it does on the heels of the death of reporter Anthony Shidid, the two Pulitzer-Prize winning foreign correspondent for the New York Times who died of an asthma attack while traveling between Syria and Turkey.
---
Photo of Gloria Molina by Irfan Khan for the Los Angeles Times / September 27, 2011)