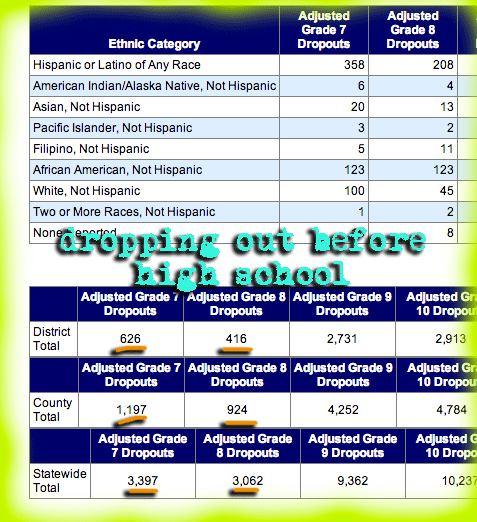 CALIFORNIA HAS THOUSANDS OF FORGOTTEN MIDDLE SCHOOL DROPOUTS
More than 6,400 California middle-schoolers (7th and 8th graders) dropped out of school in the 2012-2013 year, more than 1,000 of which were LAUSD students. The number seems relatively low when compared with California's more than 94,000 high school dropouts each year, so these younger kids are often overlooked and underserved. Most schools do not even have the resources to track them down once they stop showing up.
KPCC's Sarah Butrymowicz takes a closer look at the issue in a story produced by the Hechinger Report. Here's how it opens:
Devon Sanford's mother was diagnosed with pancreatic cancer when he was in the eighth grade. After barely finishing at Henry Clay Middle School in South Los Angeles, he never enrolled in high school. He spent what should have been his freshman year caring for his mother and waiting for police to show up asking why he wasn't in school.

No one ever came.

"That was the crazy part," he said. "Nobody called or nothing."

Thousands of students in California public schools never make it to the ninth grade. According to state officials, 7th and 8th grade dropouts added up to more than 6,400 in the 2012-13 school year – more than 1,000 in the Los Angeles Unified School District alone.

Like Sanford, many of them just disappeared after middle school and never signed up for high school.

But their numbers are so tiny in comparison to California's more than 94,000 high school dropouts each year that few school districts are paying attention to middle school dropouts.

One sign of the inattention: a 2009 state law mandating California education officials calculate a middle school dropout rate has gone largely ignored, although districts do publicly report the raw numbers.
---
CALIFORNIA BILL TO BLOCK STERILIZATION OF FEMALE INMATES MOVES ON TO GOVERNOR'S DESK FOR SIGNING
Last year, the Center for Investigative Reporting found that California prison doctors performed 148 unlawful (and ethically questionable) tubal ligations (or "tube-tying") on female inmates in violation of state law, often without proper legal consent from the women, between 2006 and 2010.
On Tuesday, the state Senate unanimously passed a bill, SB 1135, that would prohibit prisoner sterilizations as a means of birth control, except in the event of a medical emergency or treating an illness.
The bill, now headed for the governor's desk, would also require the CDCR to provide counseling to women receiving the procedure, as well as post data online about any sterilizations performed. The bill would also provide safeguards for those who might report future misconduct.
Gov. Jerry Brown has until Sept. 30 to sign (or not sign) the bill into law.
CIR's Corey G. Johnson has more on the bill. Here's a clip:
The bill, passed unanimously today by the state Senate, would ban sterilizations for birth control purposes in all state prisons, county jails and other detention centers. Surgeries would be restricted to treating life-threatening medical emergencies and addressing physical ailments.

Women would receive extensive counseling, and correctional facilities performing such surgeries would be required to post data about the procedures online. The bill also protects whistleblowers from retaliation for reporting violations.

Sen. Hannah-Beth Jackson, D-Santa Barbara, pushed for the bill after The Center of Investigative Reporting found more than 130 women received tubal ligations in violation of prison rules from 2006 to 2010. Former inmates and prisoner advocates told CIR that prison medical staff pressured women, targeting inmates deemed likely to return to prison in the future.

"It's clear that we need to do more to make sure that forced or coerced sterilizations never again occur in our jails and prisons," Jackson said. "Pressuring a vulnerable population into making permanent reproductive choices without informed consent violates our most basic human rights."
---
WHAT MADE PROTESTS IN FERGUSON, MO, TURN INTO A WEEK OF VIOLENCE AND DISORDER
NBC's Andrew Blankstein and Tom Winter have delved into why protests over Michael Brown's death in Ferguson, MO, spiraled out of control, while nearby protests over an unconnected fatal shooting of a young black man did not turn violent. Here's how it opens:
The fatal shooting of an unarmed black teenager on Aug. 9 in Ferguson, Missouri has led to angry protests and violent clashes with police that reached a fresh crescendo earlier this week. A second, unrelated fatal police shooting of a young black man just a few miles east on Tuesday, however, sparked protests, but no violence.

Why did events spiral out of control in Ferguson? Why did this little-known St. Louis suburb, with just 21,000 people, explode into more than a week of unrest? Part of the problem seems to have been a series of missteps by local authorities.

Experts from around the nation, including law enforcement officials, academics and civil rights attorneys, cite four factors: A poisoned relationship between a virtually all-white police force and a majority black city; heavy-handed police tactics both before and after the shooting — including a military-style response to the initial protests; and mixed messages from local authorities, some of whom attempted to focus attention on an alleged robbery by the dead teen, Michael Brown, instead of updating the public about the investigation into Brown's death.

"Put that all together and you have a ready-made disaster," L.A.-based civil rights attorney Connie Rice told NBC News.

The Police vs. the Public: Rice and others said most of the problems in Ferguson flowed from the almost non-existent connection between the city's police and its residents. Detective Gabe Crocker, president of the St. Louis County Police Association, which represents many of the area's officers, told NBC News he thought there had been early friction in Ferguson between police and protesters because there had been "no established lines of communication with community leaders."

While two-thirds of Ferguson's citizens are African-American, there are only three blacks on its 53-member police force. Where larger urban departments like the NYPD have used so-called "community-based policing" in recent years to build trust with a diverse public, Ferguson focused on old-fashioned top-down policing and revenue generation. That meant most contact with civilians involved traffic stops and writing tickets – an extraordinary number of tickets for traffic and other offenses. Jeff Smith, an assistant professor of politics at the New School in New York City and a former resident and legislator in St. Louis County, described Ferguson as "a constant, simmering state of tension and mistrust." Smith said community policing could have reduced tensions, but that "it's like (Ferguson) missed the whole phenomenon."

[SNIP]

Changing the Subject: Two related moves last week appeared to defuse tensions. Missouri State Police took over command of the scene from the local cops, and designated Capt. Ron Johnson, an African-American who grew up near Ferguson, as the on-site commander and liaison with the community.

But then Ferguson Police Department Chief Thomas Jackson held a press conference and released documents and surveillance video — over Justice Department objections — allegedly showing that Michael Brown had robbed a convenience store a short time before he was fatally shot. Hours later, Jackson held another press conference to announce that the white officer accused of shooting Brown was unaware of Brown's alleged involvement in the robbery when he shot him.

Eric Rose, a crisis management expert who advises police organizations across the country, called Jackson's revelations "foolish," saying they served "to further incite tensions."

"The goal should have been to calm things down," said Rose. "Releasing that information did not serve that purpose." In high-profile cases, he said, "You never want to go public without truly knowing all the facts and you want to have a clear strategy. In this case, the stakes of being wrong could have meant riots. And that's exactly what happened."
---
CHILD WELFARE TRANSITION TEAM AND SUPERVISORS DIFFER ON HOW TO MOVE FORWARD
At the end of June, the LA County Board of Supervisors appointed a nine-member transition team to assist in the creation of a child welfare czar meant to oversee the implementation of child welfare reforms suggested by the Blue Ribbon Commission on Child Protection.
On Tuesday, in their first progress report to the Board of Supervisors, transition team members outlined qualifications the Office of Child Protection should have. Co-chairs Leslie Gilbert-Lurie and Mitchell Katz and team member Janet Teague also asked for an executive director to keep the group focused and moving forward on reforms until the czar can be put in place.
Supervisor Zev Yaroslavsky said that the hiring of a child welfare czar was of higher importance than the hiring of an executive director, and that the BOS never approved staff for the transition team. Yaroslavsky also suggested that there might be a calculated delay on hiring a czar until he and Supe Gloria Molina are termed out of office in December.
Supe Mark Ridley-Thomas urged the board to continue implementing the Blue Ribbon Commission's other recommendations while the search for a czar continues.
The Chronicle of Social Change's Jeremy Loudenback has more on the issue. Here's a clip:
In its first report to the Board of Supervisors, transition team co-chairs Leslie Gilbert-Lurie and Mitchell Katz and team member Janet Teague presented the group's work over the course of the past month. Those efforts have largely centered on clarifying the role and desired qualifications of the incoming director of the Office of Child Protection.

"The founding director of the Office of Child Protection will have the opportunity to forge a transformational process for the children of Los Angeles County and we hope you see it the same way," Gilbert-Lurie said while addressing the Board of Supervisors at the August 19 meeting.

But the transition team remains hindered by confusion about its responsibilities beyond assisting in the search for a leader of the new office and questions about staffing support that team members say would help speed up the implementation of reforms suggested by the Blue Ribbon Commission.

"What bothers me is that we're not seeing eye to eye on what's the most important thing for us," said Supervisor Zev Yaroslavsky. "The most important thing is getting the Office of Child Protection person hired. The search firm in my opinion is moving very slowly, too slowly, and is responding to too many people. It's August 19 and we're no closer to hiring, or even searching for the office of child protection than we were a month ago."

Transition team member Gilbert-Lurie argued that the team needs additional resources and support in the form of an executive director to accelerate efforts at implementing further recommendations.

"You have herded a group with a wide range of talents—we have doctors, Ph.D.s, judges, lawyers," Gilbert-Lurie said. "But we need someone whose eye is on the ball of moving this forward. We believe there's a lot of information that could be helpful in working with department heads. [We could] leverage the best of what you have in the county if there is someone available to take our ideas and help implement them when we're working in our day jobs. We don't believe we have access to that sort of person with that executive experience right now on a full enough time basis."