This story is part of a new WitnessLA investigative series by Lauren Lee White that is made possible with the generous support of the Fund for Investigative Journalism.
---
Janean Owens has been incarcerated at New Jersey's Edna Mahan Correctional Facility for Women since 2009. In a civil lawsuit filed December 20, 2017, Owens alleged that since her arrival, she was sexually harassed and assaulted by multiple prison employees, six of whom she named in the complaint. According to Owens, she was forced to give and receive oral sex, groped, and constantly stared at.
"I'm gonna tear you up," one former corrections officer reportedly told her.
"I want to hit that," another said repeatedly, according to the complaint.
When Owens complained to prison administrators, the officers retaliated. She was once kept in a television room for 12 hours without access to a bathroom, where she finally resorted to urinating on the floor, she said. Officers glared at her menacingly, the complaint stated, and put her "in reasonable apprehension and fear of further assault and battery."
Owens' experience at Edna Mahan is not unique. Since 2015 at least 11 lawsuits, including two class-action suits, have been filed against seven former Edna Mahan employees alleging they engaged in criminal sexual abuse of inmates. In May, the Department of Justice launched a federal civil rights investigation into sexual misconduct by officers at Edna Mahan—the fourth such formal inquiry since 2016.
The problem of sexual assault in jail has never been taken as seriously as the problem of sexual assault outside. Everyone from superstar comedy duo Key and Peele to former FBI director James Comey have publicly enjoyed "prison rape" jokes in the last few years.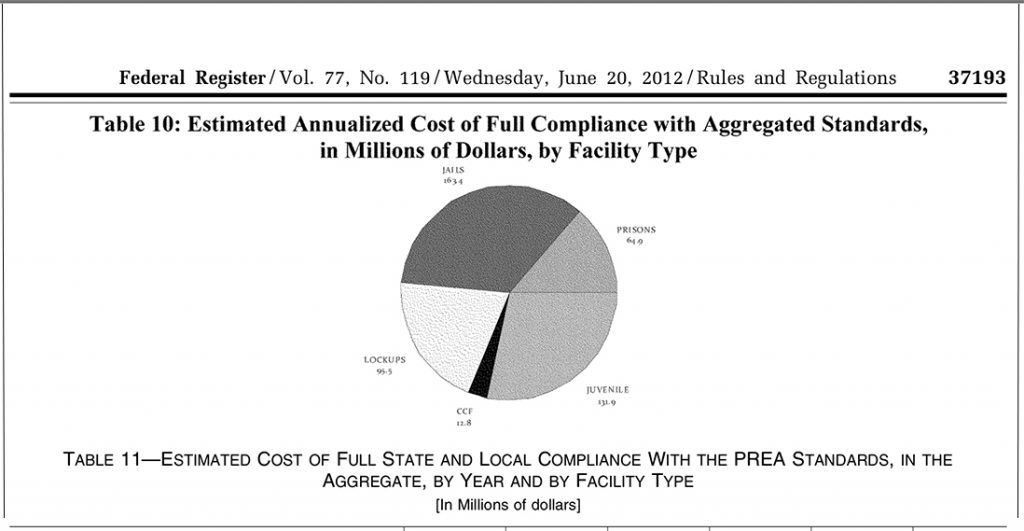 Estimated Annual PREA Cost Table for Facilities
That was supposed to change fifteen years ago with the passage of the Prison Rape Elimination Act, or PREA, by Congress in 2003, which led to the creation of a set of standards designed to "prevent, detect, and respond to sexual abuse in confinement facilities." As an incentive for states to comply with PREA, failure to do so can result in losing out on millions of dollars in federal grants, as happened in Utah. To ensure that those standards are being met, each detention facility covered under PREA must undergo a several day long inspection by a certified PREA auditor every three years. Based on their initial findings auditors create a preliminary report, which includes a corrective action plan when necessary. After 180 days, during which the facility is meant to make the prescribed changes, auditors return to do a final audit.
These final reports, unlike the preliminary audits and corrective action plans, are public record.
New Jersey's Edna Mahan prison was subjected to two separate audits during the years that Owens and the other plaintiffs allege they were being sexually assaulted and abused.
---
The rubber stamp factor
In July, 2014 the Department of Justice sent auditor Ed Motley to determine how fully the place was in compliance with PREA standards, and in October, 2016 auditor William Willingham visited a second time. Both auditors reported Edna Mahan was in full compliance. In one category–training staff in PREA awareness–Willingham reported that the facility exceeded what was required.
Willingham noted the presence of 90 cameras in the facility and wrote that there were no "blind spots" that the cameras failed to cover. The claim of no blind spots was particularly perplexing since prison staff would later testify in the spring 2018 criminal trial of another Edna Mahan colleague that some units, such as the facility's minimum security housing unit in which some reported assaults took place, had no cameras at all.
Willingham' described "the facility staff" as "extremely courteous, cooperative and professional. Staff morale appeared to be good and the observed staff/inmate relationships were seen as appropriate…" he wrote. At the conclusion of the audit, Willingham thanked the administrator and staff "for their hard work and dedication to the PREA audit process."
These passages and others appear nearly verbatim in at least 12 other audits of other facilities Willingham conducted between 2015 and 2018.
Lovisa Stannow, executive director of Just Detention International, cites Willingham's Edna Mahan report as an example of what she calls a "rubber stamp" PREA audit—a term she uses, she said, "in the classical sense that the auditor is using the same language in multiple reports about completely different facilities."
Willingham's Edna Mahan audit report is not the only one. Stannow pointed to similarly  incongruous reports at East Mississippi Correctional Facility, Mississippi's Walnut Grove Correctional Facility, and Brooklyn's Metropolitan Detention Center. According to Stannow, Just Detention International has  reviewed hundreds of audit reports that are "just blatantly sub-standard," she said.
"We see audit reports," she said, "where it seems like the auditors have not done even the most basic homework, where they have relied entirely on what corrections officials at the facilities they're auditing are telling them."
In 2017, the Justice Department provided a set of guidelines in their PREA Auditor Handbook, which laid down some rules meant to guard against these rubber stamp audits.
But the DOJ failed to institute any kind of enforcement mechanism to ensure that the new rules were followed.
---
Congress steps in
Late this fall, Congress passed a second round of fixes in the form of The United States Parole Commission Extension Act (HR 6896), which was signed into law by President Trump on October 31. HR 6896 amends the original 2003 PREA language to put some teeth into the system overseeing auditors, while also increasing the transparency of that oversight.
Stannow, whose organization aims to end sexual abuse in detention and who championed the new bill, said the new legislation is a good foundation for fixing the problem, but to fix it completely will require a culture change in correctional leadership.
"A sensible corrections official that wants to make sure that he or she runs the best possible prison would obviously choose to get a thorough audit. And yet what we see is facilities, over and over again, hiring the sloppiest and most superficial of the auditors."
American University law professor Brenda Smith agreed. "I think the audit function had problems from its inception," said Smith, who was appointed to the National Prison Rape Elimination Commission when it was created in 2003. Among these problems, said Smith, is the fact that facilities are allowed to choose their own auditor from a pool of certified auditors.
"The reality is that most of the auditors are acting as independent contractors, and for any number of them, this may be their livelihood," Smith said, which creates a financial incentive for auditors to write up positive reports in hopes of getting chosen by facilities as often as possible.
HR 6896 is designed to address this and other conflicts of interest, stipulating that the DOJ-run PREA Management Office will create its own system for assigning certified auditors to federal, state, and local facilities. A DOJ spokesperson told WitnessLA  that the PREA Management Office is working on creating this new system, but she offered no details about how the system will work and no estimate as to when it will be up and running.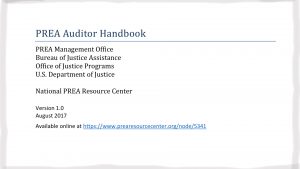 Another key provision in the bill intends to hold auditors accountable for the quality of their audits, stating that if an evaluation by the PREA Management Office finds an auditor's work to be subpar or compromised, the auditor may be decertified.
The decertification must also be done in a transparent manner, according to the new law, meaning the auditor's name and reason for decertification must be published and shared with any facilities that received an audit from that person within three years. The DOJ declined to comment on whether information about previously decertified auditors would be made public retroactively after HR 6896 became law.
"I would say that there has been a reluctance of the Department of Justice to decertify auditors, and that's been a real problem," Stannow said, adding that it was previously not possible to find out whether former auditors were decertified "for cause" or whether they simply chose not to keep their certification up to date–an important distinction for jail and prison leadership in deciding whether a report by a no-longer certified auditor was compromised.   
One issue that the new law does not address, according to PREA advocates, is the fact that the auditor pool is loaded with corrections officials. The PREA Resource Center and the PREA Management Office, two of the groups responsible for certifying auditors, said that they do not track the number of auditors who have corrections backgrounds. But based on the review of hundreds of PREA audit reports, Stannow's Just Detention International has determined the vast majority of active PREA auditors are current or former corrections officials.
This has one upside: someone with a background in corrections should have the knowledge to produce informed and credible evaluations of a facility. The downside is another potential conflict of interest, which could mean that a corrections official would be reluctant to give a negative report about a facility where friends and colleagues are working.
---
Los Angeles and PREA
Last year, auditors conducted the antithesis of a rubber stamp audit right here in Los Angeles.
The January 2018 report evaluated the Century Regional Detention Facility (CRDF), LA County's large women's jail located in Lynwood, CA, for its compliance with PREA standards. Over the course of 138 pages, the report—which was done at the request of the LA Sheriff's Department— described in detail the jail's failure to comply with 41 out of the 43 relevant standards.
The report represented approximately six months of work, including nearly three months of off-site preparations, and three days days inside the jail. Among the failures auditors noted were that passersby could see some women's bodies as they showered, and that vending machines and food pallets were placed in such a way that "could contribute to sexual abuse" by creating hidden alcoves. They found that LASD hiring practices did not include asking potential hires about whether they had a history of sexual misconduct. And the team also discovered that not only were complaint boxes accessible to the deputies who might well be the subject of a complaint, but that an inmate in segregation who decided to report sexual abuse would have to hand her complaint directly to a deputy–again, possibly the subject of her complaint.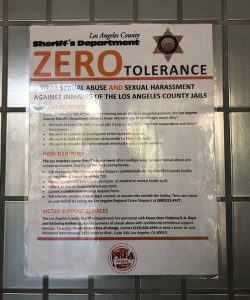 But the Lynwood jail report was never meant to be made public. That's because it was not an official audit at all. Instead, it was a field training opportunity for a cohort of seven auditor trainees, which included one attorney and six people with corrections or law enforcement backgrounds. The trainees were accompanied by six faculty from the PREA Resource Center and the Department of Justice. Between the number of auditors investigating and, perhaps, the willingness of freshly-minted auditors to go the extra mile, their team effort resulted in an unusually thorough report–a report that only saw the light of day after the LA Times managed to learn of and acquire the lengthy document, and then posted the report on their site.
In addition to what the report revealed about the Lynwood jail's overall environment, there are indications that much work remains to be done in making the facility safe for inmates. In February, LASD deputy Giancarlo Scotti was criminally charged with sexually assaulting six female inmates at Lynwood, between March and September of 2017.  And at least five former Lynwood inmates (some of whom are likely the same women mentioned in the criminal charges), have filed federal lawsuits against Scotti and the LA County Sheriff's Department alleging sexual assaults by the former deputy.
Two of those lawsuits, involving three of the women, have recently been settled with LA County for $3.9 million.
Still, a common refrain among auditors and advocates is that PREA audits are not meant to be "gotcha" moments. The goal, they say, is to help facility leadership honestly assess staffs' and inmates' safety and then fix what needs to be fixed.
And to do that requires transparency.
"In general, American prisons and jails are incredibly closed environments, and unnecessarily so," Stannow said. "We all need to demand to know what's happening inside, because one of the reasons we have such a tremendous problem of sexual abuse in detention in the United States is that these are such closed-off environments.
"And when there's no public scrutiny, that's when ill-intentioned people have the ability to do horrible things."
---
This story is part of a new WitnessLA investigative series by Lauren Lee White that is made possible with the generous support of the Fund for Investigative Journalism.