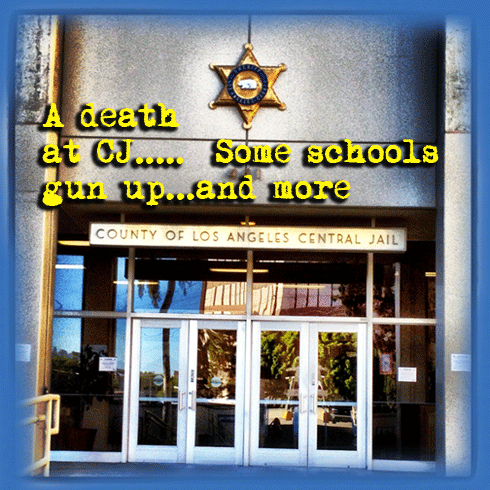 MAN FOUND DEAD IN CELL IN LA COUNTY'S MEN'S CENTRAL JAIL
An inmate was found unconscious in his multi-inmate cell in the 2200 section of Men's Central Jail, at approximately 5:30 pm Sunday, January 27,
The inmate, who was African American and in his mid 30s, was later pronounced dead at the hospital, according to the jail's watch commander, Lt. Albert Muldonado, who said paramedics were called.
Other LASD officials said that, although, it appeared preliminarily that the deceased inmate had likely died of heart failure, the cause of death had not been confirmed. Thus, due to the fact that other inmates were present in the cell when the inmate's condition was discovered, detectives were called in order to rule out any foul play.
The inmate's name has not as yet been released.
---
GOVERNOR JERRY GETS HANDS ON TO RESTORE DAD PAT'S LEGACY IN THE STATE'S HIGHER EDUCATION
Jennifer Medina for the NY Times has the story. Here's a clip:
During a 1960s renaissance, California's public university system came to be seen as a model for the rest of the country and an economic engine for the state. Seven new campuses opened, statewide enrollment doubled, and state spending on higher education more than doubled. The man widely credited with the ascendance was Gov. Edmund G. Brown, known as Pat.

Decades of state budget cuts have chipped away at California's community colleges, California State University and the University of California, once the state's brightest beacons of pride. But now Pat Brown's son, Gov. Jerry Brown, seems determined to restore some of the luster to the institution that remains a key part of his father's legacy.

Last year, he told voters that a tax increase was the only way to avoid more years of drastic cuts. Now, with the tax increase approved and universities anticipating more money from the state for the first time in years, the second Governor Brown is a man eager to take an active role in shaping the University of California and California State University systems.
---
FONTANA SCHOOL POLICE BUY SEMI-AUTO RIFLES—FONTANA SCHOOL BOARD NOT THRILLED
Jim Steinberg reports for the San Bernardino Sun. Here's a clip:
Fontana Unified School District police have bought 14 military-style rifles to protect students and faculty in the event of a shooter on campus.

But the $14,000 purchase of the semi-automatic guns has infuriated some school board members, who say that arming school police officers with rifles represents a huge departure in policy.

The weapons are stored in locked compartments strategically located throughout the district, said Billy Green, chief of the Fontana school district's police.

Board members Leticia Garcia and Sophia Green are concerned that Superintendent Cali Olsen-Binks committed the district to a change in policy with no input from the board – nor the community.

Garcia and Sophia Green said they both have received calls from community members upset with the decision to upgrade the school police department's firepower.

But several parents and students interviewed Wednesday afternoon said they generally approved of the purchase – which came before a gunman shot and killed 20 children and six adults on Dec. 14 at Sandy Hook Elementary School in Connecticut.

But they had reservations, too.
---
CONGRESSIONAL COMMITTEE ASKS FOR HEARING REGARDING PROSECUTION OF AARON SWARTZ
Brendan Sasso of The Hill has the story. Here's a clip:
The top lawmakers on the House Oversight and Government Reform Committee on Monday demanded a briefing from Justice Department officials about the prosecution of Internet activist Aaron Swartz, who killed himself earlier this month.
In a letter to Attorney General Eric Holder, Chairman Darrell Issa (R-Calif.) and Ranking Member Elijah Cummings (D-Md.) said there are "many questions" about how prosecutors handled the case.
They demanded a briefing from DOJ officials by Monday, Feb. 4.
In 2011, Swartz was charged with breaking into a computer network at the Massachusetts Institute of Technology and downloading 4.8 million documents from JSTOR, a subscription service for academic articles.
Swartz was an accomplished programmer and activist who argued that more online information should be free to the public.
Critics, including Swartz's family and members of Congress, have accused prosecutors of seeking excessive penalties in the case.
---
KENTUCKY COUNTY FINDS DISPROPORTIONATE NUMBER OF MINORITY KIDS ARE COMING IN CONTACT WITH THE JUVENILE JUSTICE SYSTEM SO…THEY LAUNCH A STUDY TO FIND OUT WHY, AND WHAT CAN BE DONE
It seems like such an overwhelmingly sane approach. Rather than blaming the kids, Madison County, Kentucky, resolved to find out why so many minority kids were ending up in the system, and then to figure out how the County could turn things around.
In other words, local officials acted as if all the kids in the county were everyone's children, by extesworthy of help and care.
(It would be nice if that attitude was contagious.)
Crystal Wylie of the Richmond Registor has the story. Here are some clips:
Several years ago, the state Department of Juvenile Justice released data indicating that Madison County had a "disproportionate minority contact" problem, or DMC.

The data indicated that too many minority youth were involved in the court system, were arrested, were on probation, or were sent to institutional placements, according to Dr. Preston Elrod, an Eastern Kentucky University criminal justice professor.

The report suggests that minority youngsters are disproportionately found in the juvenile justice system, although they are a fairly small percentage of the population, he said.

The Madison County Delinquency Prevention Council, of which Elrod is a member, is working to find out if that is the case. And if so, the council will discuss what the community can do to change that, he said.

[SNIP]

Another interest of the council is prevention, [Elrod] said. Children are subjected to "potential harm when they are involved in the juvenile justice process."

In 2010, Madison County School's Bellevue Ed Center was labeled as "the model alternative education program for the state of Kentucky," Elrod said.

But with school districts experiencing budget cuts, he said, some support services for at-risk students are being eliminated.

"This is the population of youngsters who need the most attention, but because of reduced funding, they are not getting the support they need in schools," Elrod said.

However, delinquency problems then appear in the community, he said.

"And eventually, somebody has to pay. Unfortunately, there's not a lot of support coming from Frankfort and Washington these days."

A concern of the council is to address the "school-to-prison pipeline"— a national trend of children being funneled out of the public schools into the juvenile and criminal justice systems…
Like I said, I hope this attitude is contagious. Go Madison County!
---