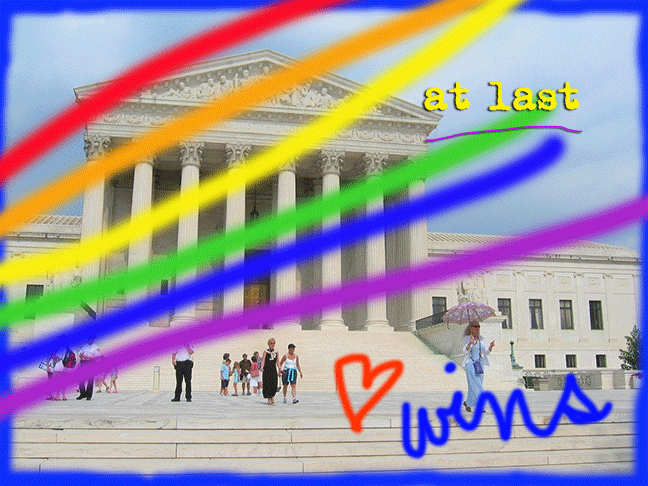 "No union is more profound than marriage, for it embod- ies the highest ideals of love, fidelity, devotion, sacrifice, and family. In forming a marital union, two people be- come something greater than once they were. As some of the petitioners in these cases demonstrate, marriage embodies a love that may endure even past death. It would misunderstand these men and women to say they disrespect the idea of marriage. Their plea is that they do respect it, respect it so deeply that they seek to find its fulfillment for themselves. Their hope is not to be con- demned to live in loneliness, excluded from one of civiliza- tion's oldest institutions. They ask for equal dignity in the eyes of the law. The Constitution grants them that right."
So wrote Justice Anthony M. Kennedy in the closing paragraph of his 28-page majority opinion for Friday's landmark 5-4 ruling, with Kennedy casting the deciding vote.
Here at WLA we received a flood of press releases following news of the court's historic decision. Out of everything, we particularly liked this simple statement from U.S. Rep. Tony Cárdenas (D-San Fernando Valley, Calif):
"I have officiated the marriages of several same-sex couples, and I have seen the love in the eyes of those whose hands, and whose lives, I have joined," said Cárdenas. "For the Federal government to have told those Americans that their love is lesser or, worse yet, illegal, has been an embarrassment to our nation and a violation of our founding principles. All people are created equal. All love is equally valuable. Today the Supreme Court confirmed what loving families have known in their hearts, Love Wins."
Indeed. Love wins. At last.