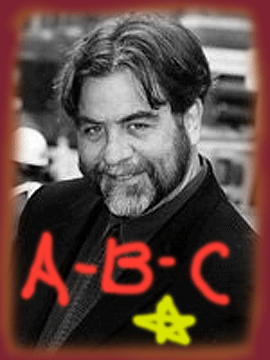 Late Wednesday night I heard that the poet, Liam Rector, killed himself earlier in the day. He used a shotgun. His wife Tree Swenson was asleep in the next room.
Liam was bearded, bear-like, quirky, with an extravagant, super-size-it personality. A person about whom everyone whispered, most times with overwhelming affection, other times…well, let's just say he was an easy target for gossip because he said what he thought—good, bad, and occasionally truly strange. He wanted to provoke comment—and he did. Inevitably. Gleefully.
He was also brilliant, and had enough energy to light two medium-sized cities. Professionally, Liam was a prizewinning poet, who had taught at Columbia, The New School and Emerson College in Boston. He'd also been the executive director of the National Endowment for the Arts, and for the American Academy of Poets.
I met him only recently in the context of the Graduate Writing Seminars at Bennington College which Liam founded and directed. I'd heard about the program from my friend Aimee Liu, the novelist and nonfiction writer, who'd just finished getting her masters degree there. She said she loved the whole two years, that the faculty was stellar, and that she really believed it had kicked her writing up a notch or three. I should just do it, she said. Go. Figure a way.

So, I applied…at my age….(after decades of professional writing and reporting—and, for the past few years, teaching)! Oh, what the hell? I thought. I wanted somebody else to kick my butt, creatively speaking, the way I was doing for my students. I needed to be pushed out of my comfort zone again. I was working on a book anyway, and I hoped to do what Amy had done—shove my writing up a notch or three.

Bennington was the only place I considered. Although the Liam-created MFA program had the reputation for being rigorous, it was also what is called a "low-residency.". This means you do most of your work through monthly packets exchanged via snail mail with a series of advisors—combined with a ridiculous amount of reading. And then, twice a year, the Bennington people make you show up on campus for ten days—once in the winter, once in the spring.
My first residency was this past June. I flew to Bennington, Vermont, to stay in a drafty, white clapboard dorm, featuring lumpy pillows, dinner napkin-sized bath towels, and showers down the hall. I shared dorm life with 29 or so other poets, novelists, and nonfiction writers—ages 21 to 62. Our newby group included additional So Cal types like novelist, Tod Goldberg, his fiction-writing wife, Wendy Duren, and actor/writer, Rider Strong. Plus there were the returning writers, there for their second, third and fourth residency. For ten days the lot of us did nothing but eat, drink, and breathe literature and writing —all as orchestrated by Liam Rector.

It was glorious.
I particularly remember how, at our introductory meeting with Liam, at one point he roared to us that it was essential for all writers to watch the "Always be closing" scene from David Mamet's Glengarry Glen Ross —the movie version. And so, off went the lights and we dutifully watched the scene in which the Alec Baldwin character browbeats his already psychically battered salesmen in order to inculcate them with idea that they must "always be closing."

I took it to mean: Never save your best for later. Give every shred of what you've got right now. Take no prisoners. Employ all three of the aforementioned as often as humanly possible, or don't f*cking bother!
Liam told us that Mamet wrote the scene as a new element for the movie, that it wasn't in the play. This literary factoid was precisely the kind of thing Liam made it a point to know.

And if he knew it—whatever it was— he usually wanted us to know it too.

A-B-C. Always be closing.

It was a maxim that Liam seemed to practice as well as preach, at least when I saw him. It is in the tenor of his poetry—which is beautifully crafted, to be sure, yet also swing-out-over-the-abyss risky when it comes to content.

And I think you can reasonably say there is a strong core of ABC undergirding the kick-ass wonderful Bennington program that Liam founded, of which I am now a part.
The last memory I have was of asking Liam to dance at the party held the night before we were all scheduled to go home. My east coast writer friend, Nancy Doherty, asked him too. Mind you, in this instance, we were talking boogie-on-down dancing, not ballroom. (There was a great deal of Pinot Noir involved, as I remember—at least at our table.) He was gallant in his refusal to both of us. Evidently, even for Liam, A-B-C had its limits.

There will likely be those who read this who knew Liam a zillion times better than I do. (Like I said, I was a new kid to the fold.) If so, please leave a comment , a memory, or a story.

In the meantime…..Rest in Peace, Liam.
And…yes….A-B-C. Got it. Will do. In your honor.
***********************************************************************************

Here are few of Liam's poems.

Whether you're a poetry aficionado or not, they're worth reading—particularly the first and the last.
The Remarkable Objectivity
of Your Old Friends

by Liam Rector

We did right by your death and went out,
Right away, to a public place to drink,
To be with each other, to face it.

We called other friends – the ones
Your mother hadn't called – and told them
What you had decided, and some said

What you did was right; it was the thing
You wanted and we'd just have to live
With that, that your life had been one

Long misery and they could see why you
Had chosen that, no matter what any of us
Thought about it, and anyway, one said,

Most of us abandoned each other a long
Time ago and we'd have to face that
If we had any hope of getting it right.

Best Friend
by Liam Rector

You sailed down
From Provincetown
And I was to meet you

In Key West. I'd never
Sailed. I dressed
In my best and flew

Down from Manhattan,
Where I had been feeling
Punishing failure

And reading Hart Crane.
I brought a robe
I intended to wear

When I jumped off
Our boat mid-sea. I never
Told you that,

Old friend, and I
Apologize now.
What if I had left you mid-ocean

To sail alone?
In our twenty-foot wooden
Thing with no motor

And a radio that didn't
Work we barely made it
Through the initial storm.

In the Bahamas we
Were often stood
Free beers for being

As insane as we were,
Coming over those waters
With no motor, pure

Sailing like that, a bar
Of soap floating in the cauldron
Of the Bermuda Triangle,

Where motorized cigarette
Boats sped by at money-making
Speeds, running drugs to fill

American needs.
And on our way back
When we lost our rudder

You, former Eagle
Scout, first conscientious
Objector ever to leave

West Point, captain
Of the ski team, jumped
Over the stern

And fashioned out of oar
And thick rope the thing
That would see us to shore

Before we, becalmed,
Drifted off course
100 miles, 100 miles

Of boredom and sun. I snapped
A black and white photo
Of the sea to remind me

Of my boredom, its boredom.
We made it back
To America, hitting

Shore at Boca Raton,
Pulling in midst the boats
Of the very, very rich.

I lived to write this
And never jumped ship.
It was your kinship

Kept me going those years,
Times of ridiculous
Sailing, riotous beers.

Wives sailed by,
So many boats, and you soon
Left for Bangkok and its

Very distant coast.
Being young: being rich
Among inherited ruins.
Always

by Liam Rector

She liked to get high and go away.

She liked to get very high and go

Very far away. She would say

She was going to meet us

But then she wouldn't show up:

She'd gone very far away.

She knew it probably wasn't

The best thing to live this way but

She said she felt so much better

Whenever she stationed herself somewhere

Very far away, indeed as far away

As she could get from the bitter.

We begged her to stay, to stay and to stay

And to stay, and she took to mumbling

Something by Beckett, "Better abort

Than be barren, " and then she'd go

Even farther away. She said she'd

Finally reached the point, after

Her husband died early and their daughter

Lost her mind, she'd finally reached the point

Where she'd just as soon

Go really far away. This was the point

Where we were getting intolerably tired

Of her turmoil (it was beginning

To involve money) and we threatened,

Ourselves, to go away.

Then she said she could easily see how

We'd reached this point, why we were

Beginning to feel that way, and she

Leaned into us to say she'd learned

Somewhere along the way

That abandonment, one way

Or the other, that abandonment

Was the very mathematic of matter,

That abandonment, like it

Or not, really was the only way.

She said NO ONE GETS TO STAY.

And then she started rehearsing the story,

The story about being born,

Coming to fruition, and then having

To go away, and she said we'd really

Have to come to terms with this, that this

Was the way things went always, and as we

Started putting our coats on to leave she said

She wanted to thank us, that she'd been

Surprised and delighted, really surprised

And delighted, by just how long we had

Managed to stay. And when the call came

We decided the only way to put it,

The only way really to respond

To the "Why?" of it, was to say

She'd been walking along a precipice

For a very long time

And that she had slipped and managed

To go on over, and that was all,

About her going, that any of us

Could ever really say.
So We'll Go No More

So it's fare thee well, my own true love;
I'm leaving you behind. And not
For the early, for the young reasons, but

For these late, last, ill reasons. I'm almost
Kaput! Yea, you'll get no more of me….
Cancer, heart attack, bypass—all

In the same year? My chances
Are one out of two! And I'm fucking well
Ready, ready to go. To go!—how often

I've operated that way. That way
Almost the entire caper, the way
For people, places, things:

Abandon, abandon, nay abandon before
Being abandoned. But we've, we've
Stayed. You the third wife for me, I

The second such boy for you, and I love
Looking directly into you, as we look
Directly into this last get-go. We all

Have the talent for leaving, like it
Or no. And oh, how rich it is, how fine
To finally inherit!: the final thing

I was looking for, as it turns out,
The great power of leaving
All the breathtakingly brief all along.

Liam Rector