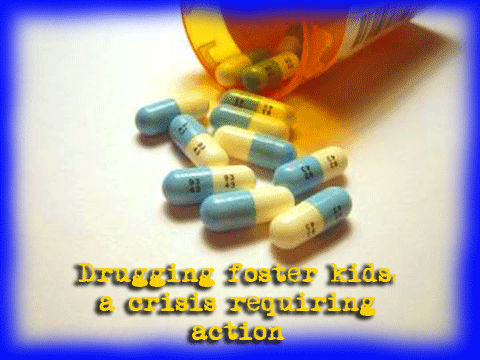 CALIFORNIA LAWMAKERS CALL FOR END TO RECKLESS USE OF PSYCH MEDS ON STATE'S FOSTER YOUTH
After The San Jose Mercury News ran its eloquent and devastating investigative report by Karen de Sá about the over-use psychotropic meds on California's foster youth, various lawmakers have come forward to call for fast-tracked action to curb the prescribing of psychiatric meds to essentially drug foster kids into submission.
De Sá writes about the various legislators who have come forward since her report appeared Sunday. Here are some clips:
"It's easier to take care of a sleeping kid, but that doesn't mean that it's right," State Sen. President pro Tem Darrell Steinberg said in an interview Monday. "And it certainly doesn't mean that it's in the best interest of the child — it's obvious that in so many instances, it's not."

Steinberg said he was deeply concerned about the newspaper's finding that the state spends more on psychiatric drugs for foster children than on any other type of drug. An analysis of 10 years of Medi-Cal data showed psych meds accounted for 72 percent of spending on the 10 most expensive drug groups for foster children, topping $226 million.

Steinberg said that wide-open spigot, fueled by pharmaceutical company marketing, has to be restricted.

"What we know now is that $226 million, 72 percent of the total spent, is being used to over-prescribe and to over-rely on medication as the primary strategy to help these kids who have already had a tough life — and that the side effects and impact on their life and their growth are serious," Steinberg said. "This report and these numbers tell me that this money is not being well spent in many instance…

[LARGE SNIP]

One senator on Monday said he was ready to lead the charge. Sen. Jim Beall, D-San Jose — who chairs the Senate Human Services Committee — said his committee will consider new policies and legislation to curb overprescribing when the new session begins in December. Beall said he intends to focus on what he calls "'trash can diagnoses' — diagnoses that are made simply to control behavior, as opposed to diagnoses that have a medically therapeutic value."

Beall agreed with Steinberg's urgency, noting: "There needs to be some action taken to reduce the inappropriate use of drugs in our foster care system — this is not a lightweight issue."

Sen. Holly Mitchell, D-Los Angeles, agreed.

"Drugging kids to make them behave isn't care, isn't responsible and shouldn't be legal," she said in a statement. "Silencing their youthful pain by inducing stupor simply leaves childhood issues to fester into adulthood — and violates the obligation to 'do no harm' to those in our care."
---
HEAD OF CALIFORNIA'S DEPARTMENT OF SOCIAL SERVICES SAYS NO EASY WAY TO END OVER-MEDICATING OF KIDS IN STATE CARE
When the Mercury-News talked to Will Lightbourne, head of California's Department of Social Services, about their report, he told the paper that this over-drugging problem would take some time to solve.
Thankfully that answer didn't work for the Mercury-News editorial board, the members of which seemed to think that every kid whose life was being potentially wrecked by being force-fed an untested cocktail of psychotropic meds, has a life that actually, you know, matters.
Here's a clip from their editorial:
Will Lightbourne, head of California's Department of Social Services, says there's no simple way to end the pattern of thousands of foster children spending much of their youth drugged into malleability — the horror eloquently revealed by reporter Karen de Sá on Sunday's Page One. He says it has to be part of the holistic rethinking of the entire foster care system that's under way, giving doctors better options than prescribing psychotropic drug upon psychotropic drug to control children who act out.

Really? Really? If this isn't a crisis, then what is?

The abusive use of powerful medications on kids with formative brains cries out for action. Each child who grows up scarred by this is a human tragedy and, in many cases, a lifetime burden on society.

Yes, the whole foster care system needs rebuilding, and yes, that could reduce the incentive to drug kids to alter behavior. But we can't write off the children in the system now. That's like declining to treat a cancer because the cure hasn't been found.

It's time to act. There are things the state can do now to at least begin to control the damage to children's minds and physical health….
---
FERGUSON, & THE LONG SHADOWS OF HISTORY
Author and associate history professor, Jeleni Cobb, writing for the New Yorker, has been one of the voices consistently worth reading during the most intense days in Ferguson.
His newest essay, posted late Tuesday afternoon at the New Yorker, is another thoughtful and emotionally affecting example. Here are two clips, one from the essay's beginning, the second taken from near its end:
When I was eighteen, I stumbled across Richard Wright's poem "Between the World and Me." The poem, a retelling of a lynching, shook me, because while the narrator relays the details in the first person, the actual victim of that brutish ritual is another man, unknown to him and unknown to us. The poem is about the way in which history is an animate force, and how we are witnesses to the past, even to that portion of it that transpired before we were born. He writes,

darkness screamed with thirsty voices; and the witnesses rose and lived:
The dry bones stirred, rattled, lifted, melting themselves
into my bones.
The grey ashes formed flesh firm and black, entering into
my flesh.

Nothing save random fortune separated the fate of the man who died from that of the one telling the story. Errin Whack and Isabel Wilkerson have both written compellingly about the long shadow of lynching. It is, too often, a deliberately forgotten element of the American past—one that is nonetheless felt everywhere in Ferguson, Missouri, where protests followed the shooting of Michael Brown, who was eighteen years old, by a police officer. One can't make sense of how Brown's community perceived those events without first understanding the way that neglected history has survived among black people—a traumatic memory handed down, a Jim Crow inheritance….
And then this:
…I was once a linebacker-sized eighteen-year-old, too. What I knew then, what black people have been required to know, is that there are few things more dangerous than the perception that one is a danger.

I'm embarrassed to recall that my adolescent love of words doubled as a strategy to assuage those fears; it was both a pitiable desire for acceptance and a practical necessity for survival. I know, to this day, the element of inadvertent intimidation that colors the most innocuous interactions, particularly with white people. There are protocols for this. I sometimes let slip that I'm a professor or that I'm scarcely even familiar with the rules of football, minor biographical facts that stand in for a broader, unspoken statement of reassurance: there is no danger here…
---
LAPPL CALLS OUT NY TIMES, NOTING THAT "UNARMED" ALONE DOES NOT DEFINE WHETHER OR NOT SOMEONE POSES A DANGER
Being precise with words matters, as this new post on the blog for the LAPD's union states, calling out the New York Times for what the LAPPL suggests is a careless use of language.
Here's a clip from the post's opening:
Repeated descriptions of a suspect as "unarmed" when shot by a police officer does not, contrary to the belief of the New York Times and others who use the term without further describing the facts of the encounter, determine if the force used by an officer was lawful or reasonable. Labeling the suspect as "unarmed" does not begin to answer the question of the danger they posed in each instance where deadly force was used.

According to the FBI's online database of officers feloniously killed, as well as the Officer Down Memorial Page, since 2000, there have been at least 57 occurrences where the suspects have taken officers' weapons and murdered the police officer with it….
---
Photo courtesy of Wikimedia Commons