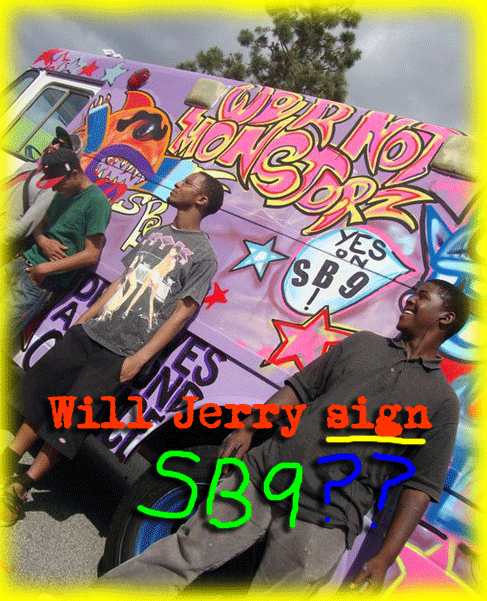 ADVOCATES' FINAL PUSH FOR GOV. BROWN TO PASS SB9
SB9 advocates are making one last push to urge Governor Brown to sign the bill into law. This piece of legislation would allow some of those sentenced to life without parole as juveniles a chance to request parole. (For WitnessLA's most recent posts on SB9, go here and here.)
Vicky Lindsey, director of a support system for families of murder victims called Project Cry No More, has this to say about SB9:
On behalf of hundreds of families I work with who grieve every day for our murdered children, we believe that justice in our courts will contribute to the building of peace and justice in our streets. All youth deserve a chance to prove that they have changed and an opportunity to earn their release.

Giving youth a Life Without Parole sentence does not relieve my suffering as a victim. In fact, it contributes to the feelings of hopelessness in our neighborhoods. The violence will end when we look beyond revenge, to love all youth and have faith in their ability to give back to their families and communities.

It would be easy for me to be trapped in the anger immediately following my son's murder. But, I choose instead to embrace youth and families, and urge them to stop the violence, to get involved while their loved ones are still alive – as I often say, to "get involved by choice not by force."

Today, I hope that everyone will have the same ability to forgive, and to build a better future for California's youth. All youth are better than their worst day. If we throw youth away, then we are also throwing away our own opportunity to heal and to end the violence that has caused so many families a lifetime of pain.
The Youth Justice Coalition has info and resources for those who want to encourage the governor to sign SB9. The same advocates are urging the governor to sign AB1270 which would lift the media ban in prisons. That contact information can be found here.
---
AN AMERICAN HABEAS ATTORNEY TELLS OF THE HORRIFYING LIFE—AND DEATH—OF HIS CLIENT AT GUANTANAMO BAY
Gitmo detainee Adnan Farhan Abdul Latif died on September 8th after ten years of incarceration and legal battles during which the U.S. government provided no concrete evidence of Adnan's association with enemy forces. Marc Falkoff, one of Adnan's habeas corpus attorneys since 2004, stresses the need for the U.S. to discontinue use of Guantanamo Bay, asserting that the unjust detention killed Adnan in the end. Here's a clip from Falkoff's Op-Ed for the LA Times:
On Sept. 8, one of my nightmares came true. Adnan Farhan Abdul Latif, a client of mine who had been held at the Guantanamo Bay detention facility in Cuba for more than 10 years, died alone in his cell. His tragic death will surely be greeted with a shrug by some, but it should prompt all of us to reconsider our decision to continue the operation of our infamous offshore prison camp.

Adnan was brought to Guantanamo in January 2002 on suspicion of being associated in some manner with enemy forces in Afghanistan. It's hard to say exactly what the U.S. military thought Adnan had done. Over the years, the government made allegations and then abandoned them.

[SNIP]

We don't yet know how Adnan died, but I wouldn't be surprised to learn it was by his own hand. He had sought release from Guantanamo by attempting suicide several times before.

It's also possible his death was caused by the cumulative effect of a decade's worth of intermittent hunger strikes, which were his only way to protest the injustice of his indefinite detention and the harshness of his treatment at Guantanamo.

Either way, his death was caused by his detention.
---
PAVING THE WAY FOR PROTECTING LGBT PRISONERS
A small group of correctional institutions are taking a lead in protecting the gay and transgender incarcerated population from rape and discrimination. A nationwide broadcast from the National Institute of Corrections will air November 7th presenting effective practices to protect LGBT incarcerated and the institutions that are successfully implementing them. (You should be able to view the broadcast here.)
The Crime Report's Katti Gray has the story. Here's how it opens:
With jails and prisons federally mandated to curb sexual assaults against homosexual and transgender inmates, a handful of correctional facilities have emerged at the forefront of innovative practices designed to protect what is one of the most vulnerable groups behind bars.

The National Institute of Corrections (NIC), citing studies that show lesbian, gay, bisexual and transgender inmates are 13 to 20 times more likely to be raped than incarcerated heterosexuals, plans to spotlight those practices Nov. 7 in a nationwide broadcast that corrections officials can view live. The public eventually can access the broadcast on the institute's website.

One of the institutions leading those efforts is the Denver Sheriff Department, whose director, Gary Wilson, began raising the issue when he took the job two years ago, around the time federal officials began seeking public comment on what then were proposed safeguards for gay and transgender inmates.

"We wanted a policy that [would] ensure that transgender people who came into our custody were treated fairly with the equal amount of [protections] as other inmates," said Capt. Paul Oliva, who began developing the program in February 2011 with the help of experts and advocates from the lesbian, gay, bisexual and transgender (LGBT) communities and civil rights lawyers.
(Make sure you read the rest, as there's lots of good information and links!)
---
PHOTO BY Youth Justice Coalition