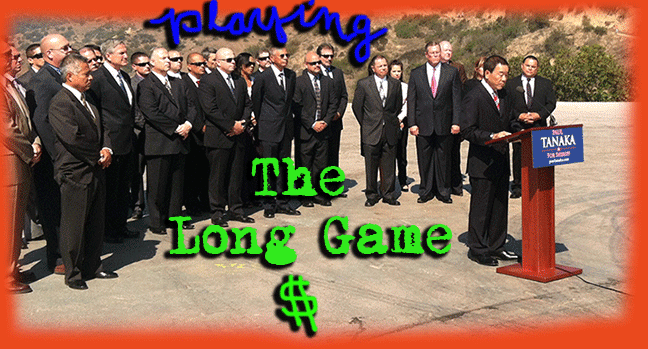 THE LONG GAME
Does Sheriff's Candidate Paul Tanaka Have a Plan in Play to Get LASD Union PAC Money?
---
It has been estimated that to have a chance of unseating four-term incumbent Sheriff Lee Baca in 2014, a viable challenger will need somewhere between $4 and $5 million dollars. Moreover, nearly half of that amount will need to be raised to compete in the primary election that will be held in June of next year.
$4 or $5 million is a daunting amount for anyone to raise, except perhaps the sheriff himself who, after four successful campaigns, has developed a well-oiled fund-raising strategy, which includes a carefully courted list of deep-pocketed supporters.
That is, in part why Baca's two main challengers—former LASD Commander Bob Olmsted, and former undersheriff Paul Tanaka, have spent much of the last month busily fundraising.
Olmsted has hired an experienced political fundraising consultant and spends a part of every day on the phone, doing what candidates must do, namely asking anyone and everyone to give him some money.
Tanaka meanwhile has been doing his backyard whistle-stop tour of the county, pledging to hit 88 cities in 88 days, at each event making his pitch for money.
In Tanaka's case, however, there is reportedly another, far less visible, money raising plan— one that many say has been in place for several years. It is a strategy that, if everything goes right, could conceivably bring to Mr. Tanaka's campaign coffers anywhere from several hundred thousand dollars to $2 million, or more.
One could call this second fundraising strategy Paul Tanaka's long game..
Here's how it could potentially work.
---
THE UNIONS
There are two LASD unions that, together, represent all the department's sworn members—The Association for Los Angeles Deputy Sheriffs or ALADS, the union that represents the department's deputies, and the Professional Peace Officers Association, or PPOA (pronounced Po-Pa), that represents its officers, sergeants and above. Both unions have pools of money that they can throw behind various political candidates whom they believe will benefit their interests.
PPOA's Political Action Committee (PAC) money totals around $1 million, while ALADS reportedly has somewhere around double that.
Two LA County Supervisors' seats are up for grabs during the 2014 elections, and either or both unions could throw some money behind the Supe candidates of their choice. But the big race that is of concern to department members—and thus to both unions—-is, of course, the contest for sheriff.
So how would a candidate go about persuading either or both of the unions to part with some or most of their PAC money?
This is where the long game comes into play.
---
PLANNING AHEAD
In the case of PPOA, it is the board of directors that decides where the union's money goes. The membership has a chance to weigh in. But, in the end, the board members are the deciders.
In the case of ALADS, we were unable to get a detailed description of the decision making process. But, we are told that it is some combination between the membership and their elected board, with the board having the final say so.
(There is also an endorsement committee to handle the myriad state and local endorsements that ALADS typically makes. Both working and retired deputies can join)
Thus if one could manage get one's own loyalists elected to the majority of the seats on one or both of the unions' boards, big bucks in PAC money could follow.
Last year two men who are reported to be Tanaka supporters were elected to PPOA's board. But they are not in the majority.
Now the PPOA elections have come around again. Ballots went out on Monday.
There are two incumbents on the ballot, Lieutenant Brian Moriguchi and Lieutenant Tab Rhodes, and two new names, Sergeant Mike Maher and Lieutenant Andy Meyer.
It is Meyer and Maher's candidacies that are reportedly being pushed hard by longtime Tanaka loyalists.
For instance, WitnessLA has obtained an email sent to PPOA members on September 16 by Tanaka's close friend, former LASD deputy, Guy Mato, urging members to "Vote for Maher & Meyer for PPOA Board."
(Mato is pictured at the front far left behind Tanaka on the day that the former undersheriff announced his candidacy for sheriff.)
Also, according to several department sources, Wes Sutton, another reputed Tanaka loyalist (as noted in CCJV testimony on p.217 here) made recent calls to department members urging them to vote for Meyer and Maher.
It is perhaps worth noting that Meyer and Maher both donated to Paul Tanaka's election campaign in 2008.
Sutton, the guy making calls in their behalf, is also a Tanaka campaign donor.
According to incumbent PPOA president Moriguchi, both Meyer and Maher were drivers for Sheriff Lee Baca during a period when Tanaka was reportedly choosing most or all of Baca's drivers, and specifically filing the position with his own loyalists.
"The Sheriff always thought his drivers were loyal to him," another source told us. "But, almost without exception, they were handpicked by Tanaka and his men, not the sheriff's."
---
THE SMART MONEY
Both Maher and Meyer vigorously deny any political leanings. And surely there are people who donated to Mr. Tanaka's Gardena campaigns in the past, who do not support him now.
Perhaps Meyer and Maher are independent. And it's possible that last year's victorious board candidates—Sergeants Noe Garcia and Roberto Medrano—-are also entirely independent of any candidate's influence.
However, many of the same Tanaka loyalists who are stumping for Meyer and Maher also reportedly showed up at Garcia and Medrano's victory party a year ago.
So is there a long game afoot here?
Admittedly, nothing above constitutes proof. Yet, it is hard to ignore the fact that, for many years, the former undersheriff has demonstrated himself to be an extremely diligent long range planner with the ability and the attention span to orchestrate a series of seemingly disparate choices toward his future Big Picture goal. It's among the things he does well.
In addition, it has been his pattern to identify and cultivate supporters he can trust and then to place them into positions that serve his larger goals. This too is one of his talents.
For these and other reasons, it runs counter to logic and history to believe that Paul Tanaka would not attempt to use these same strategic skills to reach a goal that matters so greatly to him—namely being elected the next Los Angeles County Sheriff.
So, yes, the smart money says Paul Tanaka has a long range plan in place to try to nab some big bucks from the two union PACs.
Will it work? Will he succeed with his long game?
Stay tuned.
And then in the future we'll be on the lookout for so called "independent expenditures," another monetary strategy that could greatly affect the race for LA County Sheriff.
It's going to be an interesting elections season.
---
NOTE: LATER TODAY WE'LL HAVE MORE NEWS….about flip flopping on the Taft Jail move, and two great programs happening this weekend that you ought to know about.