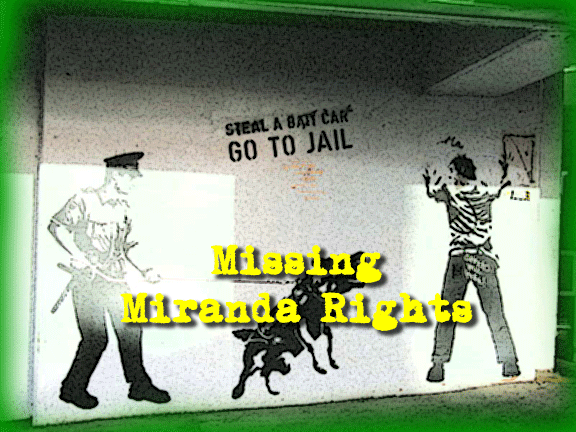 LA SHERIFF'S DET. CAUGHT LYING ABOUT READING MIRANDA RIGHTS
Footage from the reality show "Bait Car" shows that LASD Detective Anthony Shapiro lied under oath in court testimony and in arrest reports. Shapiro claimed to have read suspects their Miranda Rights, but unaired video from the show contradicted the detective's claims. In one instance, Shapiro is caught saying to a suspect, "You watch TV, you know your rights and all that?" before proceeding to talk to him.
The LA Times' Jack Leonard has the story. Here are a couple of clips:
Video footage from a reality television program shows that a Los Angeles County sheriff's detective lied in court testimony and in arrest reports involving two car theft cases, the district attorney's office said.

Prosecutors concluded that Det. Anthony Shapiro "willfully, knowingly and intentionally" made false statements when he claimed to have fully read suspects their Miranda rights, according to a memo obtained by The Times. Footage shot by television cameras for the TruTV program "Bait Car" shows that Shapiro never fully read the suspects their constitutional rights, including the right to remain silent and have an attorney present during questioning, prosecutors said.

Despite the findings, the district attorney's office declined to file criminal charges against Shapiro. The office concluded that Shapiro's false statements did not amount to perjury because they did not play a key role in the decision to arrest the men or in the outcome of the preliminary hearing where Shapiro testified, according to the memo.

"There's no question that he lied. It's just, can we prosecute it?" said district attorney's spokeswoman Jane Robison.

[SNIP]

Shapiro has been relieved of duty with pay as the department conducts separate criminal and internal investigations, sheriff's spokesman Steve Whitmore said. He said the internal affairs probe, which could result in discipline, is expected to be completed soon.
---
TEN YEARS AFTER A SUPPOSEDLY PROTECTIVE LAW IS PASSED, KIDS ARE STILL FACING SEXUAL ABUSE IN ADULT PRISONS
A decade after the Prison Rape Elimination Act (PREA) was enacted to deal with sexual abuse in the US prison system, there is still not enough being done to protect kids from the danger of being assaulted in adult facilities, according to Liz Ryan, President and CEO of the Campaign for Youth Justice.
Here are some clips from Ryan's call to action on TakePart:
The decade anniversary of the Prison Rape Elimination Act offers an opportunity for the U.S. Attorney General and the nation's governors and local officials to finally protect children from the dangers of adult jails and prisons. Governors will have to certify compliance with the PREA by October 1 of this year.

The PREA regulations issued by the U.S. Department of Justice state that, "As a matter of policy, the Department supports strong limitations on the confinement of adults with juveniles."

The regulations include the Youthful Inmate Standard, which bans the housing of youth in the general adult population, prohibits contact between youth and adults in common areas, and ensures youth are constantly supervised by staff. At the same time, the regulations require limitations on the use of isolation in complying with the standard.

The bipartisan architects of the PREA law—Representatives Frank Wolf (R-VA) and Bobby Scott (D-VA)—believe that youth should be fully protected from sexual abuse as was intended by Congress when it passed PREA and that a critical component of this protection is the removal of all under 18 youth from adult jails and prisons.

In an April 11, 2013, letter Wolf and Scott urged the U.S. Attorney General to issue clear guidance to states and localities on the regulation's Youthful Inmate Standard.

[SNIP]

On the 10-year anniversary of congressional passage of this important law, Congress must ensure that the 100,000 children languishing in adult jails and prisons every year are protected from the dangers of sexual abuse behind bars.

It is crucial that governors and local officials implement best practices to fully protect youth in the justice system by removing youth from adult jails and prisons, and place them in juvenile facilities where they are more likely to receive developmentally appropriate services, educational programming and support by trained staff. Fortunately some states and localities already have long-standing policies that prevent the detention or incarceration of children in adult jails or prisons.
---
CA SUPREME COURT KNOCKS DOWN BID TO STOP GAY MARRIAGE…AGAIN
The California Supreme Court Tuesday rejected a bid from the San Diego county clerk to immediately halt gay marriage while it considers cases arguing that Prop 8 should remain valid in at least 56 of California's 58 counties. The high court denied a similar request a little over a week ago brought by Prop 8 supporters.
San Jose Mercury's Howard Mintz has the story on this most recent strike-down. Here's a clip:
In a one-line order filed Tuesday, the justices rejected the San Diego county clerk's bid to restore California's same-sex marriage ban while they review a two-pronged effort to keep the 2008 voter-approved law on the books. The state's high court last week unanimously denied a similar request to immediately stop the marriages filed by Proposition 8's sponsors.

Ernest Dronenburg Jr., San Diego's clerk-recorder, brought his legal challenge last week, arguing that he should not have to obey the state's mandate that clerks throughout California now must issue marriage licenses to gay and lesbian couples. The governor and attorney general handed down that edict in late June, when the U.S. Supreme Court effectively invalidated Proposition 8 in a ruling that found the measure's supporters never had the legal right to defend the law.
---
MORE ON THE HUNGER STRIKE
A two-hour informational meeting was held Tuesday between inmate advocates and CDCR officials in Sacramento to discuss the ongoing prisoner hunger strike.
Julie Small of KPCC has the update on the issue.