On Monday morning, former Los Angeles sheriff's deputy James Sexton became the 7th member of the LASD to be sentenced to prison for a conviction of obstruction of justice due to his part in a plan to hide federal informant Anthony Brown from his FBI handlers.
Judge Percy Anderson sentenced Sexton to 18 months in a federal lock-up, plus an additional year of supervision after he is released.
Sexton, 30, is a former Eagle Scout who was offered an appointment to West Point and recently got his master's in public administration at USC. He was 26, and in the department for three years, when in August 2011, he was assigned by then lieutenant Greg Thompson, his boss on the Operation Safe Jails unit (OSJ), to participate in a complex scheme to keep federal informant Brown away from the FBI and other federal representatives with whom he'd previously been in contact. Brown was, at the time, part of a civil rights investigation into brutality by deputies against inmates in Men's Central Jail, plus other forms of LASD corruption.
According to department higher ups, the hiding of Brown was for the inmate's own safety. Sexton and his team members were told that the order to move Brown to various secret locations within the county jail system, through the use of name changes and computer manipulation, came from the very top of the department, namely from Sheriff Lee Baca and then undersheriff Paul Tanaka, who were briefed regularly on the operation that Sexton began unofficially calling Operation Pandora's Box.
Judge Anderson gave Sexton the shortest sentence of any of the seven, stating that the deputy was "the least culpable" of the group. (Co-conspirators Greg Thompson, Steve Leavins, Gerard Smith, Mickey Manzo, Scott Craig and Maricela Long drew terms ranging from 41 months for former lieutenant Steve Levins, to 21 months for former deputy Mickey Manzo, after being convicted in July of this year in a trial separate from Sextons)
Sexton's attorneys had pushed for a far lower six month sentence, or even probation with no jail time, pointing out that Sexton had repeatedly cooperated with the feds as a whistleblower in 37 different meetings, and had been convincingly threatened by department members once his whistleblower role became known. (Sexton was the only one of his co-defendents who was allowed by the judge to keep his personal firearms until his conviction this fall.) Anderson, however, was adamant that "the public" expected a sentence that did not trivialize the offense.
"The public expects that the police will not obstruct justice," said the judge
At the same time, Anderson praised Sexton's "loving family," that the deputy "has respect of many in his hometown," and was "smart and educated" and was "devoted to public service."
Anderson paused, then added, "Obviously at some point he allowed the core values that had served him well to give way...to the corrupt values of the sheriff's department.
Finally Anderson spoke directly to Sexton.
"Sir, you didn't show courage in your misguided attempt to protect the LASD."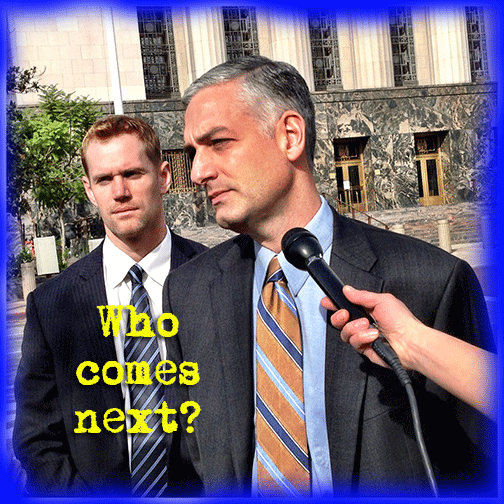 While Sexton and his family looked both grim and saddened by the sentencing outcome, they seemed unsurprised. Sexton was found guilty in mid-September of this year of charges of obstruction of justice and conspiracy to obstruct justice because of his part in helping to hide federal informant Brown from his FBI handlers.
The September trial was Sexton's second legal go-round for the same charges. His first trial, which took place in May of this year, resulted in a hung jury, that split six-six.
When questioned outside the federal court, Assistant U.S. Attorney Brandon Fox said that the sentencing of Sexton was not the end of the story when it came to pursuing civil rights violations and corruption inside the Los Angeles County Sheriff's Department. He ticked off some of the trials of other LASD members that will take place in 2015. "This is the end of one chapter," Fox said, "but we have many chapters yet to come."
As to whether the feds are focusing on other department members for possible future indictments, Fox would only say "it's an ongoing investigation."
Fox also declined comment on the news that Captain Tom Carey, the former head of the department's internal criminal investigative unit, ICIB, had recently been relieved of duty, pending an LASD investigation. Carey, who testified in both Sexton's trials, was asked by Fox when he was then on the stand if he was aware that he was the focus of an ongoing criminal federal investigation.
Sexton will surrender to authorities to begin his sentence on February 2015. His six co-defendents are required to surrender on January 2.
Sexton reportedly has made plans to appeal his conviction.
---
Be sure to read ABC7 Lisa Bartley's excellent account of Monday's proceedings. Bartley has also linked to some documents pertinent to the sentencing including letters of support from such people as an L.A. County Deputy District Attorney, a retired CIA official, a Captain in the U.S. Special Forces, a Green Beret and the President of the Southern Christian Leadership Conference.