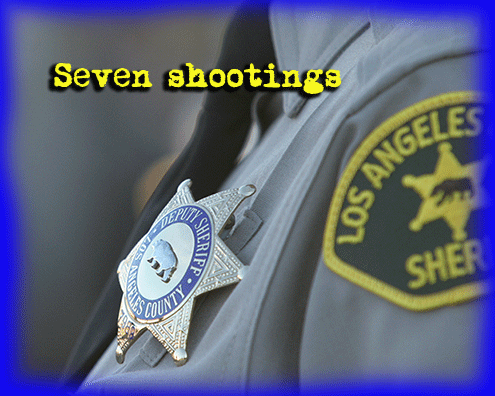 FATAL SHOOTING OCCURS AFTER PAUL TANAKA REPORTEDLY PUT DEPUTY WITH SIX PREVIOUS SHOOTINGS BACK ON PATROL DUTY
Michael Gennaco of the Office of Independent Review (OIR) wrote the LA County Board of Supervisors on Wednesday regarding his concern over a Los Angeles County Sheriff's Deputy who had just been involved in his seventh shooting, this time a fatal one.
Reportedly, part of Gennaco's concern was that the deputy, whose name is Anthony Forlano, was returned to field duty earlier this year after having been removed from active patrol twice before, specifically after shootings number five and six, at least one of which had been flagged as being tactically problematic. Moreover, three of men he shot turned out to be unarmed.
According to Gennaco, Forlano was returned to duty by former undersheriff Paul Tanaka. A few months later, the deputy and his partner shot a seventh suspect, this time fatally.
Jack Leonard and Robert Faturechi have more on the matter in a well reported story in Friday's LA Times. Here are some clips:
In a department where many officers spend their entire careers without firing their weapons, Los Angeles County Sheriff's Deputy Anthony Forlano is an outlier.

Following his sixth shooting, Forlano was pulled from patrol duty and assigned to a desk job. He was also disciplined for "tactical deficiencies" in that shooting. But recently, he was allowed to return to the streets.

After a few months back on patrol, he got into his seventh shooting last week when he and a colleague fatally shot a suspect in East Los Angeles.

[SNIP]

Seven shootings in the Sheriff's Department is extraordinary," Gennaco said in an interview, "compared to the number of patrol deputies and how many they get involved in, which is usually zero or one."

A department captain identified the deputy as Forlano, an 18-year department veteran.

Capt. Robert J. Tubbs, who supervises the Community Oriented Policing Services bureau, said Forlano had done a fantastic job doing administrative work for the last two years. Tubbs said the deputy had been eager to return to the streets to "do the thing he loves to do, and that's police work."
As the Times reports, Forlano worked for Community Oriented Policing Services—or COPS—a program funded with federal dollars which is overseen by Capt. Robert Tubbs.
Tubbs, it is interesting to note, is one of the active department members who has endorsed Tanaka in his candidacy for sheriff against Lee Baca, and was one of those supporters seen standing behind the former undersheriff when Tanaka announced his intention to run.
Why Mr. Tanaka would be involved in returning a benched officer to active duty is unclear, especially since he was pushed into retirement in March 6 of this year, and last fall the former undersheriff was supposedly removed by Sheriff Baca from any responsibility for departmental oversight—either in custody or patrol—except for that of the LASD budget.
The shooting issue is the second controversial incident to spring out of COPS in the past few weeks:
Veteran department member, John Augustus Rose II, who was arrested earlier this month on suspicion of having sex with a 14-year=old girl, also worked at COPS under Capt. Tubbs.
---
SEEKING ANSWERS ON THE CDCR'S QUESTIONABLE STERILIZATIONS: WHO WAS STERILIZED IN CALIFORNIA'S STATE PRISONS AND WHY?
This summer Corey Johnson from the Center for Investigative Reporting brought us the startling news that, during a four year period, from 2006, to 2010, around 150 women inmates had been sterilized in California prisons, against state policy. Many of the sterilizations reportedly took place under coercive circumstances, such as when a woman was prepped and anesthetized just before undergoing a C-section.
Paulene Bartolone reports for KUOW on new developments in the story that was originally uncovered by Johnson. Here's a clip:
Sitting in her San Francisco living room, Kimberly Jeffrey is combing her son Noel's hair. He groans, but she meets his energy with calm — and adoration.

Noel's birth was not an easy time. While Jeffrey was pregnant, she served a six-month sentence for petty theft at a state prison. When it came time to deliver Noel through a caesarean-section, Jeffrey was also confronted with the prospect of sterilization.

"As I was laying on the operating table, moments before I went into surgery, [medical staff] had made a statement," Jeffrey recalls. "I'm not even quite sure if he was actually talking to me or if he was just making a general statement to all the medical staff — that, 'OK, we're going to do this tubal ligation.' And I said, 'Hey, I don't want any procedures done outside of the C-section.' "

Jeffrey refused the tubal ligation, but a recent investigation from the Center for Investigative Reporting revealed that scores of female inmates underwent the procedure, which is supposed to be prohibited for California prisoners, between 2006 and 2010….
---
NEW STUDY REPORTS THAT STOP & FRISK POLICIES MAKE YOUNG PEOPLE LESS LIKELY TO REPORT MORE SERIOUS CRIMES
The NY Daily News reports on a new Vera Institute study that indicates New York PD's stop-and-frisk policies erode trust in police to the point that a significant number of young adults "won't go to officers to report violent crimes.
The VERA study surveyed 500 young men and women from 'highly patrolled neighborhoods,' most of whom had themselves been stopped, most multiple times.
Here's a clip from the Daily News story:
A landmark study has found that stop-and-frisk policing leads to so much mistrust of cops, many young adults won't go to cops to report violent crimes — even when they are the ones victimized.
The study, by the Vera Institute of Justice, found a stunning correlation between those who have been stopped and frisked, and an unwillingness to cooperate with the police.
For every additional time someone was stopped, that person was 8% less likely to report a violent crime, the researchers found.

"Our main finding is pretty plain and simple: Stop-and-frisk is compromising the trust needed for public safety," lead researcher Jennifer Fratello said.
The study titled Coming of Age with Stop and Frisk: Experiences,
Self-Perceptions, and Public Safety Implications was released on Thursday and may be found here.
Here are excerpts from the study's fact sheet:
For many young people, stops are a familiar and frequent experience and also perceived to be unjustified and unfair.
• 44 percent of young people surveyed indicated they had been stopped repeatedly—9 times or more.
• Less than a third—29 percent—reported ever being informed of the reason for a stop.

Frisks, searches, threats, and use of force are common.
• 71 percent of young people surveyed reported being frisked at least once, and 64 percent said they had been searched.
• 45 percent reported encountering an officer who threatened them, and 46 percent said they had experienced physical force at the hands of an officer.
• One out of four said they were involved in a stop in which the officer displayed his or her weapon.

Trust in law enforcement and willingness to cooperate with police is alarmingly low.
• 88 percent of young people surveyed believe that residents of their neighborhood do not trust the police.
• Only four in 10 respondents said they would be comfortable seeking help from police if in trouble.
• Only one in four respondents would report someone whom they believe had committed a crime.

Half of all young people surveyed had been the victim of a crime, including 37 percent who had been the victim of a violent crime
Photo by Jaime Lopez, LASDnews.net