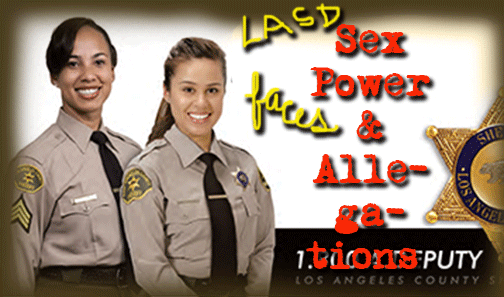 As a part of the sexual harassment lawsuit filed in February by LASD Lieutenant Angela Walton against Commander Joseph Fennell, Walton's attorney filed a new motion on Monday requesting Fennell's financial records, alleging that, in the course of trying to persuade or threaten Walton into bed, the commander bragged about running illegal errands for Sheriff Lee Baca, from which he benefited in terms of greatly enhanced power within the department, and also possibly monetarily.
WLA has previously reported that Walton, 44, a bright, personable department supervisor—who is also one of the "poster girls" for department recruitment—has alleged in a civil complaint for damages filed in mid-February that, for the past four years Fennell, who was Walton's superior, "required sexual conduct as a condition of advancement" and engaged in a "lurid pattern of unwanted sexual conduct" toward Walton. The complaint further states that when she repeatedly dodged and refused his advances "in as respectful a manner as possible," he "harassed, stalked, threatened and retaliated against" her.
Now in this new motion (that WitnessLA has obtained) Walton's attorney, Okorie Okorocha, alleges that as a part of Fennell's ongoing campaign to cajole/coerce/threaten Walton into having sex with him, the commander made references to power and influence he had acquired by running illegal errands during the period that he served as Sheriff Lee Baca's driver.
---
THE VALUE OF BEING A DRIVER
To better understand exactly what is being alleged here, it helps to know that, to be the sheriff's driver, while not an advance in rank, is generally considered to be a coveted jump up the department ladder, as drivers make a lot in overtime and, after serving the sheriff, one usually advances very rapidly since, among other things, the position gives an individual lots of chances to positively impress people at the top of LASD command staff.
Indeed, Fennell's career appears to have been on an upward trajectory from the driver assignment onward.
However, the filing claims more, alleging that Fennell "explicitly told the Plaintiff that he was invincible and untouchable at the Sheriff's Department and wielded unlimited power, because of the favors he did for Sheriff Lee Baca, while he was the driver/bodyguard" [for Baca] and this secret information he had on the Sheriff, was leverage…"
Some of the favors Fennell admitted to, according to the filing, are the following:
1. Being a courier for Sheriff Lee Baca, who would pick up and return with kickbacks, campaign donations, and bribes from various individuals in cash. As a courier, FENNELL would collect $30,000 to $100,000 in cash for the Sheriff and return it to him and would be compensated in many ways.

2. FENNELL drove Sheriff Lee Baca to engage in sexual liaisons and encounters with various women throughout the County of Los Angeles and while on the clock and witnessed the Sheriff's affectionate tendencies towards these women.
---
ALLEGATIONS OF SPECIAL CONTRACTS & PEELING SUVS
In addition, the motion alleges that Fennell was part of his own kick-back scheme involving the "preferential awarding of contracts for the graphics placed on Sheriff's Department vehicles."
This allegation reportedly refers to special SUVs that are used for department recruitment and are "wrapped" with various recruitment photos. According to Okorocha, when Walton was working in the recruitment unit, she found that the quality of the "wrapping" done by the company that Fennell had selected, was inferior and tended to peel, so found other venders whom she concluded did better quality work, for a much lower price, and recommended that the existing company be replaced when the contract came up for renewal, but was told to back off, that the original company was inviolate.
Finally, the motion alleges that Fennell seemed to throw "large amounts" of cash around, including when, the motion states, he offered a "substantial amount of money in a failed attempted to purchase sex from the plaintiff,", and booked expensive hotel rooms "on several occasions for the purpose of trying to coerce the Plaintiff into having sexual relations with him."
---
THE DEPARTMENT RESPONDS
Following the filing of the lawsuit, the sheriff's department launched an internal affairs investigation, according to department spokesman Steve Whitmore. "It will get to the bottom of the allegations." It was a statement that Whitmore reiterated on Monday.
Fennell again declined to speak to WLA directly, but communicated through Whitmore that he is "looking forward to the IA investigation that will show that the lawsuit and its allegations are not grounded in fact."
Joseph Fennell was one of the five supervisors handpicked in the fall of 2011 by Sheriff Lee Baca for his Commander Management Task Force, a sort of super group sent into the department's scandal-plagued custody division to "effect positive change within the Los Angeles County jail system."
In the department's very recently reorganized command staff (which eliminates the role of undersheriff) Cdr. Fennell is working as a high level supervisor in the Countywide Services Division.
Lt. Walton is a supervisor at the Pitchess Detention Center in Castaic where, according to the lawsuit, she was assigned punitively during a period two years ago when her father was dying and she requested to be stationed closer to home.
---
IN THE PHOTO ABOVE, Lt. Angela Walton is standing at the far left.
---
---

AND IN NEWS THAT AFFECTS US ALL, THE NEW YORKER COVERS THE BOSTON MARATHON EXPLOSIONS
As we all still reel from the many-sided pain and confusion thus far wrought by the Boston Marathon explosions, here and here and here and also here are several moments in commentary from the New Yorker—all of which thankfully is not hidden behind a paywall.
Our thoughts are with Boston.