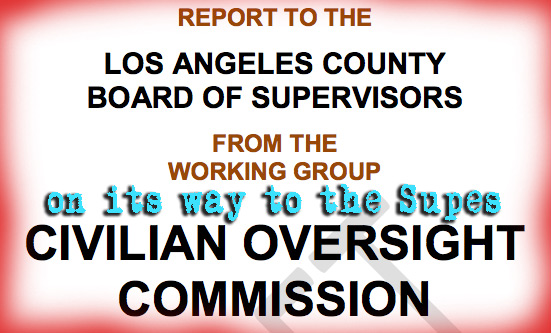 LA SUPES TO CONSIDER WORKING GROUP'S FINAL RECOMMENDATIONS FOR CREATING CIVILIAN OVERSIGHT FOR LASD
The working group tasked with advising the LA County Board of Supervisors on the shape that civilian oversight for the LA County Sheriff's Department should take is expected to present a final report to the Supes next Tuesday, on July 28th. The report includes five key recommendations for the composition and reach of the oversight commission.
Arguably the most important recommendation is that the commission should have the power to subpoena LASD documents. In order to make that subpoena power possible, however, there would have to be changes to state law.
The LASD's Inspector General, Max Huntsman, who is also a member of the working group, has had his own trouble getting personnel documents from the department.
"I used to be an attack dog," Huntsman said, back when the Supes voted to create civilian oversight. "Now I've been asked to be a watchdog. If you buy a watchdog, they are only worth it if they come into your house. If you keep them in the backyard, then the burglars can come in the front door. A watchdog can't watch what they can't enter and be a part of. So transparency means complete access…"
At a KPCC panel discussion on police transparency last week, LASD Undersheriff Neal Tyler said the department has been working cooperatively "for a year and a half…to deepen Max Huntsman's…access to the department. And we're poised to do that." But, it's complicated.
Other recommendations include having nine board-appointed commissioners-–one chosen by each of the five supervisors, and four voted on by all of the Supes. Members should also serve three-year terms, and should be diverse (different races, ages, etc.), according to the working group. And, the oversight commission should use the Inspector General's staff to for monitoring and investigation purposes.
The working group is slated to present the report to the Supes in two weeks. (For backstory on the working group's preliminary decisions and how they came to make these recommendations, go here.)
KPCC's Frank Stoltze has more on the report. Here's a clip:
Subpoena power has emerged as a critical issue for activists, who claim it's necessary to have access to internal department documents. During 13 public meetings and nine town halls conducted by the working group, activists lobbied hard for subpoena power. Patrice Cullors of Dignity and Power Now called it "make or break" for successful oversight.

Sheriff's representatives who sat on the group strongly opposed the idea.

They felt it was important the new commission begin its work in a "cordial and cooperative relationship," and that Sheriff Jim McDonnell – elected last year – be given time to "effectuate reforms," according to the report. None was immediately available for comment.

"Subpoena power would be available as a last resort," said attorney Dean Hansell, who chaired the group. "It provides a club." Hansell once served on the Los Angeles Police Commission.

Hansell acknowledged subpoena power would require voters to approve a change in the County Charter. The working group voted four to three to recommend supervisors place the question on the next ballot.

Inspector General Max Huntsman, who sat on the working group, supported giving the new oversight panel subpoena power, but said it may be overrated.

"A subpoena just gets you the right to get somebody to court to say 'hey give me stuff'," he said. The department – and the powerful labor union that represents deputies – can always argue that personnel and investigation records are not public.

Huntsman knows this challenge firsthand. The sheriff has denied Huntsman access to personnel records, which include a wide range of information about internal investigations. McDonnell has cited conflicting California laws and court rulings on access.
---
FOURTH DISTRICT COURT OF APPEALS SEZ JUVIE OFFENDERS BENEFIT FROM PROP 47 TOO
In a ruling on Thursday, a California appeals court said kids qualify, just like adults, for crime reclassifications—from felony to misdemeanor—that adults convicted of certain non-serious felonies receive under Proposition 47. (We at WLA applaud the court's very sensible decision.)
The Associated Press has more on the ruling. Here's a clip:
The court of appeal said the reclassification of offenses under Proposition 47 applies to juveniles because they are judged by the same criminal code as adults.

"Accordingly, when a criminal offense is reclassified from a felony to a misdemeanor in the adult context — as occurred under Proposition 47 — the reclassification likewise applies in juvenile wardship proceedings," Associate Justice Judith Haller wrote for the court.

The ruling came in a San Diego County case involving a minor who acknowledged in 2013 that he had committed felony commercial burglary, according to the appeals court ruling.

The San Diego County district attorney's office said it will review the court's ruling and decide whether to appeal.

"We support a juvenile justice system that has a goal of rehabilitation focused on providing the care, treatment and guidance in the best interest of minors," the office said in a statement.
---
FOR CANDIDATES AND TWO OF INTERVIEWS, AND STILL NO CHILD WELFARE CZAR
After two rounds of interviews with four candidates to act as child welfare czar, a position recommended by a blue ribbon commission convened to jumpstart much-needed reforms in the county's child welfare system, the LA County Board of Supervisors has still not made up its mind as to who will lead the new Office of Child Protection.
The board was supposed to continue deliberating in a closed-door meeting Tuesday, but decided to put off the meeting for another two weeks.
Fesia Davenport, who has served as the interim child welfare czar, says she has been interviewed twice for the important role, and hopes the Supes make a final decision soon.
The Chronicle of Social Change's Holden Slattery has more on the issue. Here's a clip:
On Wednesday, during a break at a community meeting on data and analytics in child welfare at the University of Southern California, Fesia Davenport, interim director of the Office of Child Protection (OCP) confirmed that she has been interviewed and re-interviewed.

"I'm hoping that a decision will be made soon," Davenport said.

Davenport, who previously served as chief deputy director of the county's Department of Children and Family Services (DCFS), said she feels a greater ability to effect change at the OCP than she did at DCFS.

"Working for DCFS you see a lot of things that need to happen, that should be corrected or need to be changed, and it's difficult to do that because you're just focused on core mission and task," Davenport said. "I really appreciate being in a position where I don't have the constraints of DCFS. I can effect change with the team, in partnership with the other county departments and the community-based organizations."

Wendy Garen, president and CEO of the Ralph Parsons Foundation, attended Wednesday's community meeting, which was organized by the Office of Child Protection. Garen praised Davenport for her performance.

"We know that she's engaged and willing to do the work that's necessary, and really whatever's asked of her," Garen said. "That's a tremendous asset to this community."