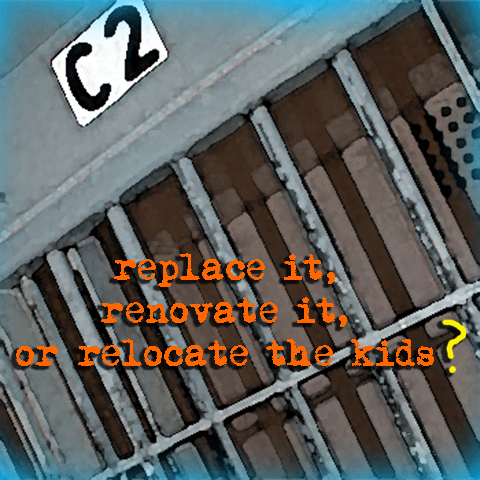 WHAT WILL LA COUNTY DO WITH THE DILAPIDATED CENTRAL JUVENILE HALL
As LA County is planning to rebuild Men's Central Jail and Camp Kilpatrick, and to replace a women's jail, another facility, the county's Central Juvenile Hall, is in a state of woeful disrepair. Kids housed at "the Hall," as it is sometimes referred to, endure broken pipes, dry-rot, mold, and structures that are outdated and not conducive to the current movement toward treatment and rehabilitation.
The LA County Supervisors, other county officials, and advocates don't all agree on one solution.
The facility is predominantly used to hold kids awaiting trial at the central court, so relocating the kids away from the court would create a transportation obstacle. While the Supes are not sure if there is adequate funding for replacing the juvenile hall (an estimated $50M), the county is pumping millions into holding the facility together.
While it's obvious that something must be done to remedy the conditions these kids are living in, it's not clear exactly what the right answer is.
The LA Times' Abby Sewell has more on the issue. Here's a clip:
…absent from the public discussions has been any long-term plan to improve or replace the 22-acre Central Juvenile Hall in Boyle Heights, which the county's watchdog grand jury recently criticized for being in "severe disrepair," a continuing financial drain on taxpayers and in need of a complete replacement. The facility, which mostly houses minors awaiting trials, is plagued by leaking pipes, dry-rotted support beams, decaying facades and peeling paint, the panel wrote.

"Bath towels and duct tape were used in a futile attempt to repair broken pipes and prevent seepage" in one housing unit, the grand jury reported after members inspected the hall. "There was an indistinct foul odor in the hallway suggesting that sewage or stagnant water was present." They found a "dilapidated" modular building used to house foster youth facing criminal charges was "totally isolated from the main facility and surrounded by barbed wire fencing which gives the appearance of an adult prison, not a youth facility."

Several high-level county officials echoed the grand jury's concerns. Trying to repair and modernize the existing buildings "is like putting a jet engine on a Model T," Probation Department chief Jerry Powers said in an interview.

"It's been a horrible facility for a long time," said Supervisor Gloria Molina, whose district includes the hall. "We've tried to clean it up and rehab it and everything, but it needs to be rebuilt."

Advocacy groups, including the Youth Justice Coalition, say the aging central hall is no longer needed and should be torn down and not replaced.

At this point, however, no detailed study of the facility or its future has been conducted. It's unclear whether county officials will back what Powers estimated would be a $50-million replacement price tag for the hall, when so many other costly projects are underway.

"If I had my choice and had all the money I needed, I would support blowing the whole thing up and starting over again," said Supervisor Don Knabe, who represents the southern part of the county. But funding a new central juvenile facility could be difficult, he added. Supervisor Michael D. Antonovich, who represents northern areas, agreed that the hall needs to be replaced but said through a spokesman that the supervisors would have to look later this year at what funding is available for that and other projects.

In the meantime, the county board has been pouring millions into repairing and keeping open the hall's labyrinth of buildings behind the Eastlake Juvenile Court. Supervisors allocated $5 million this year to alleviate water damage and plumbing issues.
---
YOUTH LAW CENTER FILES COMPLAINT AGAINST SAN DIEGO PROBATION FOR PEPPER SPRAY USE ON LOCKED UP KIDS
The San Francisco nonprofit Youth Law Center filed a 34-page complaint against the San Diego County Dept. of Probation, co-signed by nine other advocacy groups, citing excessive pepper spray use at San Diego's East Mesa and Kearny Mesa juvenile facilities after finding that officers shot kids with pepper spray 461 times in 2012.
While 70% of juvenile facilities across the nation ban the use of pepper spray, the Youth Law Center investigation found that officers were spraying kids indiscriminately, "as an all-purpose behavioral management tool."
A number of girls were reportedly sprayed for refusing to strip in front of male officers. Officers sprayed kids as young as twelve, for things like failure to follow instructions, or refusal to leave their cells. Kids with skin, respiratory, heart, and mental health problems were also sprayed.
San Diego CityBeat's Dave Maass and Kelly Davis have more on the issue. Here are some clips:
The girl sat on the bunk in her cell in one of San Diego County's female juvenile-detention units as staff members explained that she was being placed on suicide watch. They told her she had to strip naked in front of them—including in front of a male staff member.

She refused, twice. So, they sprayed her in the face with pepper spray, then shut the door to her cell.

Two minutes later, they asked if she was going to cooperate. She refused, and they sprayed her a second time and again shut the door.

Minutes later, they opened the door and sprayed her again. She vomited. They then sprayed her yet once more.

After the fourth blast of pepper spray, the girl finally submitted. Probation staff ordered her to crawl out of the cell, where they handcuffed her, forcibly removed her clothing, cut off her shirt and bra, strip-searched her, put her in a gown and placed her in solitary confinement for 48 hours.

This account is one of dozens of abuses of pepper spray by the San Diego County Probation Department at its East Mesa and Kearny Mesa juvenile facilities revealed today by the Youth Law Center (YLC), a San Francisco legal advocacy nonprofit. In a 34-page formal complaint supported by more than 170 individual exhibits, YLC has asked the U.S. Department of Justice's Civil Rights Division to investigate the probation department and order it to end the use of pepper spray and other practices that YLC says violate youths' constitutional rights. Nine groups co-signed the complaint, including California Rural Legal Assistance, El Grupo, the San Diego branch of the NAACP, Border Angels, Latinos Organizing for Action, Alliance San Diego, CSA San Diego, American Friends Service Committee San Diego and the San Diego La Raza Lawyers Association….

According to the complaint, YLC and El Grupo initiated an investigation of pepper-spray use in San Diego County juvenile facilities in 2012 after San Diego CityBeat, in collaboration with TheCrimeReport.org, reported that pepper spray, also known as oleoresin capsicum, or OC spray, had been used on juveniles 461 times in a single year. As we noted then, and is noted in the complaint, only a handful of states allow juvenile-detention staff to carry pepper spray. More than 70 percent of facilities nationwide ban its use entirely. Many jurisdictions, including Los Angeles County, the California Department of Corrections and Rehabilitation's Division of Juvenile Justice and the Texas Youth Commission have been forced to reduce pepper-spray usage after legal pressure from civil rights groups and youth advocates.

In San Diego juvenile facilities, probation officers have wide discretion to use pepper spray, whether it's the small bottles they carry or the large canisters, nicknamed "Big Berthas," designed to quell riots. Before deploying pepper spray, officers call out the "Cover" command; every youth within earshot is required to assume a crouch position, with hands clasped over their head to avoid getting sprayed.

[SNIP]

YLC identified dozens upon dozens of cases of improper use of pepper spray. Probation staff sprayed youth at risk of suicide; youth who simply were disobedient; youth with respiratory, cardiovascular and skin problems; and youth being treated with psychotropic medication.

They used it to gas-out detainees who refused to leave their cells. They sprayed detainees as young as 12 years old. They sprayed multiple girls who refused to strip at the request of male staff.

YLC documented evidence of 147 youths who weren't doing anything wrong but were nonetheless exposed to pepper spray because staff had used too much on other detainees. In five separate incidents, staff used at least a pound of pepper spray.
---
SUPES PUSH MENTAL HEALTH DIVERSION VOTE TO NEXT TUESDAY
The LA County Board of Supervisors has postponed voting on a motion (made by Mark Ridley-Thomas) that would earmark at least $20 million for the upcoming fiscal year to a mental health diversion program. (Backstory here.)
Rina Palta was at Tuesday's board meeting and has this update. Here's a clip:
"I don't think this is ready for primetime," said Supervisor Gloria Molina, who noted that the supervisors may want to spend more than $20 million for such purposes once Lacey's plan is complete.

Supervisors Zev Yaroslavsy and Don Knabe also expressed support for funding diversion through the supplemental budget process in the fall — but not yet.

The board did agree to request a report from various county agencies on where diversion funds might come from and what sorts of programs are needed.

Next week, the board is expected to vote on funding contracts for architectural plans and an environmental impact report for jail construction in L.A. County. The $14.5 million combined contracts would be a next step in building, among other projects in the county's comprehensive jail plan, a downtown jail to house inmates with mental illness.
Despite the nay-sayers who want to wait till the fall, Ridley-Thomas told Rina Palta, "We need to match our rhetoric with evidence of commitment."
---
THE HISTORY OF MARIJUANA PROHIBITION
The latest in the NY Times' editorial series advocating marijuana legalization (more here, and here) lays down the historical context of the federal marijuana ban, from its racist roots, to propaganda and sensational news coverage, to taxation, to outright prohibition. Here's how it opens:
The federal law that makes possession of marijuana a crime has its origins in legislation that was passed in an atmosphere of hysteria during the 1930s and that was firmly rooted in prejudices against Mexican immigrants and African-Americans, who were associated with marijuana use at the time. This racially freighted history lives on in current federal policy, which is so driven by myth and propaganda that is it almost impervious to reason.

The cannabis plant, also known as hemp, was widely grown in the United States for use in fabric during the mid-19th century. The practice of smoking it appeared in Texas border towns around 1900, brought by Mexican immigrants who cultivated cannabis as an intoxicant and for medicinal purposes as they had done at home.

Within 15 years or so, it was plentiful along the Texas border and was advertised openly at grocery markets and drugstores, some of which shipped small packets by mail to customers in other states.

The law enforcement view of marijuana was indelibly shaped by the fact that it was initially connected to brown people from Mexico and subsequently with black and poor communities in this country. Police in Texas border towns demonized the plant in racial terms as the drug of "immoral" populations who were promptly labeled "fiends."

As the legal scholars Richard Bonnie and Charles Whitebread explain in their authoritative history, "The Marihuana Conviction," the drug's popularity among minorities and other groups practically ensured that it would be classified as a "narcotic," attributed with addictive qualities it did not have, and set alongside far more dangerous drugs like heroin and morphine.

By the early 1930s, more than 30 states had prohibited the use of marijuana for nonmedical purposes. The federal push was yet to come…
Read the rest of the latest offering from this interesting (and enjoyable) series.