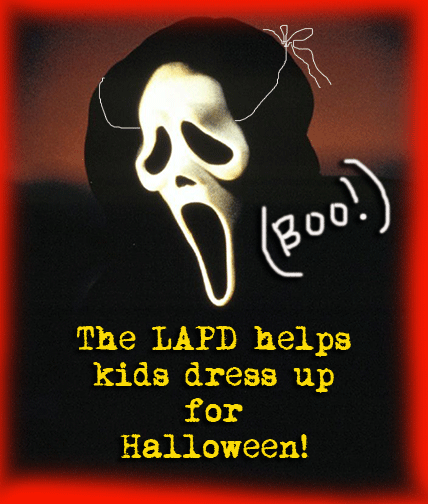 On Tuesday afternoon, members of the Pacific Division of the Los Angeles Police Department handed out dreams and fantasies to several hundred local kids in the form of free Halloween costumes.
Both the LAPD and the LA County Sheriff's Department do gift giveaways for needy families at Christmas, but handing out free Halloween outfits to kids from surrounding low income neighborhoods is a bit more unusual.
However, the department's Pacific Division was offered a huge stash of children's costumes by a long-time costume emporium owner named Bonnie Mihalic, who was retiring and said she wanted to do something for the community. So the LAPD folks grabbed the opportunity.
Fast forward to Tuesday afternoon at 3:30 pm when a whole lot of kids ranging in age from toddlers to 14-year-olds showed up with their parents at one of the two giveaway locations for the chance to pick out their very own fantasy get-ups—and maybe a nice scary mask.
LAPD Officer Marcela Garcia was one of the dozen department members who, together with a cluster of police cadets (plus the staffs of the Mar Vista Family Center and the Mar Vista Gardens Boys and Girls Club, where the giveaways took place) helped kids find the ensembles of their dreams.
"It was unbelievable," said Garcia when we spoke just after the two events had wrapped up. "We had 300 children at the Mar Vista Family Center alone!"
And each of the kids at both locations got a costume, she said—with some left over to be further distributed before Oct. 31. Kids could chose from Disney and fairy tale figures, super heroes, ninjas, film and TV characters, princesses, monsters, famous wrestlers, and lots, lots more.
"The pre-teen boys really liked the scary costumes," Garcia said. "Things like the ghost in the movie Scream. When they'd find what they wanted and try on their masks, they'd turn to us and make roaring or growling sounds. It was great!"
The fact that each kid got to wander around and select exactly the costume that he or she wanted–without worrying about monetary considerations— seemed to be particularly exhilarating for all concerned.
The officer remembered one four-year-old who was over-the moon about finding the right Cinderella costume. "She was so excited. She said, 'Mom, I'm going to be a princess!'"
Garcia, who has been a Senior Lead Officer at Pacific Division for the past four years, said she grew up in East LA in a low-income neighborhood where most parents didn't have the budget for frivolities like costume buying. As a consequence, she understood the kids' delight in a personal way.
So what kind of costume would Officer Garcia have wanted out of Tuesday's array, if she had come to a similar event as a child?
Garcia didn't need to think at all before answering. "If I could go back in time, there was an Alice in Wonderland costume here that would have been the one. I was a big fan of both that book and the movie as a child. I loved the adventures that Alice had."
Garcia also confided that she'd known she wanted to be in law enforcement since she was seven-years-old. That was the year a female LAPD police officer came in uniform to her elementary school's career day. "From that day on I knew…"
The recollection points to why Garcia is strongly in favor of department-sponsored community events like this one. "When we get to engage with community members on a completely different level and get a look into their lives and concerns…When we see each other just as people…It can make a big difference."
Yep. We think so too.
---
ON HIS WAY OFF THE (SUPERVISORIAL) STAGE, ZEV YAROSLAVSKY INSTITUTES A PROMISING PILOT MENTAL HEALTH DIVERSION PROGRAM
As his tenure as an LA County Supervisor is drawing to a close, Zev Yaroslavsky has put into place a promising pilot program that will allow mentally ill and/or homeless lawbreakers who commit certain non-serious crimes to be diverted into a residential treatment program rather than jail.
When it begins, up to 50 adults in Zev's 3rd District who agree to participate in the program will be released to San Fernando Valley Community Mental Health Center. The idea is that the participants will get treatment and other forms of support, which will in turn help them eventually transition back to a more stable life in their communities—rather than merely cycle in and out of confinement in the LA County jail system.
Stephanie Stephens of California Healthline has more on the story. Here's a clip:
That cycle so familiar to many Californians with mental illnesses may soon be interrupted thanks to the new Third District Diversion and Alternative Sentencing Program in Los Angeles County.

Designed for adults who are chronically homeless, seriously mentally ill, and who commit specific misdemeanor and low-level felony crimes, the demonstration project could help reduce recidivism by as much as two-thirds, Third District Supervisor Zev Yaroslavsky said.

Similar diversion programs have produced promising results in other metropolitan areas — Bexar County (San Antonio), Texas and Miami-Dade County in Florida, for example — fueling hopes for change here, according to L.A. program supporters.

"Clearly, treating mental illness in jail does not produce the best results," Yaroslavsky said. "At present we put offenders into the mental health unit of the jail — it's the largest mental health facility in the state. We provide mental health treatment and custodial care for approximately 3,500 people each day."

Various county government officials, as well as judges and attorneys, signed a 38-page memorandum of understanding to outline the program on Sept. 14.

"We have involved all the agencies in the community that intersect around this problem, and we've spelled out all their responsibilities," Yaroslavsky said.
This is all very, very good news. Next, of course, we need to institute a countywide program—preferably as soon as possible. But it's a start.
---
ABOUT THAT 10-YEAR OLD WHO IS BEING TRIED FOR MURDER AS AN ADULT
Okay, we consciously avoided reporting on this story because, we reasoned, it was merely one more horrible tale—among many such horrible tales—of a kid being tried as an adult, and it wasn't happening in California.
But frankly it is impossible to ignore the matter of the 10-year-old Pennsylvania boy who is being charged with adult murder after he confessed to slugging 90-year old Helen Novak multiple times and then choking her with a cane—all because she yelled at him. (The victim, Ms. Novak, was being cared for by the 10-year-old's grandfather.)
It deserves our attention because it demonstrates so starkly how dysfunctional our system has become when it deals with juveniles who commit serious crimes. We treat children as children in every other legal instance—except in the criminal justice system.
The rural Pennsylvania 10-year-old is one of the youngest in the U.S. ever to face an adult criminal homicide conviction.
In their most recent update on the story, CBS News consulted juvenile justice expert, Marsha Levick, who had scathing things to say about what PA is doing. Here's a clip:
(Note: CBS refers to the boy as TK to avoid revealing his identity since he's a minor, although many other news outlets have used his name.)
"It's ridiculous. …The idea of prescribing criminal responsibility to a 10-year-old defies all logic," Marsha Levick, deputy director and chief counsel of the Juvenile Law Center, a public interest law firm, told 48 Hours' Crimesider.

"The Supreme Court has recognized that teens and adolescents hold lesser culpability. Their brains are obviously still developing and they're developmentally immature. Multiply that for a 10-year-old."

[SNIP]

The boy's attorney, Bernard Brown, says his client doesn't seem to understand the gravity of the situation.

Brown told CBS affiliate WYOU that when he visited the boy at the Wayne County Correctional Facility last week, the boy compared his prison jumpsuit to "a Halloween costume he would probably never wear."

Brown declined to request bail for the 10-year-old last week, saying his family isn't ready to have him released into their custody.

Brown said the boy's family believes he is being treated well at the county prison, where he is being housed alone in a cell and kept away from the general population. He said the boy was being provided coloring books.

But Levick, of the Juvenile Law Center, says the last place T.K. belongs is in a county jail.

"He's effectively in isolation. He's being denied the opportunity for regular interaction, denied education, denied the opportunity for reasonable activity. That, in of itself, will be harmful to him," Levick says.
And last week, one of the better articles on the boy and his charges was by Christopher Moraff writing for the Daily Beast, who pointed to some of the psychological limitations of a child of TK's age. Here's a clip:
Legal experts say trying children as adults is not only bad policy, but it raises serious competency and due process issues. Research sponsored in 2003 by the MacArthur Foundation found that more than a third of incarcerated juveniles between the ages of 11 and 13 exhibited poor reasoning about trial-related matters, and children under 14 are less likely to focus on the long-term consequences of their decisions.

"Deficiencies in risk perception and future orientation, as well as immature attitudes toward authority figures, may undermine competent decision-making in ways that standard assessments of competence to stand trial do not capture," the authors conclude.

A new study published in the journal Law and Human Behavior finds that juvenile criminal suspects either incriminate themselves or give full confessions in two-thirds of all interrogations.

Often a suspect's parent is their only advocate. And usually, they are ill-equipped to provide sound legal guidance.

"Parents throw away their kids' rights too easily, not realizing that kids will often not tell the truth when adults are questioning," said Schwartz.

Indeed, court documents show that Kurilla was brought to the Pennsylvania State Police barracks by his mother, who pretty much confessed for him. Then, after informing police that he had mental difficulties and "lied a lot," she waived his right to an attorney and requested that troopers interview him alone.

It was then, during private questioning, that the boy reportedly said: "I killed that lady." Still later, during a joint interview with his mother, the officer in charge of the interrogation notes that Kurilla "appeared to be having trouble answering the questions."

According to Terrie Morgan-Besecker—a reporter for The Scranton Times Tribune who has been closely following the case— Kurilla's attorney, Bernard Brown, called the manner in which the boy was questioned "concerning" and is planning to challenge the confession.
This child, who turned 10 this summer, is indeed in dire need of help. But if he has any hope of getting it, he must be treated as child, not as an adult. That the law says otherwise simply demonstrates the how disastrously broken our juvenile justice system has become.
---
AND HERE'S TO LEGENDARY EDITOR BEN BRADLEE… R.I.P.
Ben Bradlee, who died Tuesday at 93, transformed the Washington Post and, with his stewardship of the paper's Watergate coverage and the publication of information contained in the Pentagon Papers, changed journalism and arguably the direction of the nation.
Here's a clip from the story that appeared on the Post's front page on Wednesday morning.
Benjamin C. Bradlee, who presided over The Washington Post newsroom for 26 years and guided The Post's transformation into one of the world's leading newspapers, died Oct. 21 at his home in Washington of natural causes. He was 93.

From the moment he took over The Post newsroom in 1965, Mr. Bradlee sought to create an important newspaper that would go far beyond the traditional model of a metropolitan daily. He achieved that goal by combining compelling news stories based on aggressive reporting with engaging feature pieces of a kind previously associated with the best magazines. His charm and gift for leadership helped him hire and inspire a talented staff and eventually made him the most celebrated newspaper editor of his era.

The most compelling story of Mr. Bradlee's tenure, almost certainly the one of greatest consequence, was Watergate, a political scandal touched off by The Post's reporting that ended in the only resignation of a president in U.S. history.

But Mr. Bradlee's most important decision, made with Katharine Graham, The Post's publisher, may have been to print stories based on the Pentagon Papers, a secret Pentagon history of the Vietnam War. The Nixon administration went to court to try to quash those stories, but the U.S. Supreme Court upheld the decision of the New York Times and The Post to publish them.

President Obama recalled Mr. Bradlee's legacy on Tuesday night in a statement that said: "For Benjamin Bradlee, journalism was more than a profession — it was a public good vital to our democracy. A true newspaperman, he transformed the Washington Post into one of the country's finest newspapers, and with him at the helm, a growing army of reporters published the Pentagon Papers, exposed Watergate, and told stories that needed to be told — stories that helped us understand our world and one another a little bit better. The standard he set — a standard for honest, objective, meticulous reporting — encouraged so many others to enter the profession. And that standard is why, last year, I was proud to honor Ben with the Presidential Medal of Freedom. Today, we offer our thoughts and prayers to Ben's family, and all who were fortunate to share in what truly was a good life."

[SNIP]

Mr. Bradlee's patrician good looks, gravelly voice, profane vocabulary and zest for journalism and for life all contributed to the charismatic personality that dominated and shaped The Post. Modern American newspaper editors rarely achieve much fame, but Mr. Bradlee became a celebrity and loved the status. Jason Robards played him in the movie "All the President's Men," based on Bob Woodward and Carl Bernstein's book about Watergate. Two books Mr. Bradlee wrote — "Conversations With Kennedy" and his memoir, "A Good Life" — were bestsellers. His craggy face became a familiar sight on television. In public and in private, he always played his part with theatrical enthusiasm.

"He was a presence, a force," Woodward recalled of Mr. Bradlee's role during the Watergate period, 1972 to 1974. "And he was a doubter, a skeptic — 'Do we have it yet?' 'Have we proved it?' " Decades later, Woodward remembered the words that he most hated to hear from Mr. Bradlee then: "You don't have it yet, kid."

Mr. Bradlee loved the Watergate story, not least because it gave the newspaper "impact," his favorite word in his first years as editor. He wanted the paper to be noticed. In his personal vernacular — a vivid, blasphemous argot that combined the swearwords he mastered in the Navy during World War II with the impeccable enunciation of a blue-blooded Bostonian — a great story was "a real tube-ripper."

This meant a story was so hot that Post readers would rip the paper out of the tubes into which the paperboy delivered it. A bad story was "mego" — the acronym for "my eyes glaze over" — applied to anything that bored him. Maximizing the number of tube-rippers and minimizing mego was the Bradlee strategy.

Mr. Bradlee's tactics were also simple: "Hire people smarter than you are" and encourage them to bloom. His energy and his mystique were infectious….
Read on. It's a long and rich and compelling story about a long and rich and compelling life.